Guide
Bluetooth keyboard: The best to buy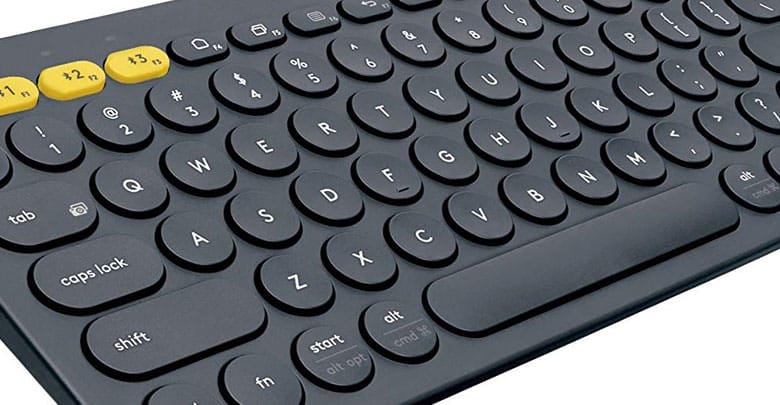 There are various types of a wireless keyboard, and the most widespread is the one that uses a USB receiver inserted in the PC which will inevitably take up a door. With a Bluetooth keyboard instead, you can solve this problem and still have a stable and fast connection.
In this article, we want to guide you in the purchase of your Bluetooth keyboard, so that we can recommend the one that's right for you and at the same time have a good quality/price ratio. From the list below you can immediately jump to a point of interest:
Bluetooth keyboard: Features
Speaking of a wireless keyboard doesn't just mean talking about Bluetooth keyboards. As mentioned, there are various types of technologies that allow us to get rid of cables and make our setup cleaner and more minimal.
A Bluetooth keyboard is a keyboard – membrane or mechanical – that includes a Bluetooth chip that can connect it to compatible devices. It is a " Plug – Play " device that will work without having to install a driver on the device.
We are talking about devices (and not just PC) because Bluetooth keyboards are often compatible with different operating systems such as Windows, Android or iOS. So you can use a Bluetooth keyboard, for example, to control an Android TV Box.
A separate discussion must be made if you are looking for iPad keyboards, or Bluetooth keyboards specifically created to connect with iOS devices and tailor-made to be transported together with it, just as if it were a 2 in 1 convertible.
Obviously, every Bluetooth keyboard needs a power supply which, since it cannot come from any device, consists of one or more batteries. The internal battery can be rechargeable (and integrated like a smartphone) or replaceable (via the classic stylus and mini stylus).
The best-selling Bluetooth keyboards
We will shortly list the ones that, in our opinion, are the best Bluetooth keyboards from compare. First, in the following list, you can take a look at the 10 best-selling Bluetooth keyboards on Amazon.
This is a continuously updated list but as you can imagine, the fact that they are the most sold does not automatically mean that they are also the best to buy. It can be a good yardstick: let's take a look.
#
Preview
Product
Rating
Price
1
Logitech K380 Multi-Device Bluetooth Keyboard – Windows, Mac, Chrome OS, Android, iPad, iPhone,...

$39.99

$29.99

CHECK DEAL
2
DIERYA DK63 60% Wireless Mechanical Keyboard, RGB Backlit Bluetooth Gaming Keyboard Wired Dedicated...

$29.99

CHECK DEAL
3
Arteck HB192 Universal Bluetooth Keyboard Multi-Device Stainless Steel Full Size Wireless Keyboard...

$34.99

$29.99

CHECK DEAL
4
iClever Bluetooth Keyboard, Universal Wireless Keyboard, Rechargeable Bluetooth 5.1 Multi Device...

$36.99

$32.99

CHECK DEAL
5
NPET K611 Wireless 60% Triple Mode BT5.0/2.4G/USB-C Mechanical Keyboard, 68 Keys Bluetooth...

$29.99

CHECK DEAL
6
Arteck Ultra-Slim Bluetooth Keyboard Compatible with iPad 10.2-inch/iPad Air/iPad 9.7-inch/iPad...

$23.99

$17.99

CHECK DEAL
7
Logitech 920-006342 Bluetooth Multi-Device Keyboard K480 - Wireless Connectivity - Bluetooth -...

$34.99

CHECK DEAL
8
Backlit Bluetooth Keyboard Small Portable External Wireless Keyboard Cordless Rechargeable...

952 Reviews

$13.99

CHECK DEAL
9
VELOCIFIRE Wireless Bluetooth Mechanical Keyboard, M2 61 Keys Mini 60% Mechanical Gaming Keyboard,...

122 Reviews

$69.99

$26.99

CHECK DEAL
10
Amazon Basics Bluetooth Wireless Keyboard-Quiet and Compact-US Layout (QWERTY)

$26.39

CHECK DEAL
If you haven't found the one that's right for you, or more simply you're not sure, which is the right choice, then follow us in the next paragraph where we'll see the best Bluetooth keyboards to buy. Let's start immediately:
Best Bluetooth keyboards
Here we are finally talking about the keyboards that, in our opinion, allow the best balance between quality and price. For each Bluetooth keyboard listed below you can read a brief description with the main features. If they meet your needs, you can find out more – and eventually buy them.
Foldable Bluetooth Keyboard
The convenience of having a Bluetooth keyboard lies in taking advantage of its wide compatibility to use it with many different devices: smartphones, tablets, PC, TV Boxes, Smart TVs and any multimedia device with such a connection. For this reason, having a particularly small, pocket-sized and even foldable keyboard will be perfect for many of you, and these two are the best in terms of materials and price.
Fosmon Portable Lightweight Mini Wireless Bluetooth Keyboard
Very versatile keyboard to work on your PC. Well, in this case you need to have a touchpad so you can touch a pad so you can say good-bye to your mouse and have it all in one keyboard.
Logitech K380 Multi-Device Bluetooth Keyboard
25%
With this K380, Logitech has definitely outperformed the competition: it is a well-made Bluetooth keyboard with not only a particular design, but also ergonomics-oriented. Despite being compact, it is extremely convenient and designed for desktop use. Furthermore, the declared autonomy is about 2 years, as many as the warranty years.
Product prices and availability are subject to change. Any price and availablility information displayed on Amazon at the time of purchase will apply to the purchase of any products.