Guide
Best Drone: Which One to Buy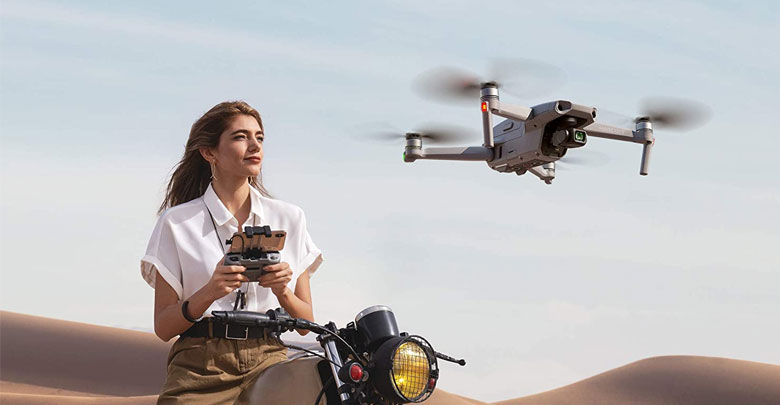 You often ask us, " I want to buy a drone. Which drone do you recommend? ". If you are looking for the best drone to buy to have fun or improve your work, but you are undecided in the choice, this constantly updated purchase guide will analyze the best drones 2020 available for each price range according to the different characteristics.
Precisely, before buying a drone, it is necessary to thoroughly understand your intentions and, above all your needs, to buy the model that best suits your needs.
Analyzing a hierarchy, we can identify 3 categories of drones: Mini drones, cheap or mid-range drones, professional/semi-professional drones.
We mean small drones with not very robust materials, reduced power, and usable at home or outdoors with absolutely favorable conditions and total absence of wind by mini-drones.
The cheap/mid-range drones are the ideal choice for those who want to start studying the world of drones better, without having great pretensions. We are talking about discrete devices, with power and quality appropriate to their price range, capable of reaching good distances, and an acceptable elevation.
Instead, professional/semi-professional drones have excellent autonomy, allow us to take excellent shots or aerial photos, and reach great distances in flight, in total safety.
How to choose the most suitable drone
Before buying a drone, it is essential to consider some characteristics that will be fundamental in finding the best model suitable for our needs.
The main features are 4: construction quality, sensors, autonomy, and range of action. Let's analyze them together, keeping in mind that the best brand of drones, in our opinion, remains DJI, which is really the company to beat in the sector (apart from the best Chinese drones that exist of various brands).
Build quality
Build quality plays a key role. Plastics that are too light or thin could make the drone easy for sudden gusts of wind. Structures in hard plastic, metal, or carbon fiber, on the other hand, ensure greater solidity in flight and superior resistance in the event of a fall or impact.
Sensors
One of the sensors that a drone cannot miss is the gyroscope in an absolute way. This sensor is now also present in smartphones and allows the device to be stabilized in flight.
Inside the electronic module, the relative position is recalculated several times per second and adjusted accordingly by the motors. Professional drones sometimes also integrate ultrasonic sensors for obstacle detection and infrared for night vision and shooting.
Battery and Autonomy
Often overlooked because it can be easily corrected with additional batteries, autonomy must absolutely be one of the parameters to be thoroughly evaluated before purchasing this kind. Drones can give from 5 to 20/25 minutes of flight with average use. Instead, drones $100 will have an autonomy that varies from about 5 to 15 minutes.
It should also be said that unfavorable weather situations or the use of the drone's automatic functions will require a greater effort from the drone's motors, thus causing a lowering of the total flight range.
Range of Action
The range of action naturally varies according to the drone's cost and the technologies applied to it. On professional drones, it is possible to reach distance ranges up to 3-4 miles with heights up to 1,600 feet, while on cheaper drones, it is possible to reach even 650 feet in height with a distance range of about 1/2 km.
Instead, on drones $100 or similar price ranges, we will find a maximum elevation of 0.5-1 mile, with a maximum distance of about 300 feet. Our advice is to always respect the regulations in force by ENAC to avoid dangerous situations and not break the law with the risk of receiving fines or kidnappings.
---
The Drone Regulations
To summarize all the new regulation news, we have written a guide in which we address this topic to help everyone be informed about the current regulations to be respected during the flight. Here it is:
Drones which one to buy
Before analyzing our selections, let's see together which are currently the most popular drones on Amazon. This ranking, based on user feedback and the number of drone sales, is useful to understand which ones are most appreciated so that you can also have other feedback and ours.
---
Best Drone 2020 for Professional Use
DJI MAVIC 2 PRO
Which drone to buy for professional use? The Mavic 2 Pro is currently the best camera drone in DJI's Mavic series. Unveiled last August, this model weighs just over 900 grams. Its 3-axis stabilized Hasselblad camera is equipped with a 1″ 20MP CMOS sensor with a 28mm variable aperture lens (f2.8 to 11), which allows you to record videos in 4K (3840 × 2160) up to 30fps and to take photos in JPEG and RAW format.
Its 3850 mAh battery will allow us to have an autonomy of about 31 minutes, which will decrease if you use some of its advanced functions such as Follow Me, Waypoints, Orbit Mode, Hyperlapse.
DJI MAVIC 2 ZOOM
The DJI Mavic 2 Zoom is definitely ideal if you are looking for a drone with a camera that allows you to take breathtaking photos! Its characteristics are the same as the Mavic 2 Pro, equal in weight and autonomy, unlike the photographic sector.
The Mavic 2 Zoom is equipped with a 1/2.3″ 12-megapixel sensor, with a 2 × optical zoom (24-48 mm), which allows us to take 48MP high-resolution photos and record videos up to 4K at 30fps with the possibility of using a 4 × zoom in FHD.
DJI PHANTOM 4 PRO
The DJI Phantom 4 Pro is one of the best professional drones around, certainly suitable for authorized operators and professionals. The drone features a camera with a 1″ 20-megapixel CMOS sensor, capable of filming up to 4K @ 60fps resolution.
The autonomy of the drone is around 30 minutes, thanks to a 5,870 mAh battery. Several automatic flight functions are available, including Draw, which allows the drone to record the shot to be taken directly from the live image via a waypoint.
---
Best Drones for Semi-Professional Use
DJI MAVIC AIR 2
After the great success of the Mavic Mini, which has renewed the quadcopter market, DJI has just presented the brand new Mavic Air 2, which promises remarkable performance only from the preview.
The renewed design, different from the first model and very similar to the second generation Pro/Zoom series, still makes it one of the best drones to carry in any situation, with a weight of 570 grams and a 3,500 mAh battery that ensures autonomy more than 30 minutes.
Thanks to OcuSync 2.0 technology, it will be possible to reach 6 km of distance without signal loss with the help of the double automatic transmission (2.4 or 5.8 GHz), which autonomously chooses the best available channel.
Instead, the camera has a 1/2″ sensor with a resolution of 48 Mp, capable of taking 12 Mp photos and recording videos up to 4K @ 60 fps or in Full HD @ 240 fps Hyperlapse in 8K. Also, numerous automatic flight functions are available, including the "FocusTrack" which will allow the drone in 3 different modes to follow and keep in focus a subject or an object without problems.
As for the sensors, there are only the front and rear ones, thanks to the Advanced pilot assistance system (APAS) 3.0, which will allow us to fly safely and relax during our flights. This drone promises great things, and DJI, as usual, always manages to amaze its users.
DJI MINI 2
Unlike the DJI Mavic Mini, the Mini 2 loses " Mavic " in the name but improves a lot. First of all, we find no longer the Wi-Fi connection with the remote control but OcuSync 2, so all this means goodbye problems of interference.
Besides, the wind resistance 5 makes the drone able to withstand gusts of up to 39 Km/h. There's no need for a license, weighing just 242 grams, and the 12MP camera offers content guaranteed to impress. Together with 4K/30fps video and a 3-axis motorized gimbal system, the Mini 2 ensures amazing image quality that is consistently smooth no matter how adventurous your piloting becomes.
---
Best Cheap 4K Drones
HUBSAN Zino
The Hubsan Zino certainly deserves to be considered one of the best budget drones with a 4K camera, probably almost equal in features with Xiaomi's Mi Drone 4K. The drone, with folding arms, has a stabilized camera thanks to the 3-axis gimbal, capable of recording videos in 4K (3840 × 2160) at 30 fps.
The drone's maximum range in wi-fi mode is 1km, with a 3100 mAh battery that ensures autonomy of about 23 minutes.
Some automatic flight modes are also present in this model, which will help us a lot during flight operations. Even for shooting, manually would be difficult to do.
Among the most important, we remember Panorama (series of shots that, thanks to the software, recreate a panoramic image), Orbit Mode (the drone performs an orbit around the central point), Waypoint (the drone follows a path predefined by the pilot, from performing automatically), Line Fly Mode (the drone performs a trajectory defined by the pilot) and finally Image Tracking.
FIMI X8SE
The Fimi X8 SE was without a doubt the best Chinese drone there is. Fimi, a brand belonging to Xiaomi, has certainly not disappointed all consumers' expectations, who were eagerly awaiting the shipments of this beautiful drone, the Mi Drone 4 K's successor. Let's stop for a moment: why so much fuss for a drone of a brand unknown to many?
In addition to the aggressive price towards other companies in the sector, it is precisely the drone's characteristics that make it a real best-buy.
The Fimi X8 SE weighs 790 grams and offers us a camera with a 12 MP 1/2.3″ sensor with the ability to record videos and take photos stabilized thanks to the 3-axis mechanical gimbal up to 4k @ 30fps resolution. Present the GPS/GLONASS modules, which will allow us to safely maintain the position with the possibility of returning home (RTH) in case of emergency.
The transmission range reaches up to 5 KM, with a maximum height established at 500 M (we always remind you to respect the Italian regulation). The 4,500 mAh battery guarantees us an autonomy of about 30 minutes (33 minutes if you maintain a speed of 8 m/s), representing an excellent goal for such an economical drone.
---
Best cheap drones
DJI Spark
If you are looking for a camera drone for pure enjoyment but don't want to compromise on the quality and safety of a brand like DJI, the Spark is ideal for your needs.
The DJI Spark has the luck of being really small. Its small size and weight of 300g will give us absolutely no problems finding the right place to store it. This drone, thanks to its 12MP camera, records videos in 1080p (FullHD) and takes photos in 4K with the possibility of managing the drone even without remote control, through the use of gestures through the movement of our hands.
HUBSAN H501S X4
The Hubsan H501S X4 is one of the best economic opportunities you can find on the market. The appearance could make this drone seem of poor quality, and instead, it is not. Its 410 grams make it a fairly light and easily transportable drone, with plasticky materials, yes, but well built and solid.
The drone has 4 brushless motors that promise great performance, with the presence of a built-in camera capable of recording quite clear and clearly visible videos in 1,280 × 720p (HD). The GPS module is present, a big step forward for this category of economic drones, which will allow you to use automatic functions such as return home (RTH) or follow me, ensuring safer and more peaceful flights.
Inside the remote control, there is a 4.3″ LCD screen that will allow us to view our flights in real-time, thanks to the 2.8 GHz frequency. On the other hand, the autonomy is around 15/20 minutes, thanks to the presence of a 2,700 mAh battery.
Product prices and availability are subject to change. Any price and availablility information displayed on Amazon at the time of purchase will apply to the purchase of any products.