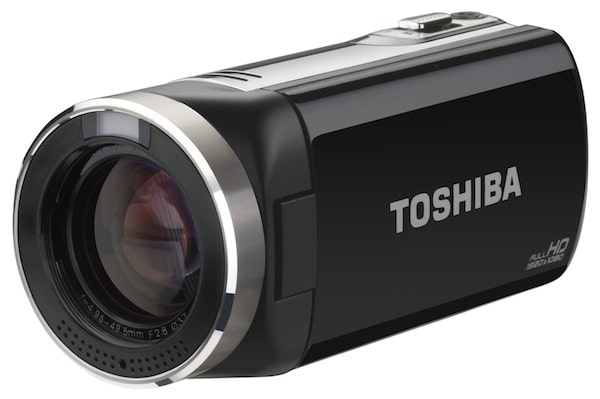 The Toshiba Camileo X150 is an equipped camcorder sensor CMOS BSI from 5 MP thanks to which is possible to realize Full HD movies 1,920×1,080p at 30 fps. Your camcorder is equipped also of 10x optical zoom, of display LCD 3-inch touch screen 16:9 recording with a resolution of 960×240 pixels, memory of 120 MB, expansion slot for SD cards and interface mini HDMI and mini USB. The compact design in combination to the functions of last generation, such as the recognition of the faces and the detection of the smiles, help to make the Toshiba Camileo X150 a perfect travel companion at a price content.
Toshiba Camileo X150: Design
The Toshiba Camileo X150 camcorder is a compact size, easy to handle and perfect to take with him. It has a 3-inch touch screen LCD display with a resolution of 960×240. The dimensions are 120 mm in width, 52 mm height and 52 mm depth.
Toshiba Camileo X150: Features and Functionality
The Toshiba Camileo X150 is one of three digital cameras that the manufacturer has presented at the middle of last year, just in august. Among these, the X150 is the most classic, where the Toshiba Camileo S40 and Toshiba Camileo BW20 have a much more compact design. Reviewed prejudice to the camera, it is a device of good quality and with several features of interest.
As regards the technical specifications, features an image sensor type BSI CMOS 1/3.2″ with a resolution of 5 megapixels, a goal that has a focal distance equivalent to 4.95 to 49.5 mm and a fixed aperture of F2.8. It also has a 10x optical zoom and a digital zoom of 45, which. Therefore, allows you to capture people in the distance.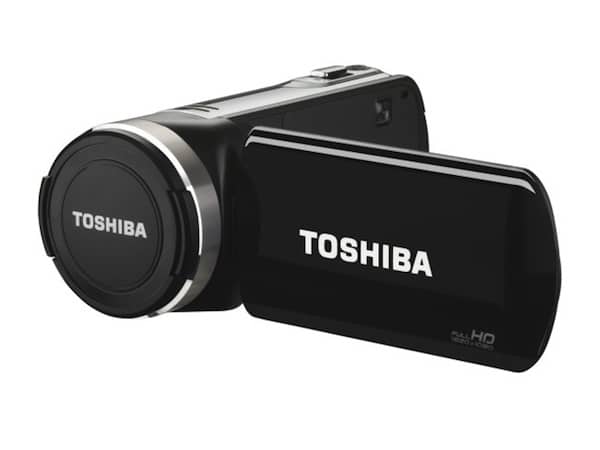 Speaking specifically of video quality with the Toshiba Camileo X150 you can get Full HD movies in MP4 format, so with a maximum resolution of 1,920×1,080 pixels, of course with the ability to choose other resolutions, up to the lowest VGA. Of course, there the opportunity to take photos in JPEG format, in this case 12 megapixel, which translates into a maximum resolution of 4,608×3,456 pixels. It is certainly emphasized the ability to take pictures even while recording a video.
Also for the photos, the camera is also equipped with functions such as detection and smile, which allow you to always have beautiful portraits. Other features include white balance, with various options, the power-saving mode, the built-in flash, various scene modes for still images. Absent instead image stabilizer, and this is a major flaw.
The Toshiba Camileo X150 is also equipped with a swiveling LCD touch screen of large, high-resolution, USB port and HDMI interface. The internal memory is 128 MB and can be expanded with memory cards with SD, SDHC and SDXC memory cards.
It is powered by a lithium-ion battery that provides a maximum of 90 minutes of video recording in Full HD, but obviously increases life if you choose a lower resolution. The purchase package includes, in addition, the adapter, USB cable, HDMI cable, cleaning cloth, the lens cap, the belt and the manual.
Conclusion
The Toshiba Camileo X150 is a compact camcorder that has an excellent relationship between quality and price. The resolution is fairly high when you consider the type of camera, Full HD movies are, there are several functions. The display is touch screen, and the packaging is also the HDMI cable. Too bad for the absence of the stabilizer.
Where to Buy Toshiba Camileo X150
---

---
PROS : HDMI and USB cable included; 1920x1080p Full HD video at 30 fps, SD card expansion slot (up to 128 GB), mini HDMI port, 5 megapixel BSI CMOS sensor, price content, Face detection, 10x optical zoom, touchscreen display 3 inches; Images fissse; Compact Design.
CONS :
Type Audio recording is not declared.