Guide
Wireless keyboard: The best to buy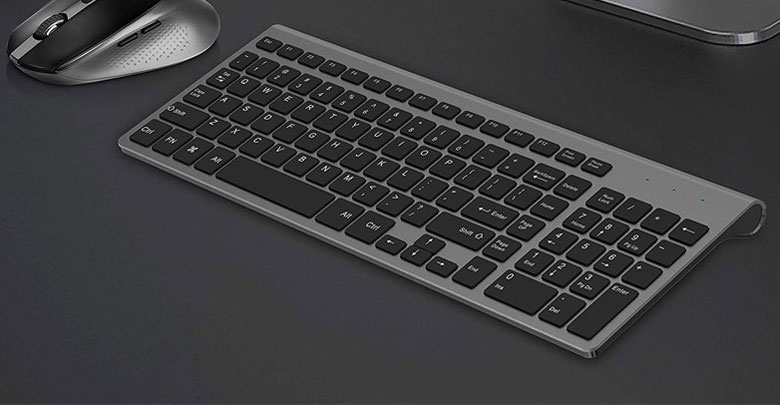 There is nothing more satisfying than having a tidy desk and without those ugly cables everywhere, and to have a minimal style the first gadget from which to start is precisely the wireless keyboard. That's why in this article, we will guide you through the purchase of the one that's right for you!
With a wireless keyboard, you just need to insert a small USB receiver in your PC (or in another device like a tablet, a TV Box or a TV), and you can finally say good-bye to bulky cables, with all the convenience of being able to move and bring the keyboard with you. But let's see some other details:
Wireless keyboard: The differences
Speaking of wireless keyboards is a bit generic, and there are indeed various types. To say that a keyboard is wireless means only that it works without the use of cables, but as you well know there are several wireless connection technologies.
In this guide, we will deal with keyboards with wireless connection thanks to the aid of a USB receiver: very simply together with the wireless keyboard you will also receive a small USB to be inserted in your PC, and thanks to it the two devices can communicate wirelessly.
This type of wireless connection generally allows to keep costs down and very often the use of an adapter means that you can also use the wireless keyboard on your Smart TV or with a TV Box to fully enjoy home multimedia.
The USB receiver receives power from the device to which it is connected while the keyboard needs its own power supply which, in most cases, is entrusted to simple batteries, which may or may not be integrated into the package.
Rarely, and at a higher cost, the keyboards are rechargeable (like a smartphone) because they integrate a lithium battery. Usually, common batteries have a very satisfactory life, which is indicated by the manufacturer. Not infrequently, together with the keyboard you will also have a mouse (also wireless).
If these are the features, you were looking for, then follow us in the next paragraph where we will see the best-selling wireless keyboards of the moment. Otherwise, you can also take a look at these alternatives:
Wireless Keyboard: the most sold
We will shortly recommend those that are the best wireless keyboards to buy for us. But first you can take a look at the list below which contains the 10 best-selling wireless keyboards on Amazon at the moment. As you can imagine, the fact that they are the most sold does not mean that they are the best to buy, but they still give us a good yardstick.
#
Preview
Product
Rating
Price
1
Logitech MK270 Wireless Keyboard and Mouse Combo - Keyboard and Mouse Included, Long Battery Life

48,358 Reviews

$29.99

$24.99

BUY NOW! ON AMAZON
2
Arteck 2.4G Wireless Keyboard Stainless Steel Ultra Slim Full Size Keyboard with Numeric Keypad for...

16,684 Reviews

$27.99

BUY NOW! ON AMAZON
3
Logitech MK345 Wireless Combo Full-Sized Keyboard with Palm Rest and Comfortable Right-Handed Mouse...

25,653 Reviews

$49.99

$34.99

BUY NOW! ON AMAZON
4
Logitech MX Keys Advanced Wireless Illuminated Keyboard, Tactile Responsive Typing, Backlighting,...

$99.48

BUY NOW! ON AMAZON
5
Wireless Keyboard, J JOYACCESS 2.4G Slim and Compact Wireless Keyboard (Black and Grey)

$28.99

$25.99

BUY NOW! ON AMAZON
6
Logitech MK735 Performance Wireless Keyboard & Mouse Combo

6,487 Reviews

$69.99

$64.99

BUY NOW! ON AMAZON
7
NPET K11 Wireless Gaming Keyboard, Rechargeable Backlit Ergonomic Water-Resistant Mechanical Feeling...

731 Reviews

$29.99

$25.99

BUY NOW! ON AMAZON
8
Logitech MK570 Wireless Wave Keyboard and Mouse Combo

2,396 Reviews

$59.99

$54.99

BUY NOW! ON AMAZON
9
Logitech K350 Wireless Wave Ergonomic Keyboard with Unifying Wireless Technology - Black

$59.99

$36.99

BUY NOW! ON AMAZON
10
Wireless Keyboard and Mouse Combo, EDJO 2.4G Full-Sized Ergonomic Computer Keyboard with Wrist Rest...

$39.99

$33.99

BUY NOW! ON AMAZON
Any wireless keyboard that you will find then, will almost certainly enjoy a Prime treatment that will allow you to receive the item with free and fast shipping, but you will need to activate an Amazon Prime account. If you were unable to find what you were looking for in this list, then let us advise you
The best wireless keyboards
If in the previous paragraph, you failed to find the wireless keyboard that's right for you, don't despair. In the next few lines, in order of price, we have selected some of the best wireless keyboards with different characteristics in order to embrace your tastes and your needs. Let's see them now:
Wireless keyboard + Touchpad
For a few euros more than the previous one, this VicTsing wireless keyboard includes (instead of the side numeric keypad) a very comfortable touchpad mouse with dedicated keys. This kind of keyboard is particularly suitable for multimedia and is also compatible with Smart TV, tablet, TV Box and much more.
For design lovers
Once again, a full-size, this time marked JOYACCESS, which stands out for its clean, compact and minimal design. Here too we are talking about a wireless keyboard coupled with a mouse with adjustable DPI that is praised for its extreme silence. Perfect for those who use the PC for many hours and don't want to compromise on style.
Professional wireless keyboard
42%
Microsoft Wireless Desktop 900 (PT3-00001),Black
Advanced Encryption Standard (AES) 128-Bit Encryption
Full-size mouse provides comfortable, precise navigation
Quiet-touch keys provide comfortable, responsive typing
Ambidextrous design is great for use in either hand
Hot keys provide easy-access to commonly used functions
From a brand like Microsoft, we could not expect less: this Wireless Mouse Keyboard Kit has been designed to offer maximum comfort and safety. The optimization done by the brand allows it to have a great autonomy – of about 2 years – a lot of silence and a 128 bit AES encryption while typing.
Ultra Compact
Rapoo 2.4Ghz Wireless Keyboard Mouse Combo (9060 Black)
With Rapoo's latest energy saving technology and power switch , you can use your...
Fn key gives you quick access to media player, homepage, volume adjustment and...
Responsive and smooth cursor control with 1000 DPI high-definition invisible...
Reliable 2.4GHz wireless connection with up to 10m working range
ultra-slim design of 5.6mm at thinnest, scissor key structure and stainless...
Are you looking for a super compact and high-quality wireless keyboard? Rapoo is one of the best brands in the industry, and Kit 9060 is the one for you! It includes a comfortable 1000 DPI mouse and an ultra-thin aluminum keyboard of only 55 grams! Perfect for PC but also and above all for devices like Smart TV, tablet or TV Box.
Product prices and availability are subject to change. Any price and availablility information displayed on Amazon at the time of purchase will apply to the purchase of any products.