Tablets
ASUS Memo Pad FHD 10 Review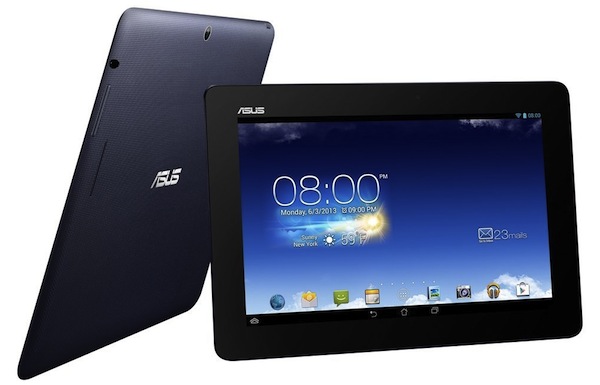 Asus MeMo Pad FHD 10 began as a mobile device for home entertainment, focusing on a quality multimedia sector, in which the cutting edge is the 10″ screen with full HD resolution. Likely to go unnoticed as the engine that drives the new multimedia tablet from Asus, the Intel Atom Z2560, a dual core 1.6 GHz, assisted by a PowerVR graphics engine SGX544MP.
It is an unusual choice in the Android world, but in any case capable of surprising performance, especially in terms of reduced energy consumption. We tried to preview the Wi-Fi version of Asus MeMo Pad 10 FHD, whose hardware sector is complemented by 2 GB of RAM and 16 GB capacity (expandable to 32 GB more, thanks to the microSD card slot), while the operating system is Android 4.2.2.
Asus MeMo Pad FHD 10 tablet looks like a well-built and finished. Asus has used a back cover in plastic material of good quality, not subject to bending and, especially, with a surface finish which makes the hand grip in safer and more stable. The tablet impresses more for its low weight, only 580 g, which for the size, 264.6 x 182.4 x 9.5 mm.
The wide-screen frame greatly increases the overall dimensions, as well as making it impossible to reach the central area of ​​the display with your fingers when you hold it with two hands horizontally. As noted on the Asus Nexus 7 tablet, also on the MeMo Pad FHD 10 the arrangement of the power button and volume rocker could be improved: they are too close and, at times, it happens to press the second instead of the first and vice versa.
ASUS Memo Pad FHD 10: Screen, Connectivity and Cameras
The screen 10″ Full HD (1,920 x 1,200 pixels) is the main attraction of the MeMo Pad FHD 10. It is a LED backlit panel display with IPS technology, a density of 240 pixels per inch dpi and a brightness of 294 cd/m2.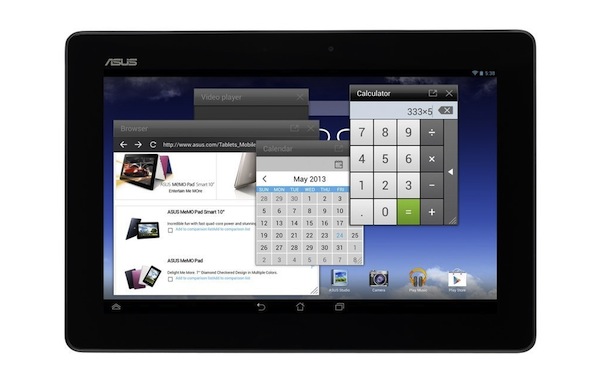 The quality of the displayed images is very good, with a satisfactory level of black, good sharpness, color fidelity and high contrast. Unfortunately, the glossy surface treatment is a repository of reflections under direct sunlight, only increasing the backlight on full.
You cannot cope with this drawback. The media playback high-resolution is a feast for the eyes, though for a fine details does not reach the level of excellence of Apple iPad retina or Google Nexus 10, which exploit screens much more defined. Last but not least, the sensitivity and accuracy of the screen multitouch up to 10 points are very good.
All Asus Pad MeMo FHD 10 lacks nothing in terms of connectivity and expandability. Supports wireless networks of class n, with the possibility of being connected to a TV without cable's thanks to technology Miracast, and Bluetooth 3.0. The sensor is supplied complete with antenna GPS, accelerometer, electronic compass and gyroscope. We find not only the micro USB interface for charging the battery and to connect the tablet to the computer and the classic 3.5 mm jack for headphones, but also micro HDMI output.

There are two cameras integrated in the Asus MeMo Pad FHD 10, and unfortunately disappoint both. The rear, 5 megapixel camera with autofocus and ability to shoot Full HD 1080p, produces satisfactory results only with excellent lighting, sinning for quality in any other situation. The frontal 1.2 megapixel camera with video recording at 720p performs better, with a quality suitable for video chat. Taking photos is not the main task of a tablet, and for this price, sincerely we would have expected better.
ASUS Memo Pad FHD 10: Performance
The hardware of the Asus MeMo Pad FHD 10 assures very good performances in almost every situation. There are no delays or blockages in the side navigation through the content, in the transition from a screen to screen or when playing video in Full HD, even with several apps in the background.
Only the PowerVR graphics engine SGX544MP 400 MHz does not excel for computing power. Playing with titles particularly demanding in terms of resources, such as Real Racing 3, you will have noticed some hesitation in more complex scenes, without prejudice to visual quality at the highest levels.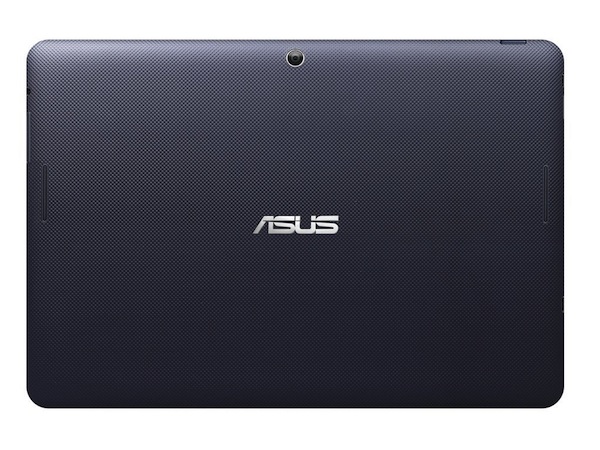 The gaming experience and multimedia industry is in every way satisfactory, thanks to the contribution of the sector SonicMaster audio with two rear speakers, which creates a clean sound and faithful, lacking only for power and fullness of the lower tones.
Autonomy for the Asus MeMo Pad FHD 10 does not disappoint at all, about the efficient management of energy-saving and capable battery lithium polymer 25 Wh. Under full load, with continuous playback of high-definition video and all sensors activated. They easily exceed the five hours, while in daily use, connected to Wi-Fi networks, you get almost eight hours of battery life.
Overall, the results are excellent for a tablet with a 10 " screen and full HD resolution. Only in stand-by MeMo Pad FHD 10 disappoint expectations, stopping at a little over 12 hours, a sign that the power management in this situation has yet to be optimized.
Conclusions
The Asus MeMo Pad FHD 10, also because of the attractive price tag of $299 (16GB), is an interesting multimedia tablet for home use. The Intel Atom processor offers satisfactory performance in all areas, while the screen 10 " Full HD lets you play high-definition content with very good quality and without hesitation.
Only in the gaming tablet Asus shows its limits, with 3D performance does not live up the securities and more expensive in terms of computing power. More than in pure performance, the hardware sector is flexing its muscles in terms of power management: the Asus MeMo Pad FHD 10 maintains low operating temperatures even under heavy workloads, thus improving the comfort in use, as well as ensuring a excellent operating autonomy.
PROS : Balanced Performance, Full HD screen, Very good quality / price ratio, Good battery life.
CONS :
3D graphics engine subdued, Camera disappointing.