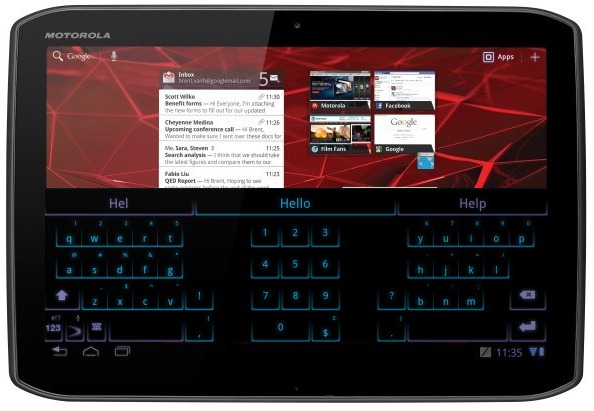 The Motorola ZOOM 2 is a stylish and compact tablet characterized by a special anti-sketch that allows you to take it anywhere and withstand any downpour. As for the technical specifications, this tablet is based on a dual-core 1.2 Ghz, Android operating system in version 3.2, on a 1 GB RAM and an internal memory up to 32 GB non-expandable.
It also has a 10.1 HD touch screen display with Gorilla Glass, 5 mega pixel rear camera that records movie's Full HD video, 1.3 mega pixel front camera, Wi-Fi, DLNA and 3G, Bluetooth, GPS, HDMI output and high autonomy.
Motorola XOOM 2: Design
The Motorola XOOM 2 is a tablet of good quality, characterized by an attractive design, but above all by a special coating that makes it resistant to the payment of liquids. It has a touch screen display IPS type, 10.1-inch with a resolution of 1,280×800 pixels. The weight is only 599 grams while the dimensions are 253.9 mm wide, 173.6 mm deep and 8.80 mm in height.
Motorola XOOM 2: Features and Functionality
Motorola had launched in early 2011 its first tablet, and almost a year after he presents his successor, namely the Motorola XOOM 2. It is an improved model from all points of view than the previous one, and perfectly able to cope with the competition.
Beginning to analyze the technical specifications of this device, it must be said, first, that it is based on a dual-core 1.2 Ghz and the Android operating system, version 3.2 Honeycomb. Remarkable internal memory since this tablet is available in two versions with 16 or 32 GB.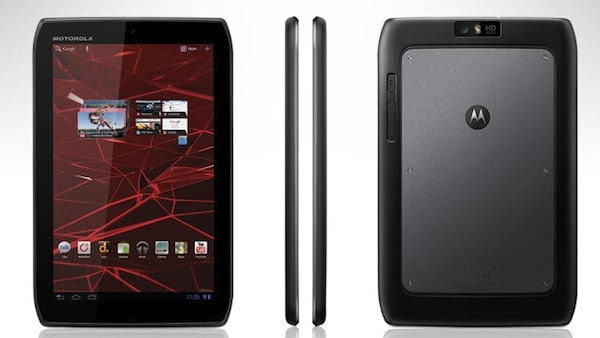 Among the most interesting features of the Motorola XOOM 2 was clearly water-repellent treatment that has undergone all its parts, which ensures maximum protection against accidental spillage of liquid, and it is an extremely portable device. It is a precaution really important. The aluminum coating made it possible to reduce the weight than the previous model.
The display, then, is of good quality, with durable glass Gorilla Glass, HD resolution, and features various sensors, such as the accelerometer, to switch from horizontal to vertical simply by turning the tablet 90 degrees, the sensor ambient light, the gyroscope and barometer.
Connectivity is another strong point of the Motorola XOOM 2, which can be connected to any type of device due to the presence of Bluetooth, Wi-Fi, USB port, HDMI port and DLNA technology. Thanks to the application of Motorola MotoCast addition, you can remotely access your home computer and play the content on your tablet.
There is even supported for HSDPA and HSUPA network, but can only be used to surf the Internet and not to make calls or send messages. As regards the former, but you can use the 1.3 mega pixel front camera for video calls. With the camera rear, 5-mega pixel resolution and auto focus, LED flash and geotagging, you can take pictures and video clips in Full HD.
Although the Motorola XOOM 2 does not support sending SMS, allows the complete management of email and attachments, and supports instant messaging. Not missing the document viewer, to play files in most common formats. Also present were the media player, which lets you play audio and video files of all types, and GPS.
One last interesting feature is Floating Notes, an application that allows you to take notes while you are performing other tasks on your tablet. Finally, the maximum range is 26 days of standby time, 10 hours of surfing the Internet, 4 days of MP3 playback and 9 hours of video playback, thanks to the rechargeable battery 6700 mAh.
Conclusion
The Motorola XOOM 2 is a tablet equipped with many interesting and important features, such as full connectivity, HSDPA, even if you cannot make calls, the camera also records high-quality Full HD video, GPS, excellent memory and a display quality. It lacks only the ability to expand memory and a quad-core processor, but even so, it is a very good tablet.
Where to Buy Motorola XOOM 2
---

---

---
PROS : Quality front camera Internal Memory; Quality main camera, Dual-hours support 3G; repellent treatment; HDMI Output.
CONS :
Memory not expandable.
Product prices and availability are subject to change. Any price and availablility information displayed on Amazon at the time of purchase will apply to the purchase of any products.