Tablets
Acer ICONIA TAB A501: Review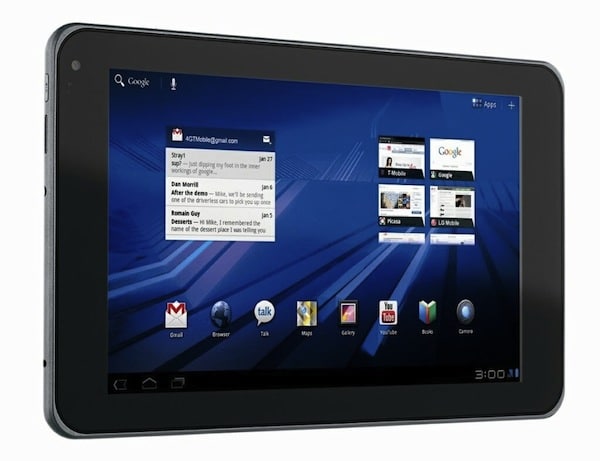 Acer Iconia Tab A501 is a 10.1-inch tablet with multitouch support and a resolution of 1280×800 pixels, which can provide the same multimedia experience offered by a home computer. The tablet is based on Android operating system 3.0, then the version optimized for the tablet, and the dual-core processor NVIDIA Tegra 1 GHz. Moreover, it is equipped with Bluetooth, Wi-Fi, 5 mega pixel camera, front camera, HDMI input, internal memory of 16 GB or 32 GB, slot for memory expansion, 3G connectivity and autonomy up to 10 hours.
Acer ICONIA TAB A501: Design
The Acer Iconia Tab A501 tablet is a smart and stylish, cover with compact and smooth, very pleasant to the touch. Its main feature is its touch screen display, with multi-touch technology, with a diagonal of 10.1 inches and a resolution of 1,280×800 pixels. The weight is just 777 grams while the dimensions are 260 mm width, 177 mm depth and 13.3 mm in height.
Acer ICONIA TAB A501: Features and Functionality
The Acer Iconia Tab A501 is a compact and stylish multimedia tablet, high quality and capable of providing an exceptional touch. Very similar to another model of the same family, the Acer ICONIA TAB A500, it differs in a few details, but most of the features and functionality are the same.
Starting with those that are the technical specifications, this device is based on a dual-core Nvidia Tegra2 1 GHz with 1 MB cache, a memory of 1 GB RAM technology DDR2 SDRAM, a solid-state disk 16 or 32 GB and operating system Android 3.0, the version created specifically for this kind of devices.
The Acer Iconia Tab A501 has, like all tablets, a touch screen display, in this case a capacitive 10.1-inch, high-resolution LED-backlit display and a fluid interface, which makes it a pleasure to operate. Among other things, allows you to play HD content, therefore, is a very valuable tool for playback of movies and games.
The screen has, then, an accelerometer, so to switch from horizontal to vertical, simply rotate the tablet 90 degrees, and vice versa. The multi-touch technology very useful, allows you to use the screen with multiple fingers, so it can be an extra weapon for the execution of certain tasks.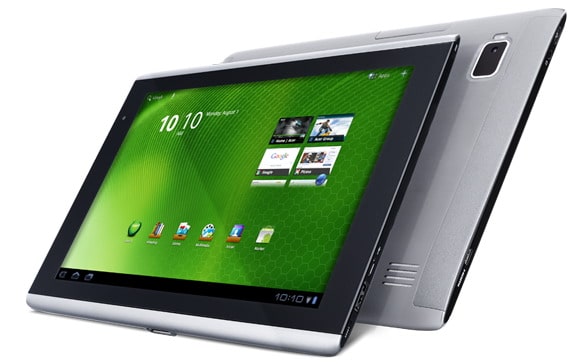 Another important feature of the Acer Iconia Tab A501 is undoubtedly the presence at the HDMI port, thanks to which you can connect it to a new-generation TV and share multimedia content. With technology Acer clear. You can share content on various devices that are connected to your home network.
Inside the Acer Zones, then, are handled games, multimedia and content of social networks. The application SocialJogger allows you to manage all the various social network accounts in one page. Many are already preloaded HD games and as many as downloadable from the Android Market.
As for connectivity, the Acer ICONIA A501 is very complete, thanks for the presence of Wi-Fi to surf the Internet for free, Bluetooth's technology, to exchange data with other devices all without wires and support for the 3G network with HSDPA and HSUPA technologies, to surf the Internet at high speed, then that is the feature that sets it apart from the basic model, the ICONIA A500.
Also interesting is the multimedia sector of this tablet, which includes a 5-mega pixel main camera, which allows you to take pictures to 2,592 x 1,944 pixel resolution and create video clips, and a front-facing camera, with which you can make video calls.
Finally, with regard to doors and entrances, the tablet is equipped with a slot for memory card's microSD and USB port, in addition to the HDMI already mentioned. The device is powered, ultimately, by a rechargeable lithium-ion 2-cell 3260 mAh w and reaches the 10 hours of battery life.
Conclusion
The Acer Iconia Tab A501 is a great tablet, based on the most popular operating system of the moment. Advanced functionality includes the quality of the camera, the presence of a front camera, powerful processor, an HDMI port, the UMTS network and excellent memory. A tablet can easily replace a normal laptop.
PROS : 3G, Memory, Front Camera, HDMI input, OS, Dual-core processor 1 GHz.
CONS :
Dimensions.