Phones
LG Google Nexus 4: Review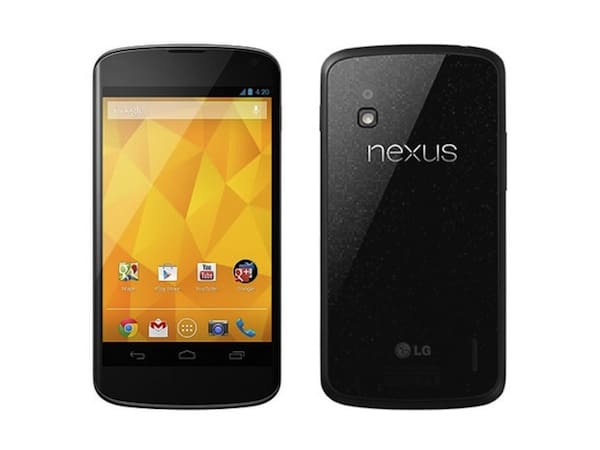 LG Google Nexus 4 is a powerful smartphone and attractive, based on a quad-core 1.5 Ghz, 2 GB of RAM and innovative Android, version 4.2 Jelly Bean. Among the specific stands the capacitive touch screen display with a diagonal of 4.7 inches, WXGA True HD IPS Plus technology and a resolution of 1280×768 pixels. It also has 8 mega pixel main camera with advanced features and Full HD video recording, 1.3 mega pixel front camera. 16 GB of internal memory is not expandable, Bluetooth, Wi-Fi and DLNA, NFC and GPS module.
LG Google Nexus 4: Design
The LG Google Nexus 4 is a smartphone from modern and attractive design, with rounded forms and with the front fully occupied by a large capacitive touch screen display True HD IPS-Plus 4.7-inch with a resolution of 1,280×768 pixels, capable display up to 16 million colors and made of Corning Gorilla Glass.
Even the back cover is made of glass and equipped with a special process called Crystal Reflection, which gives a brightness changing, depending on how it affects the light on the cover. The side is covered with rubber, to facilitate gripping of the phone. The dimensions are 133.9 mm in height, 68.7 mm in width and 9.1 mm in thickness while the weight is 134 grams.
Features and Functionality
The LG Google Nexus 4 is a powerful smartphone with an attractive design, a collaboration between LG and Google, and as such obviously based on Android, inter alia, in more advanced version. For those who have a lot of confidence with this operating system is a complete device from various points of view, whose only flaw is the absence of LTE connectivity.
But by degrees, and starting from the description of the technical specifications, the Nexus 4 is provided to support the network Quadband GSM and UMTS, and can therefore take advantage of the frequencies 850, 900, 1700, 1800, 1900 and 2100 MHz. Regarding transfer of data over the Internet using HSDPA, HSUPA, GPRS and EDGE, the first of which provides a maximum speed of 42.2 mbps.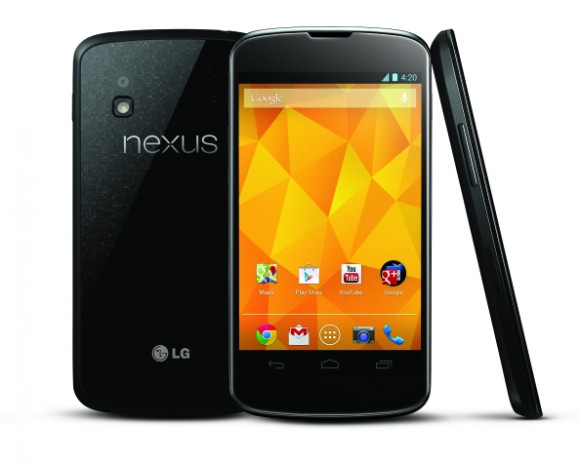 Speaking of web browsing, the LG Nexus 4 is equipped with the proprietary Google Web browser and Wi-Fi connectivity, which ensures the free navigation through the appropriate hotspot. With regard to the data synchronization with other devices, are available USB port and wireless technology. It is based, ultimately, on a quad-core Snapdragon 1.5 Ghz, 2 GB of RAM and the newest operating system Android 4.2 Jelly Bean, as mentioned earlier.
Among the major strengths of this smartphone certainly stands design, in particular for what concerns the quality of the display, made of glass as well as the back cover of the phone. Speaking right of the screen, presents not only a diagonal wide and high resolution, but also a particular technology, called ZeroGap, thanks to which it seems that there is a physical continuity between the display and the Corning Gorilla glass, so as to give a feeling type with the water.
Another interesting feature of the LG Nexus 4 is without a doubt the operating system, which as we have already said this is the latest version at all, which obviously have some improvements compared to the previous ones, but also a speed and fluidity of running high, thanks to the powerful quad-core processor. Arrived to the multimedia industry, one cannot start from photography, another important point of the Nexus 4.
The smartphone it mounts an excellent 8-megapixel camera, and features advanced functions, which include not only the LED flash, digital zoom, autofocus and geotagging, but also the image stabilizer, face detection and smile and the ability to create video clips in Full HD resolution. It also had a 1.3-megapixel front camera for video calling and self-portraits.
As for the audio industry, the LG Nexus 4 has obviously a media player who supports audio and video files in many formats, but no FM radio. There is also built-in GPS and many applications, including Google Search, Maps, Gmail, YouTube and Picasa, just to name a few. Definitely interesting is the presence of NFC and DLNA connectivity.
There are  important features such as the accelerometer, which allows you to switch from portrait to landscape simply by turning the smartphone, the ambient light sensor, energy saving, and the proximity, which turns off the lighting when the display is near your ear. One last interesting feature is the wireless charging, which allows precisely to recharge the phone simply by placing it on an ad-hoc basis, without using any wires.
The LG Google Nexus 4 then presents an internal memory of 16 GB, unfortunately not expandable. As for autonomy, finally, has a rechargeable lithium-ion battery from 2080 mAh able to maintain high performance for 800 cycles.
Conclusion
As already stated in the beginning, the LG Google Nexus 4 is a really interesting device, one of the best around, which only lacks support for LTE network to be 100% complete. Specifications are cutting-edge, from quad-core processor and the Most High for Android updates continue with the display of the highest quality. But also the functions available are no less, primarily the camera, truly remarkable, not to mention the full connectivity, which also includes DLNA and NFC.
PROS : Advanced photo features, GPS, Wi-Fi and DLNA, Front camera, NFC module, Quad-core processor, Internal Memory.
CONS :
Battery cannot be expanded, Memory not expandable, Cover cannot be opened.