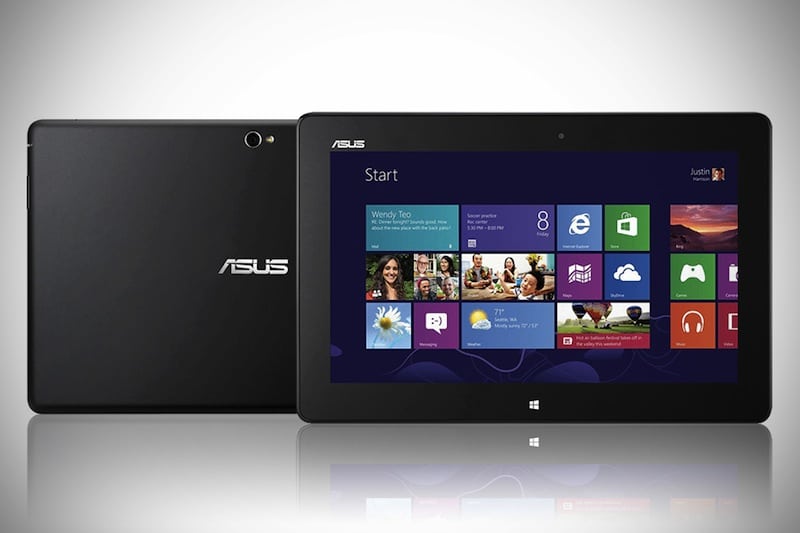 ASUS VivoTab Smart is a small and compact tablet whose main feature, shared by the other models in the family VivoTab, is the possibility to use it together with the keyboard, which in this case, It is of the magnetic type and not of type dock.
As for the technical specifications, is based on an Intel Atom Z2760 dual-core 1.8 Ghz, 2 GB of RAM, a 64 GB internal memory and operating system Windows 8. It also features 10.1-inch touch screen display, 8 mega pixel rear camera, 2 mega pixel front camera, Wi-Fi, Bluetooth, GPS, NFC module and optional LTE support.
ASUS VivoTab Smart: Design
The ASUS VivoTab Smart tablet is a compact and portable, with shell made of polycarbonate which, although not confer a particular elegance, ensures the robustness and practicality. It has a 10.1-inch touch screen display with IPS panel and a resolution of 1,366 x 768 pixels. As for size, the tablet measuring 262.5 mm wide and 171 mm deep and just 9.7 mm thick. The weight is 580 grams.
ASUS VivoTab Smart: Features and Functionality
The ASUS VivoTab Smart was one of the many innovations introduced by the manufacturer last October, then almost at the end of the year. It belongs to the family VivoTab, for the moment, consists of a few elements, such as ASUS VivoTab, and has been launched in conjunction with the release of the new operating system Windows. It is a fairly powerful tablet, ideal for everyday use and affordable.
Speaking in more detail the technical specifications of this model the VivoTab Smart is based on an Intel Atom Z2760 1.8 GHz, 2 GB of RAM, operating system, Windows 8 and 64 GB of internal memory, expandable via SDHC memory cards. The tablet will also be available in a version which supports the LTE network.
Regarding the design, the ASUS VivoTab Smart boasts a chassis not particularly elegant, since it has been realized only in the polycarbonate, but for this result is a light and thin. The display, with IPS panel, has multitouch technology and a viewing angle definitely excellent.
Remarkable instead the park photo, thanks largely to a good 8 mega pixel rear camera with back-illuminated sensor, which ensures quality pictures even in low-light conditions, and creation of Full HD movies, and the front-facing camera, 2 mega pixel camera, thanks to which you can make calls and self-portraits in chat.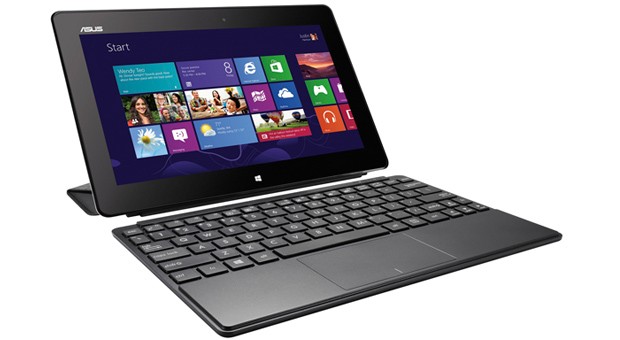 Another interesting feature the ASUS VivoTab Smart is its versatility, visible, especially in the possibility to be transformed into a kind of notebook using the Bluetooth keyboard, which then connects to your device wirelessly, but it must be purchased separately. So as to be purchased separately also the custody Transleeve that, in addition to being completely closed to protect the device, can also be folded in various points and act as a stand.
Speaking of doors and exits, there are, apart from the microSD card slot already mentioned, also a microHDMI port, a microUSB port and 3.5mm audio jack, which allows you to connect standard headphones. As for connectivity, the tablet is equipped with Wi-Fi to surf the Internet without wires connecting to the special hotspot, and Bluetooth version 4.0, then the most advanced.
It should also be mentioned as on ASUS VivoTab Smart are pre-installed a number of proprietary applications, such as Asus Room, SuperNote or My Library, to name a few, to which are added those of Windows. Among other things, it is obviously possible to install the classic Windows applications, but they are not all compatible with the use via tablet.
It is hoped that in the future the Windows store will expand enough to counter the competition. Remain to talk about some of the specific ASUS VivoTab Smart, such as the battery supplied lithium, which up to 9.5 hours, the NFC module, integrated GPS, gyroscope, the ambient light sensor and compass. Finally, anyone purchasing this tablet, you can take advantage of 32 GB ASUS WebStorage free for 3 years.
Conclusion
The ASUS VivoTab Smart is an interesting and fairly powerful tablet, certainly with a good balance between quality and price. Ideal for everyday use, and Web browsing, e-mail, access to social networks, photos and video playback, but not suitable for heavier tasks, such as editing, where the limits of the processor you are definitely filling. Outstanding photo department, perfect connectivity, interesting NFC module. LTE support, where present, is certainly an added value.
Where to Buy ASUS VivoTab Smart
---

---
PROS : Front camera, support 3G, GPS, magnetic keyboard, NFC module, Autonomy, Wi-Fi and Bluetooth, rear camera 8 MP, Windows 8, LTE Support.
CONS :
Power processor; internal capacitance.
Product prices and availability are subject to change. Any price and availablility information displayed on Amazon at the time of purchase will apply to the purchase of any products.