Tablets
Samsung Galaxy Tab 2 7.0: Review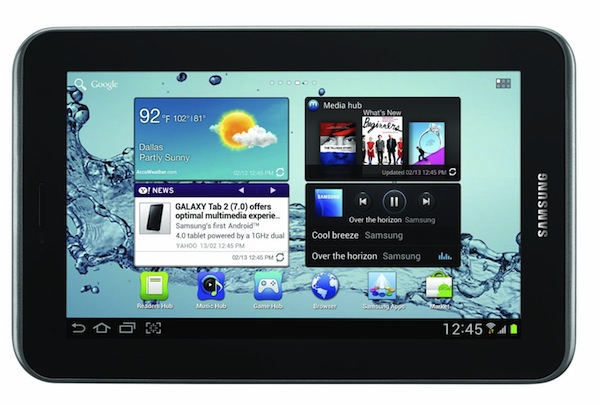 The Samsung Galaxy Tab 2 7.0 tablet is a mid-range modern design with soft lines and rounded corners, and extremely portable. This tablet features the Android operating system in version 4, also known by the code name Ice Cream Sandwich, and use a dual-core processor 1 GHz.
It also has a 7-inch touch screen display with a resolution of 1,024 x 600 pixels, 3.2 mega pixel rear camera, front camera with VGA resolution, integrated GPS, Wi-Fi connectivity, Bluetooth, 8 GB of internal memory, card slot microSD memory support and optional 3G.
Samsung Galaxy Tab 2 7.0: Design
The Samsung Galaxy Tab 2 7.0 is a tablet from the sleek and stylish, with rounded edges. It has a capacitive touch screen LCD 7-inch with a resolution of 1024×600 pixels and can display 16 million colors. The weight is 345 grams while the dimensions are 193.7 mm in height, width of 122.4 and 10.5 mm deep.
Samsung Galaxy Tab 2 7.0: Features and Functionality
The Samsung Galaxy Tab 2 7.0 is one of the latest tablets introduced by the manufacturer, just in the month of February,    and available for sale this month. Compact and modern, looks like the successor to the Samsung Galaxy Tab and Samsung Galaxy 7.0 Plus, as all three of these tablets have the 7-inch screen.
Respect to the first, the Tab 2 7.0 offers improved quality and functionality, while in comparison with the 7.0 Plus loses a few shots. Let us begin by technical data. This  device is based on a dual-core 1 Ghz, RAM memory of 1 GB of internal memory of 8 GB, expandable via the microSD memory cards, and especially on the operating system Android version 4.0, Ice Cream Sandwich, which is the newest available.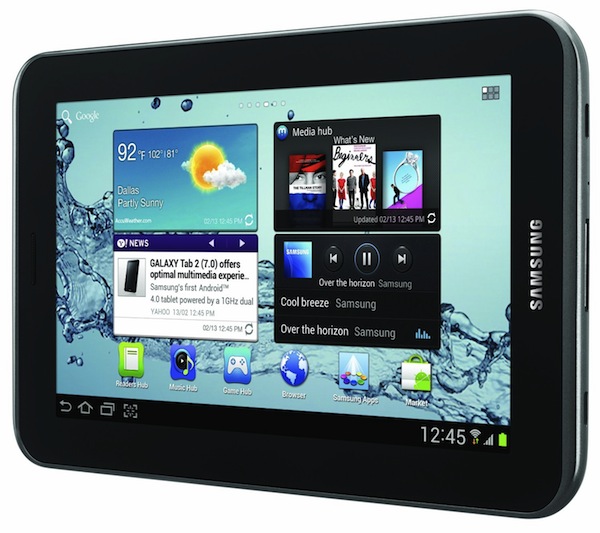 The Samsung Galaxy Tab 2 7.0 also boasts a capacitive touch screen display, 7-inch, high-resolution LED-backlit display and excellent color rendering. It has the accelerator, which allows you to switch from horizontal to vertical simply by turning the tablet 90 degrees, and vice versa.
Speaking of connectivity, this tablet has a USB port and Bluetooth technology, to be able to connect to various devices, with or without wires. Interesting is the presence of Wi-Fi connectivity, you can surf the Internet for free using a nearby hotspot, and support for HSDPA to 21 mbps, even if only optional.
As regards, next, the photography, the Samsung Galaxy Tab 2 7.0 is equipped with a 3.2 mega pixel main camera, which allows you to take pictures to 2,048 x 1,536 pixels resolution and create video clips. It also has to geotagging smile detection.
The front-facing camera is useful for making video calls. By mounting the Android operating system, the tablet presence preloaded so many Google applications to which you can add more by downloading them from the market. There are also many apps Samsung, as the Reader Hub, the Social Hub, Music Hub and Game Hub, to access games, social networks and online music. Do not miss the built-in GPS and Polaris Office, to create and edit documents in popular formats.
Conclusion
The Samsung Galaxy Tab 2 7.0 is a tablet of good quality but definitely not higher than the Tab 7 Plus, for which indeed has some features below. The positive note is certainly connectivity, optional 3G support, GPS, Android version and a good memory. Too bad for the lack of flash and the battery is not removable.
Where to Buy Samsung Galaxy Tab 2 7.0
---

---
Samsung Galaxy Tab 2 (7-Inch, Wi-Fi) 2012 Model
Android 4.2 (Jelly Bean) OS
7-inch Multitouch Screen (1024 x 600)
8GB Internal Memory, microSD expansion up to 32GB
Wireless N Wi-Fi (802.11b/g/n), Bluetooth 3.0
1GHz Dual-Core Processor, 1GB RAM
PROS : Front camera, Slot microSD Memory.
CONS :
3G only optional, No HD movies.
Product prices and availability are subject to change. Any price and availablility information displayed on Amazon at the time of purchase will apply to the purchase of any products.