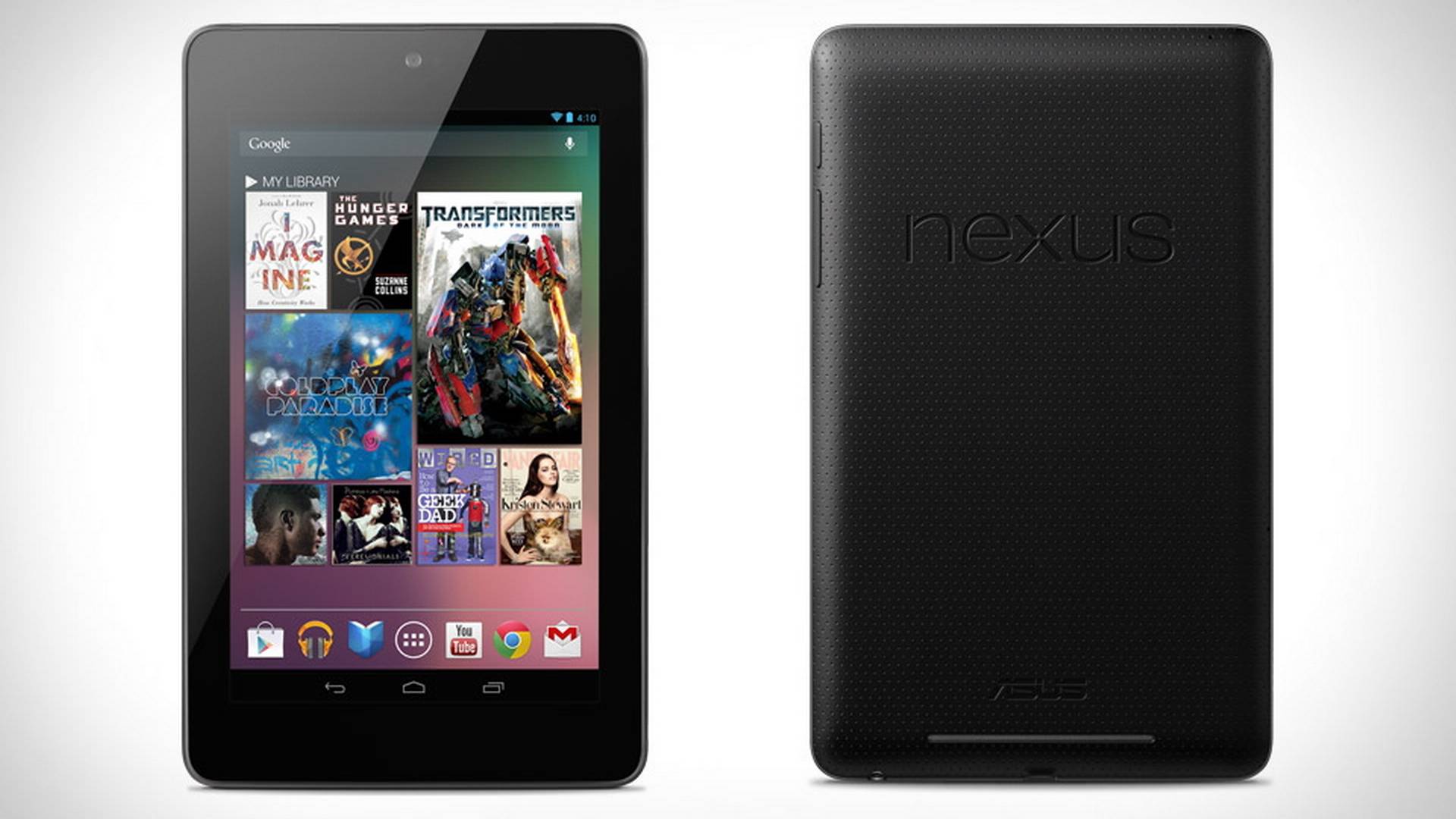 ASUS Nexus 7 is a powerful tablet, a collaboration between ASUS and Google and based on the Android operating system in version 4.1 Jelly Bean. It is also based on a quad-core 1.2 GHz and 1 GB of RAM, and has an attractive design, with the front fully occupied by a 7-inch IPS touch screen display with multi-touch support.
Other specifications include Bluetooth, Wi-Fi, NFC, 1.2 megapixel front-facing camera, integrated GPS, USB port, optional 3G module. Internal memory is 8, 16 or 32 GB non-expandable and a maximum range of 9.5 hours.
ASUS Nexus 7: Design
Small, compact and attractive, the ASUS Nexus 7 is the perfect tablet for anyone who is always on the move, thanks to a display glass coated with Corning Glass FIT and equipped with non-slip coating, which ensure maximum maneuverability but also high strength.
The screen is a 7-inch capacitive touch screen with a resolution of 1,280 x 800 and equipped with IPS panel. The weight is just 340 grams, and the dimensions are 198.5 mm in width, 120 mm depth and 10.45 mm in height.
ASUS Nexus 7: Features and Functionality
Presented in the world a few months ago and available for purchase starting this month of November 2012, the ASUS Nexus 7 is a tablet, a collaboration between the producer and the giant Google. Compact and modern, attractive design, uses the power of its innovative operating system and the quality of its display.
As regards the technical specifications, this tablet is based on a quad-core Nvidia Tegra 3 1.2 Ghz, on a memory with 1 GB RAM Technology DDR2 SDRAM, operating system, Android 4.1 Jelly Bean, namely the newest in circulation, and an internal memory of 8 or 16 GB, unfortunately not expandable because it lacks the appropriate card slot.
Speaking of the main strengths the Asus Nexus 7, it is imperative to highlight the quality of its display, a high-resolution touchscreen, powered by ASUS TruVivid, which ensures bright colors, and IPS panel for images sharp and detailed.
Do not miss the glass and the Corning Glass FIT non-slip coating, making it a robust device and perfect for those who are always on the move. Thanks to the quad-core processor, in addition, this tablet is also ideal for those who love gaming. Video games revolve, in a very smooth, and you can open multiple applications, all in an instant. When you run tasks that require less power, the tablet automatically adjusts through energy efficiency.
As regards the area connectivity, the ASUS Nexus 7 is practically complete, at least in its most equipped. In this case there are Wi-Fi to surf the Internet free by connecting to a hot spot in the area, the Bluetooth version 3.0 and microUSB ports, which are used to exchange data with other devices, and 3G module.
The cheapest version mounts only the Wi-Fi and 3G. Being an Android tablet, it is not surprising that integrates perfectly with all Google applications, including Google Play, for which it was specifically designed. But all Google services work perfectly and are readily available, just sign up with your account. Among the various pre-loaded, apps include Gmail, Chrome, Google, and YouTube, to name a few.
The only real new the Asus Nexus 7 lies in its media department, particularly in the photo. It does not have no rear camera, which allowed of course knock down the price, but only a front camera for video calls over Wi-Fi or 3G. There are the various sensors of the display, such as accelerometer, gyroscope, proximity sensor, and the NFC technology, which allows, among other things, to exchange data between two devices simply bringing them closer.
But the features offered by this tablet are still many, such as the ability to unlock it with a smile, to make video chat with up to 9 people, to download an unlimited number of applications and add all the gadgets that you prefer. This final feature is the built-in GPS. Of particular interest, finally, the autonomy of this tablet, able to reach the 9.5 hours of continuous use.
Conclusion
The ASUS Nexus 7 tablet is a good value for the price. Undoubtedly has many interesting features, such as the quad-core processor, the Android generation, 3G module, GPS, high autonomy and NFC. The absence of a major photographic department penalizes him greatly over the competition.
Where to Buy ASUS Nexus 7
---

---

---
PROS : Internal memory, optional 3G module, quad-core processor, NFC module; Autonomy; Front Camera.
CONS :
Memory is not expandable, No rear camera.
Product prices and availability are subject to change. Any price and availablility information displayed on Amazon at the time of purchase will apply to the purchase of any products.