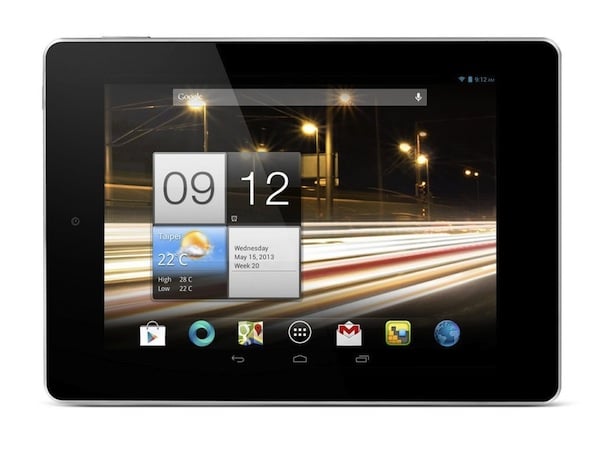 Acer Iconia A1 is an Android tablet 8 " statement, with some compromises in design and quality of the screen, but it offers a sub-quality hardware. Acer Iconia A1 is an Android tablet 8 " statement, with some compromises in design and quality of the screen, but it offers a sub-quality hardware.
The tablet Iconia A1-810 stands in the tradition Acer for quality of materials and finishes. In other words, it excels in both, with a design rather anonymous, without any distinction. The back cover is made of plastic which, although not valuable, it demonstrates solid and robust without bending or creaking whatsoever.
Despite its compact size, the small Acer tablet is not so thin, with a thickness of 10.5 mm, and even lighter, with a weight around the four pound. Unfortunately, for Acer, the tablet of choice in this area, iPad Mini, is still far both build quality, both for light weight and maneuverability.
To tell you the truth, Acer Iconia A1 is not so inconvenient to use though, holding it with one hand, you immediately notice the difference, taking as a reference the Asus Nexus 7. In any case, for the benefit of the Acer tablet compared to competitors from around 8 ", we screen form factor 4:3. The result is a device more proportionate and, above all, a visual area exploited to the best viewing content compared to the most popular Android tablet for design and performance, but with a form factor of 16:9.
Acer Iconia A1: Screen and Connectivity
The screen 7.9 " is IPS type, with a display quality average. As the panels of this type, the viewing angle is very large, but unfortunately, the specimen used by Acer Iconia A1 does not shine nor for brightness or contrast. Even the colors to disappoint fidelity and liveliness.
Finally, the resolution is only 1,024 × 768 pixels, with a density far from the most valuable tablet in this market segment. The result is a sharpness only average, still acceptable in the use of Web content and social networks, at least in video or in mobile gaming.
When it comes to multi-touch commands, did not disappoint either for accuracy or to reactivity. We must also consider that, in view of the suggested retail price, it is certainly an acceptable compromise in this regard.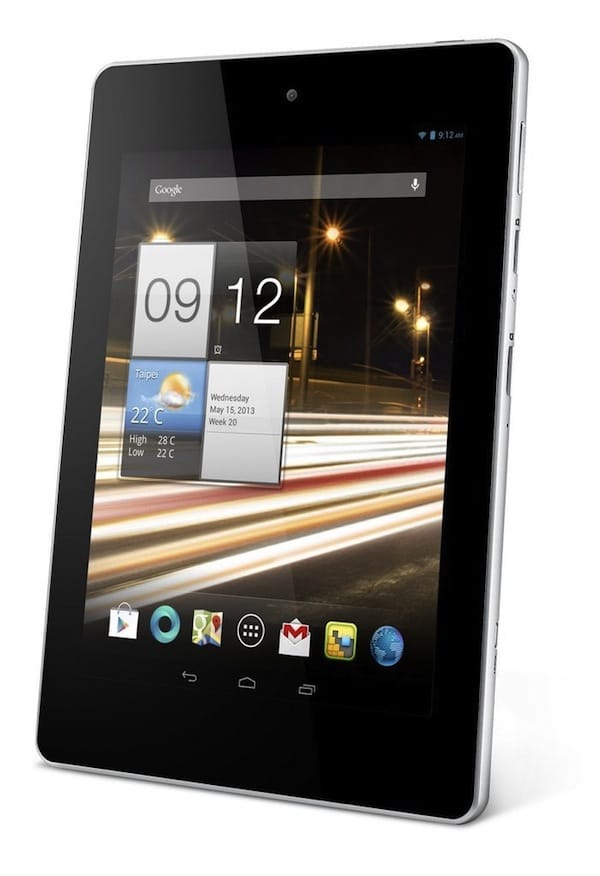 If the design is anonymous and handling so-so, at least the Acer Iconia A1 shines for expandability and connectivity. On the right side, we find a welcome microSD card slot (up to 32GB) and an even more pleasing output microHDMI, flanked by the small built-in microphone.
Another feature of the Acer tablet is less obvious, but still important: it is the GPS capability, which allows you to turn the Iconia A1-810 in an efficient car navigation once you install an application that provides for the management of offline maps.
There is no lack of connectivity antennas Bluetooth 4.0 and Wi-Fi n class, but lacks NFC support as well as the slot for 3G cards, although this version is expected later this year. Unlike many entry-level tablets, the Acer Icon A1 has two cameras, one rear 5-megapixel camera with no auto focus and flash, and the front with only VGA resolution (0.3 MP). Perhaps it would be better to avoid the integration of the rear focusing only on that front, improving their quality for video calls or self-portraits for sharing on social networks.
Acer Iconia A1: Performance
The processor MediaTek 8125 quad core 1.2 GHz, supported by 1 GB of RAM, supports very well the operating system Android 4.2.2, an updated version perfectly and nothing is missing making the most of the small Acer tablet. The OS version is pretty much stock, no custom user interface and very few pre-installed app.
So we have about 12 GB of internal memory to install your favorite apps from the Google Play Store in addition to load a variety of media files, being able to also count on the microSD expansion slot.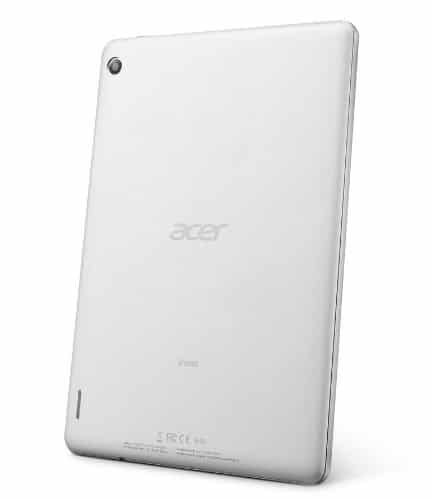 Among the few apps Acer, stands the storage service free and Acer AcerCloud Print to print wirelessly with compatible printers. The performances are very good, with no lag or slowdown in the opening and management of the app, just the screen, the quality average, penalizes the use of content, especially multimedia, along with mobile gaming.
In the latter case, it is not only the visual quality of the limiting factor coming into play the form factor of 4:3 not perfectly digested by some titles optimized for wide screen 16:9 (including Real Racing 3, used for Our test). In any case, the Acer Icon A1 it is possible to play most of the games without problems. One aspect not to be overlooked in the overall performance is autonomy: the Acer Iconia A1 has a 5,280 mAh battery capable, which provides him with more than eight hours of heavy use (gaming, HD video playback, Wi-Fi).
Conclusion
How many entry-level tablet from about 8″, this Acer Iconia A1 does not hide its compromises, with a weight above average, an IPS screen for improved resolution and quality, and an anonymous design. In any case, the product is not disappointing at all.
Overall, it is well made, solid in the hand but not lightweight. It moves well on the Web and in the mobile gaming sector thanks to the good hardware (quad core), even if the screen is so punitive as well as in video playback. For this size – screen 7.9″ with 4:3 ratio – and price range is really hard to find much better as quality / price ratio, also considered the good expandability and integrated GPS antenna.
Where to Buy Acer Iconia A1
---

---

---
Acer Iconia A1-830-1633 7.9-Inch Tablet (Silver)
7.9-inch Display and Premium Design
Android 4.2 Jelly Bean (Upgradable to Android 4.4 Kit Kat when available)
Intel Dual-Core Atom Z2560 Processor (1.6 GHz, 1MB Cache)
16 GB Flash Memory, 1 GB LPDDR2 Memory
7.5-hour battery life, .83 pounds
PROS : Affordably priced, Good performance, Hardware quality, Competitive price.
CONS :
Screen quality only average, Anonymous design, Weight above average.
Product prices and availability are subject to change. Any price and availablility information displayed on Amazon at the time of purchase will apply to the purchase of any products.