Tablets
Toshiba Excite Pure: Review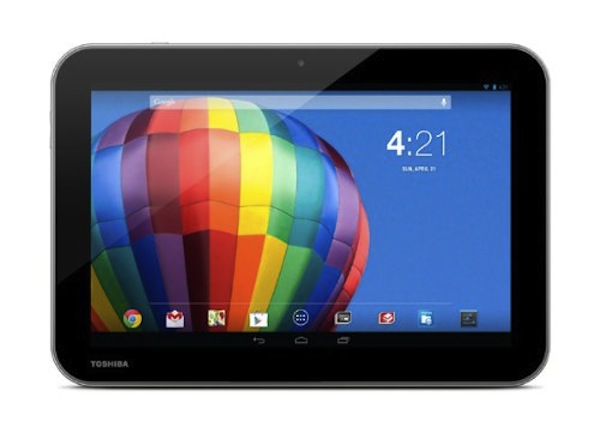 The Toshiba Excite Pure tablet is a lightweight and portable, belonging to the mid-range but not low quality. Featuring a sleek and slim design, this model has a 10.1-inch touch screen display with a resolution of 1280×800 pixels, multitouch support, Nvidia Tegra 3 processors, 1GB of RAM, a 16 GB internal memory, a slot for SDHC memory cards and SDXC memory cards, the Bluetooth, Wi-Fi, 3G network support, the connector microHDMI, the USB port and 2 stereo speakers.
Toshiba Excite Pure: Design
The Toshiba Excite Pure is a tablet characterized by a modern design with clean lines and rounded edges. Durable and robust, it can be carried anywhere without any problems. It has a 10.1-inch touch screen display with a resolution of 1,280×800 pixels. As for size, measuring 261 mm in width, 179 mm depth and 10.5 mm in height. The weight starts at 630 grams.
Toshiba Excite Pure: Features and Functionality
Presented at the event Computex 2013 along with two other models, the Toshiba Excite Pure is a tablet cheap modern design and capable of ensuring fast and smooth performance, although less powerful than the other two tablets, one particular Toshiba Excite 10 Pro, by far the best of the three.
But back to the model in question is now analyzed its data sheet, which sees the presence of an NVIDIA Tegra 3 quad-core 1.4 GHz processor, 1 GB of RAM, 16 GB of flash memory, expandable via cards microSD up to 32 GB, and the Android operating system version 4.2.1, one of the newest.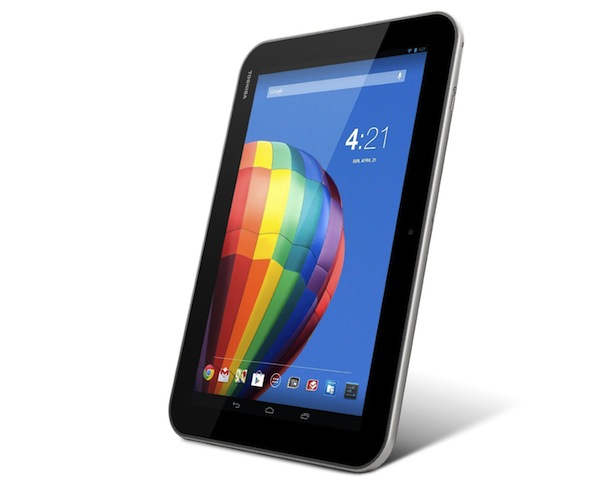 As regards the various features of the Toshiba Excite Pure As well, it must be said right away that does not excel in any particular area but allows the user to work and play all day, thanks to its substantial autonomy that comes, for example, up to 9.5 hours of video playback.
Its portability and battery life is undoubtedly its main strengths. As for connectivity, the Excite Pure comes with Bluetooth 4.0, Wi-Fi, 1 USB port and HDMI port, so, all in all it can be connected to any type of device and browse the Internet using a hotspot nearby. For those needs to connect to the Internet at any time, there is also a version of this tablet with 3G support.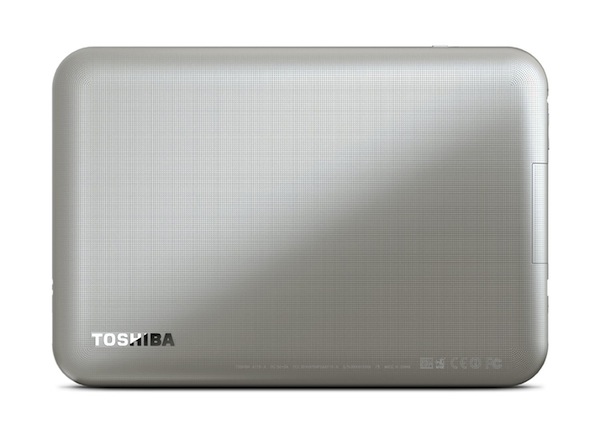 Speaking of the multimedia industry, the Toshiba Excite Pure is equipped with 3 mega pixel rear camera, 1.3 megapixel front camera and audio and video player, complete with DTS Premium Voice Pro, which provides stereo sound high quality.
Not missing, then an office application compatible with all major Microsoft programs. From the Web thanks to Google Play, you can download countless applications. Some free and others charge, to enrich the range already available. Those who wish, then, provide maximum protection for your tablet, can buy a case with Bluetooth's keyboard in book form, which also allows us to optimize the job. There is no shortage accelerometer, gyroscope, digital compass and GPS.
Conclusions
The Toshiba Excite Pure is a mid-range tablet comes with everything you need to navigate and fun, but did not excel in anything. It has dual camera, GPS, quality speakers, HDMI port, optional 3G support and high autonomy. The display has a resolution in the media. The RAM is not abundant and even the internal memory is then very high.
Where to Buy Toshiba Excite Pure
---

---

---
PROS : MicroHDMI connector, Multitouch display with 10 points, SD card slot, Support 3G, Wi-Fi and Bluetooth, Dual Camera, Quad-Core Processor; Autonomy, GPS.
CONS :
Resolution Camera, Memory is not so wide; RAM is not abundant.
Product prices and availability are subject to change. Any price and availablility information displayed on Amazon at the time of purchase will apply to the purchase of any products.