The Panasonic HC-X900K is one of the latest Full HD 3D camcorder with Panasonic's 3MOS System Pro equipped with the anti-vibration system HYBRID OIS OIS  with block and LEICA DICOMAR from 29.8 mm/F1, 5 with Nano Surface Coating technology.
For viewing movies is a LCD Wide 3D 3.5-inch LCD with a resolution of 1,152,000 pixels. The camera is also equipped with remote control IS, USB 2.0 Hi-Speed ​​port miniHDMI technology and Crystal Engine Pro II for high-speed processing of pixels.
Panasonic HC-X900K: Design
The Panasonic HC-X900K is equipped with a rather simple and modern design which gives it a decidedly professional. On the side with the camera body is a display 3.5-inch 3D LCD Wide with an exceptional resolution. Despite the quality of the camera and its appearance very professional, the dimensions are given an equal to 6.7 x 7.2 x 15 cm with a weight (not too light) to 425 grams.
Panasonic HC-X900K: Features and Functionality
The Panasonic HC-X900K is its main feature in the system 3MOS System Pro, which improves the performance of the camera thanks to an improvement of the lens, the sensor and the graphics engine: these improvements allow for Full HD images of excellent quality. Going to analyze in detail the system will find a MOS sensor x 3 1/4, 1 with a total number of pixels equal to 9.15 MP (MP 3.05 x 3) and a LEICA DICOMAR F1.5 (wide) / F2.8 (telephoto).
The 3MOS System Pro allows you to create great shots even in low-light conditions   and enables you to produce bright images with minimal noise, all without even flicker due to the presence of the stabilizer with HYBRID OIS, OIS  the block that uses five-axis correction to achieve a noise suppression caused by the affection moved, in any type of recovery. The stabilization system allows great spin and shoots even when making movies on the go.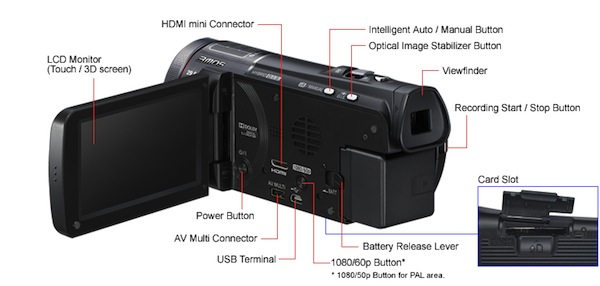 The compensation to 5 axes, in addition to effectively compensate for camera shake in horizontal and vertical direction, the oscillations about the axes vertical and transverse, also corrects the oscillations around the longitudinal axis, characteristics in shooting performed in motion.
The camcorder, as already said, has a beautiful LEICA DICOMAR F1, 5 with a section of 49 mm is fitted with the coating nano surface coating that minimizes the distortion and degradation of contrast and resolution that can be found in the outlying areas of the lenses.
The device features standard illumination of 1,400 lx, a minimum illumination of 1.6 lx (1/25, scene mode, low brightness), 1 lx (Color Night View mode). The focus can be automatic or manual, as well as can be chosen exclusively automatic white balance (auto, inside 1, inside 2, sunny, cloudy) but unfortunately not manual.
The highlight of the camera, the 3MOS sensor, using pixel shift technology in which virtually the green MOS sensor moves vertically and horizontally with respect to the sensor's MOD blue and red which have a level of submicron precision.
Through technology Crystal Engine Pro II for high-speed processing of the large amount of pixels, you can get the full HD quality even in the smallest detail.
Conclusion
The Panasonic HC-X900K is one of the latest cameras with sensor 3MOS System Pro coming to market. The device combines a sleek, compact design, the features technologically advanced and that will affect even more experienced users. The LCD display has an amazing resolution (115,2000 pixels) and a very high quality, as well as the LEICA lens with Nano Surface Coating. To complete the technological system for the camera will find the Crystal Engine Pro II.
Where to Buy Panasonic HC-X900K
---

---

---
Panasonic HC-X900K Full Hd 3d Version Lens/ultrafine Image
Standard Accessories - AC Adaptor, AC Cable, 1250 mAh Rechargeable Battery, AV...
3MOS System Pro for Ultrafine Image Quality
F1.5 LEICA Lens with Nano Surface Coating Technology
Advanced 3MOS Sensor with Pixel Shift Technology
Crystal Engine Pro II
PROS : Full HD 3D; system HYBRID OIS Leica Dicomar Lens with Nano Surface Coating; advanced 3MOS sensor, LCD display with a resolution of 115,2000 pixels; 3MOS System Pro, Crystal Engine Pro II.
CONS :
Price.
Product prices and availability are subject to change. Any price and availablility information displayed on Amazon at the time of purchase will apply to the purchase of any products.