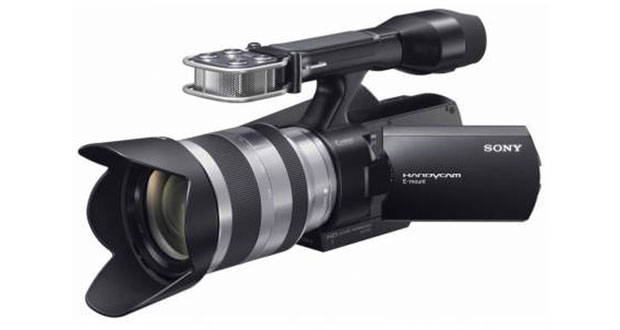 The Sony NEX-VG10 is a digital video camera ideal for videographers who want maximum flexibility and an optimum quality film. It has a body to handle and allows you to record video in Full HD, but above all it is a camcorder with interchangeable lenses, in order to give free rein to their creativity.
Other specifications include an APS Exmor CMOS 14.2 megapixels of resolution, integrated stereo microphone, an Xtra Fine LCD with TruBlack technology by 3 inches and a resolution of 921,600 pixels, the viewfinder, HDMI input, the optical stabilizer and slot for memory cards Memory Stick and Secure Digital.
Sony NEX-VG10: Design
The Sony NEX-VG10 is a compact camcorder from refined and elegant design. Despite talk to the same definition of the parent company to a consumer market looks and features that seem destined to a professional arket. The Sony NEX-VG10 is the first Full HD consumer camcorder with interchangeable lenses in the world: in practice using fli same objectives as the Sony digital SLR cameras.
The LCD display is completely integrated in body, the size of the camera and has more than suitable to ensure the best color rendition of the images that are rotated due both to the size of 3 inches and a resolution of 921 x 600 pixels.
Sony NEX-VG10: Features and Capabilities
The camera Sony NEX-VG10 is aimed at a purely consumer though, analyzing the high price, you might think it is aimed at a professional audience. The Full HD camcorders with interchangeable lenses on the market have prices higher than the Sony NEX-VG10, then the definition given by the manufacturer of camera cosumer can be corrected.
Of course this camera is directed to an audience that is not content to turn the simple video, but is aimed at an audience of enthusiasts and connoisseurs. The technical element ch is most striking is certainly the Exmor APS HD CMOS sensor with 14.2 MP dimensions of 23.4 x 15.6 mm:
With this sensor you can capture movies with low noise, all for the benefit of the quality of the video, especially in situations of low light. Another element which perhaps suggests a more professional and consumer, is the presence of integrated stereo microphone that allows you to record high quality audio.
The Sony NEX-VG10 lets you record images with a full HD resolution of 1,920 x 1,080 pixels in AVCHD format at 24Mbps that can be stored on various media types, ie Memory Stick PRO Duo, Memory Stick PRO-HG Duo, SD- card, SDHC and SDXC (Class 4 or higher). The images will be displayed on the Xtra Fine LCD with TruBlack technology 3-inch with a number of pixels equal to 921,600. Another strong point of the camera is definitely the optimal control of focus and depth of field.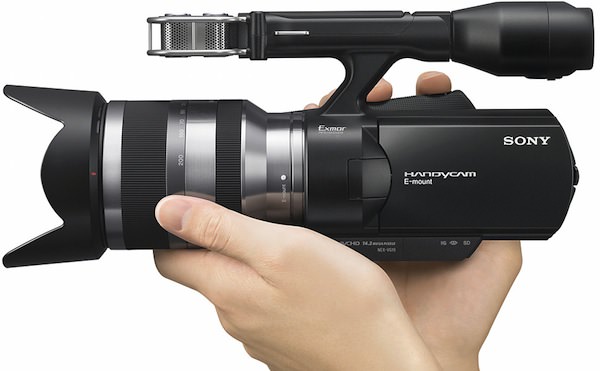 In addition to the LCD mentioned above, the Sony NEX-VG10 has a high-resolution electronic viewfinder is cm/0.43 1.1 "Xtra Fine with a number of pixels, defined as points in thousand, equal to 1.440. The viewfinder is also equipped with adjustable angle so as to ensure a convenient location and to enable the framing of the scene from any position.
The presence in the viewfinder also allows you to better see what you are recording even when the presence of direct sunlight may interfere with the reading of the LCD. The Sony NEX-VG10 is equipped with both automatic and manual settings, among which we find the aperture, gain, white balance and focus.
Clearly, thanks to its objective is also can take photos with a maximum resolution of 14.2 MP. The supplied lens is a 18-200 mm Optical SteadyShot with Active Mode which allows you to ottenre shooting and image quality thanks to the stabilization used to correct the effects of camera shake during handheld shooting, even on the move.
A significant contribution to the achievement of excellent recordings is also provided by the powerful BIONZ processor that executes a processing of video and still images. In addition to the twilight manual mode automatically stitches together continuous shots at high speed to create a single image with reduced noise in low light conditions.
Last feature, but are no less important, is the presence of HDMI output that allows direct connection between the camera and the HD TV or PC with compatible input.
Conclusion
The Sony NEX-VG10 is a compact camcorder is not just the size that contained stands as a middle ground between consumer products strictly and purely professional products, both for the price and for the high performance that is able to provide. Aspect that sets it apart is its ease of use thanks to the extremely intuitive controls.
The microphone capsule is stereo type and quadruple with spatial matrix allows you to capture crystal-clear sound and has a directionality than any other camera. The Sony NEX-VG10 is a great product that will surely, both for price and type of camera, it is not suitable for everyone.
Where to Buy Sony NEX-VG10
---

---

---
PROS : Film quality; Interchangeable lenses; sensor resolution, HDMI input; REMOTE CONTROL; Viewfinder.
CONS :
Price, No internal memory.
Product prices and availability are subject to change. Any price and availablility information displayed on Amazon at the time of purchase will apply to the purchase of any products.