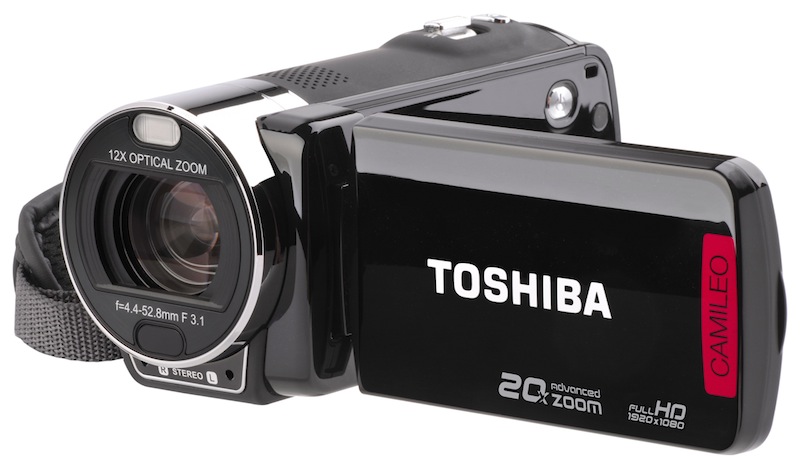 The Toshiba Camileo X200 is a compact camcorder with 8 MP CMOS sensor with which you can make movies with HD H.264 Full HD 1080p resolution. Mount a 12x optical zoom, 20x advanced zoom and 60x digital zoom as well as a 3-inch touch screen LCD display at 16:9, microphone slot, mini HDMI and mini USB interface.
The camera is also equipped with Electronic Image Stabiliser (EIS), Pause Button, face detection / smile detection, motion / slow motion and microphone slot, combined with the compact design aspects that contribute to make it a perfect travel companion at an affordable price.
Toshiba Camileo X200: Design
The Toshiba Camileo X200 is a compact camcorder, very practical and handy to use. The design is elegant and refined, with its glossy black. It has a 3 inch touch screen display at 16:9 format and the dimensions are 120 mm wide, 54 mm high and 62 mm deep. It weighs about 301 grams with battery and without battery 270.
Toshiba Camileo X200: Features and Functionality
The Toshiba Camileo X200 is a digital camera made by the producers more than a year ago, just in september of 2011, together with her sister Toshiba Camileo X400. Compact and handy, is the ideal model for demanding users who are looking for technologies and advanced features.
Referring, firstly to some technical data, the camera has an image sensor type CMOS 8-megapixel, a goal that has a focal length of 4.4 to 52.8 mm and a maximum aperture of f3.1-f4. 2, a 12x optical zoom and 60x digital zoom to shoot subjects in the distance.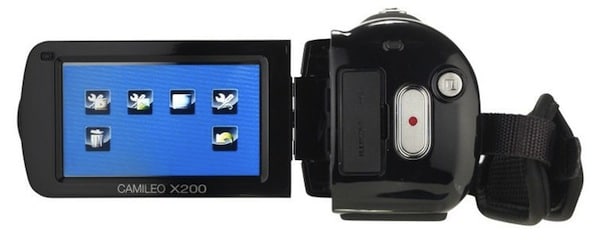 In terms of quality, with the Toshiba Camileo X200 you can record video in Full HD, so with a maximum resolution of 1920×1080 pixels. But of course it also allows you to take pictures with a maximum resolution of 16 MP, 4,608×3,456 pixel's equivalent.
Thanks to the electronic stabilizer, videos and images are always sharp even happen if you move the camera, because it detects movement and corrects them. Other integrated features include face detection and smile, slow motion and the so-called Cut n Save, with which you can edit movies and photos after they are made.
Speaking of storage capacity, the Toshiba Camileo X200 has a NAND flash memory of 128 MB and a slot for memory cards such as Secure Digital, SDHC and SDXC. Thanks to the USB and HDMI ports, then you can connect the camera to your computer, TV and other devices, to transfer or simply viewing photos and videos on the big screen.
Definitely, the full purchase package that includes, apart from the camera, even the charger, audio / video cable, USB cable, HDMI cable, lens cap, remote control, cleaning cloth, hard case, manual user and the CD-ROM.
Conclusion
The Toshiba Camileo X200 is a compact camcorder with good quality and by the excellent relationship between quality and price. Among the most interesting, features stand out the HDMI interface, large touch screen display, Full HD movies and the supplied remote control. The internal memory is not very wide, but it is easily expandable.
Where to Buy Toshiba Camileo X200
---

---

---
PROS : 12x optical zoom; Price; Port mini HDMI, 1080p Full HD resolution, 8MP CMOS sensor, 3-inch touch display 16:9; Mini HDMI cable included; Pause Button; Slot microphone, Face Detection / Smile; Editing Function video (size and saves); Electronic Image Stabiliser (EIS) Sales Package rich.
CONS :
Type Audio recording is not declared; Internal Memory.
Product prices and availability are subject to change. Any price and availablility information displayed on Amazon at the time of purchase will apply to the purchase of any products.