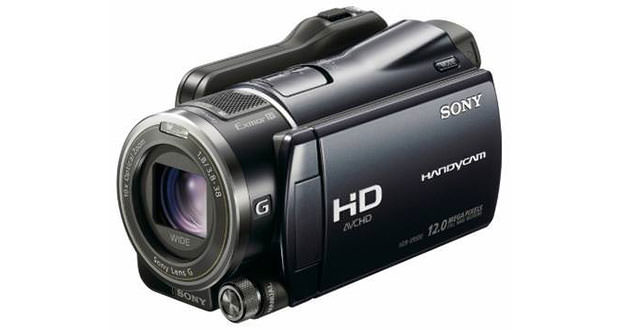 The Sony HDR-CX520V is a compact digital camera but high quality that ensures recording of Full HD movies, so with a maximum resolution of 1,920 x 1,080 pixels. As for specifications, the camera is equipped with an internal memory of 64 GB, slot for memory cards Memory Stick, an Exmor R CMOS sensor with high sensitivity, a Sony G lens with 12x optical zoom, 150x digital zoom, a LCD display 3-inch touchscreen with a resolution of 230,400 pixels, the processor Bionz high-speed optical SteadyShot stabilizer, face detection, Smile Shutter, the HDMI output, the geotagging by GPS and a range of shooting up to 9.4 hours.
Sony HDR-CX520V: Design
The Sony HDR-CX520V camcorder is a compact desktop to take with him. As for size, measuring 65 mm high, 62 mm wide and 125 mm deep, while the weight is 370 grams without battery and card. It has a 3-inch touchscreen LCD display with a resolution of 2,304,600 pixels.
Sony HDR-CX520V: Features and Capabilities
The Sony HDR-CX520V is a compact digital camera made by the producers in 2009 and commercially available since the summer of last year. It is a feature-rich video camera, handy and equipped with advanced technology, even if it is not in all respects the most performing, since it is probably the Sony HDR-XR-520V. Speaking technical specifications, this camera offers you an internal flash memory of 64 MB that slot for memory cards Memory Stick.
The absence of a hard disk or cassette or DVD support has allowed a reduction in size but above all support for memory cards has an additional advantage, namely that of being able to easily transfer photos and videos on another device.
Continuing with features, the Sony HDR-CX520V uses a CMOS sensor Exmor R 1/2, 9 inches in size and a total resolution of 6,631 megapixels, while the actual resolution is necessary to make a distinction. In the Memory mode, with the 16:9 aspect ratio is 4:3 with 4.15 megapixels and is 3.1, while in Camera mode, is in 16:9 and 4:3 aspect ratios of 4.5 MP 6 MP. In practical terms, this camera can achieve filamti Full HD video, so with a resolution of 1920×1080 pixels and take pictures with a maximum resolution of 4000×3000 pixels, so 12 megapixels.
It remains to speak of a mounted lens on this camera. It is a Sony G lens that has a maximum aperture of F1.8-F3.4 and a focal length of 5.5 to 60 mm and 35 mm format equivalent to 43-516 mm in 16:9 and 52-624 4:3 for the Camera mode and 41-492 mm 38-456 mm in 16:9 and 4:3 for the Memory mode. To this was added a 12x optical zoom supported by a 150x digital zoom, allowing you to shoot subjects in the distance.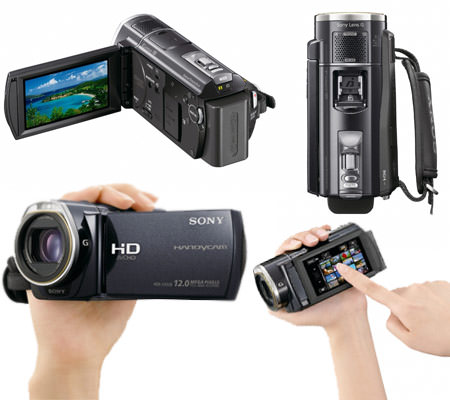 Speaking now of the functions offered by the Sony HDR-CX520V, it should be mentioned, of course, the SteadyShot optical image stabilizer that compensates for camera shake and ensure sharp photos every time. It is a stabilizer particularly efficient because it is able to minimize the movement of the camera.
Other cool features include Face Detection, which automatically detects faces in a shot and adjusts settings accordingly, and Smile Shutter, which records and would only be triggered when the subject laughs. A truly innovative feature is geotagging, which allows you to pinpoint your location on the map.
The Sony HDR-CX520V has, then, the processor Bionz high-speed, surround sound, the Night Mode, white balance, built-in flash and various digital effects to videos and photos. Of note, finally, that the camera is equipped with a touchscreen display, and the management of video and photos as well as the use of the various menu becomes even more intuitive, even though the menus are always long to explore. And 'this, finally, the HDMI port.
Note as negative aspect, that the wheel for adjusting the focus is particularly troublesome because it can happen to rotate even without noticing. Regarding the autonomy, finally, this camera is provided with a rechargeable lithium battery capable of providing up to a maximum of 125 minutes recording, which can reach to 455 hours with a battery more performant.
On the internal memory, you can store up to 26 hours of HD movies or 48 standard hours. Finally, with regard to the purchase package, it includes the AV cable, AC adapter, USB cable, remote control infrared and Picture Motion Browser software.
Conclusion
At the top. The two most interesting features are the large touchscreen display and dual storage possibilities, of internal flash memory and on memory cards. Also of note is Full HD movies, the pictures up to 12 MP, the optical stabilizer, the supplied remote control, built-in GPS and HDMI input. Shame on the menu too amplii and the wheel of the focus very uncomfortable.
Where to Buy Sony HDR-CX520V
---

---
PROS : Sony G lens, Full HD, Memory Stick slot, internal memory, smile detection and smile shutter.
CONS :
Price; Objective; Manual Focus uncomfortable; Menu complicated, No microphone input.
Product prices and availability are subject to change. Any price and availablility information displayed on Amazon at the time of purchase will apply to the purchase of any products.