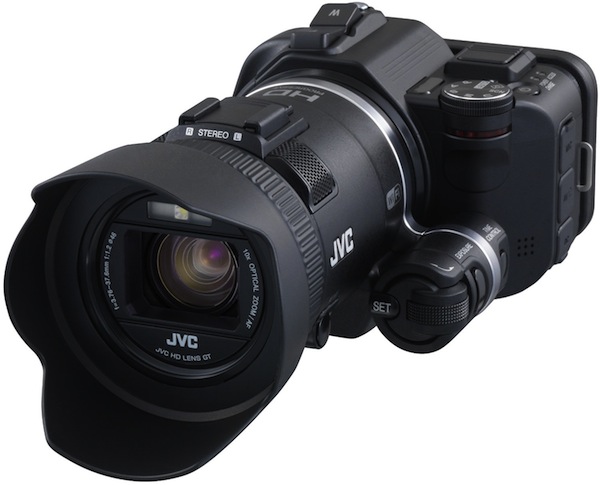 The JVC GC-PX100 is a digital video camera for professionals in the field of sport must realize Full HD video at very high speed to be able to analyze every single move in slow motion. It has a CMOS image sensor backlit 12.8-megapixel, optical image stabilizer, ability to shoot 12 megapixel photos while shooting, the LCD touchscreen, Wi-Fi connectivity, HDMI interface and full manual controls. Interesting App CAM Coach, a particular application for sportsmen for free download.
JVC GC-PX100: Design
The JVC GC-PX100 is a professional digital camcorder on the size certainly not compact, but that guarantee the excellent grip. It has a 3-inch touchscreen display and an electronic viewfinder. As regards, instead, the size, measuring 76 mm in height, 110 mm width and 183 mm in depth, while the weight is 625 grams, including accessories.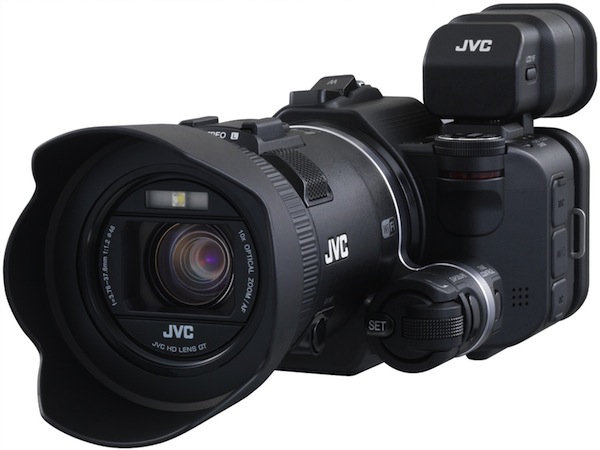 JVC GC-PX100: Features and Functionals
The JVC GC-PX100 is a digital camcorder submitted by the producer during may this year and dedicated especially to sports lovers. It is a very special model, not all pert, which allows you to shoot at high speed for a perfect slow-motion playback.
The main feature of GC-PX100 is precisely to be the first consumer camcorder, at least at the time of launch, allows you to record at a speed of 500 fps, which allows trainers to analyze every move made by the athlete and optimize therefore, workouts.
Speaking specifically of numbers, with the JVC GC-PX100, you can record Full HD 1080/50p progressive video at 36 mbps, from which you can also capture digital photographs of high quality and sharp at any speed. You can also take pictures even while recording.
The technical specifications of this camera include a GT HD lens with an aperture equal to F1.2 and a wide angle of 29.5 mm, a 10x optical zoom, a digital zoom up to 64x and an image sensor type back-illuminated CMOS 1/2, 3 inches and with a resolution of 12.8 megapixels. Do not miss the optical image stabilizer, which helps in stabilizing the movies and make them more clear also inadvertently moves the camera.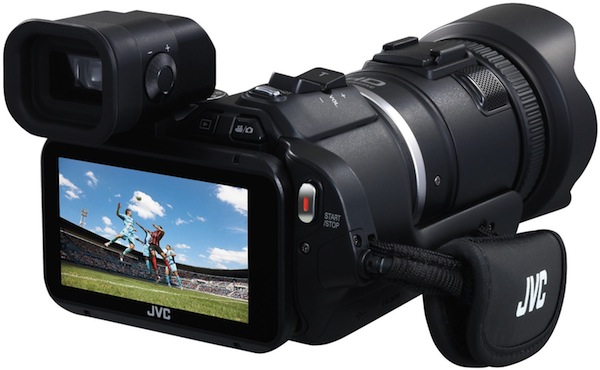 The JVC GC-PX100 is provided, in addition, a 3-inch touchscreen LCD display, an electronic viewfinder and full manual controls, which are accessed via a convenient ring. An interesting additional feature is represented by the Wi-Fi connectivity, which allows you to transfer photos and videos to other devices wirelessly.
JVC also offers its users the App CAM Coach, a free downloadable application designed specifically for those who want to experiment with video analysis in sports. This app allows you to transfer video on a tablet and draw designs on the screen during playback of the video itself. It also allows you to play two videos simultaneously on the screen for an immediate comparison.
Finally, the JVC GC-PX100 is equipped with built-in flash, sensitivity up to ISO 6400, slot for SD memory cards, USB 2.0 port, AV output and miniHDMI connector. You can connect the camcorder to other devices. The purchase package includes an AC adapter, battery, USB cable, AV cable, strap, HDMI cable, the lens cover, the cover for the monitor, and software.
Conclusions
The JVC GC-PX100 is a camera dedicated to sports coaches and, in general, to those who need to make videos at very high speed to be able to analyze every single move in slow motion. It has optical image stabilizer, touch screen display, electronic viewfinder, back-illuminated sensor, Wi-Fi connectivity and HDMI interface. The user can also download a dedicated application that allows you to draw sketches on the screen of a tablet while you play the video.
Where to Buy JVC GC-PX100 Camcorder
---

---
PROS : Full HD movies at 500 fps, 12 MP photos, App CAM Coach; Electronic Viewfinder; miniHDMI interface, Wi-Fi connectivity; For professionals; Full Manual controls; Stabilizer.
CONS :
Price.
Product prices and availability are subject to change. Any price and availablility information displayed on Amazon at the time of purchase will apply to the purchase of any products.