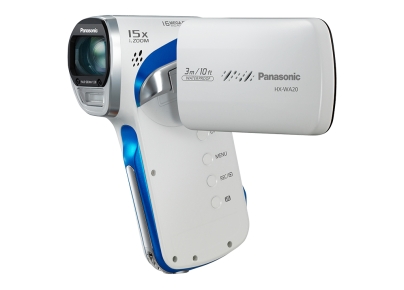 The brand new Panasonic HX-WA20 is a Full HD Dual Camera waterproof and dustproof expressively designed for the shooting on the move. The camera lets you shoot Full HD at 1,920 x 1,080 pixels and photographs with a resolution of 16MP, plus the ability to shoot video in Slow Motion. All this and much more, allow this to be a technological jewel Dual Camera absolutely excellent, thanks to a 28 mm wide-angle lens with 15x Intelligent Zoom and HDR system.
Panasonic HX WA20: Design
The Panasonic HX-WA20 is equipped with an ergonomic design and extremely durable which enable it to withstand water (up to 3 meters deep) and dust. Available in white and black, it is very compact because it measures 9.39 x 12.56 x 4.41 inches and weighs about 256 grams with battery and SD card these dimensions allow the user to return a Dual Camera feeling of solidity and robustness otherwise unthinkable.
Panasonic HX WA20: Features and Functionality
The Panasonic HX-WA20 presents as its main feature rugged character: the Dual Camera is waterproof up to 3 meters deep and is resistant to dust. The Chamber meets the IPX8 and IP5X of resistance to water and dust.
The device is a dual camera with all the trimmings as it allows you to shoot video in Full HD 1,920 x 1,080 pixels through the BSI CMOS image sensor 1/2.3″ with a resolution equal to 8.3 MP 16:9 wide screen and 9.8 MP in format 4:3. For the execution of photographs, you can count on a goal F2.8 (wide) and F3.9 (telephoto) with intelligent 15x Zoom and HDR technology.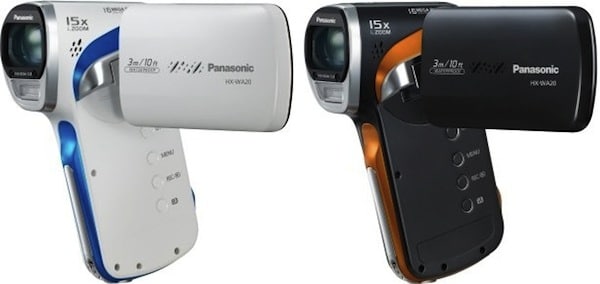 The camera makes movie mode slow-motion recording images at 240 fps (640 x 360) for about 15 seconds, or 480 fps (320 x 180) for 15 seconds. I own your own photographs, and videos can be easily viewed from the LCD side by 2.6 inches with a resolution of 230,400 pixels, or can be shared through the 3 outputs: AV, microHDMI or USB 2.0 Hi-Speed.
The Panasonic HX-WA20 enables the creation of panoramic pictures 360°/180° both horizontally and vertically, making shots in the series that followed the camcorder is able to go to superimpose to form a single image. To complete the technical equipment of the device, we find a system of electronic image stabilization (Active EIS) that will allow the camera to shoot movies and photos without the annoying flicker effect.
Conclusion
The Panasonic HX-WA20 is a Dual Chamber of latest generation rugged since it is water-resistant up to a depth of 3 meters and is also resistant to dust. The Dual Camera is equipped with an excellent BSI CMOS sensor that enables the user photos and video up to its expectations, thanks for the presence of an electronic image stabilizer (EIS Active). The device will redeem definitely a success and a certain excitement in the tech mainstream audience thanks for the presence of two colors (black and white) that make Dual Camera suitable for a wide segment of the market.
Where to Buy Panasonic HX WA20
---

---
PROS : Intelligent 15x Zoom; Price; Full hd; Dustproof; Slow Motion Mode, Water resistant up to 3 meters in depth, ergonomic design, 28 mm wide-angle lens.
CONS :
Dimensions and Weight.
Product prices and availability are subject to change. Any price and availablility information displayed on Amazon at the time of purchase will apply to the purchase of any products.