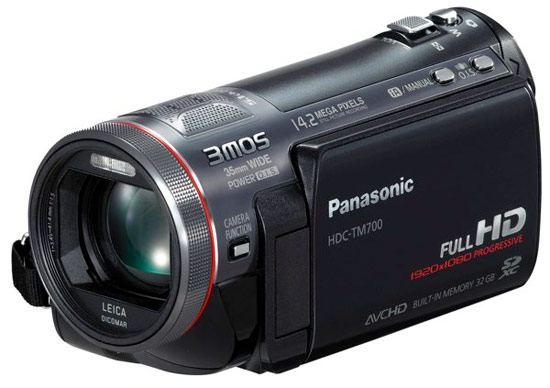 The Panasonic HDC-HS700K is a hybrid camcorder so-called because it allows you to record movies both on the internal memory of 240 GB, which on memory cards with SD / SDHC or SDXC card to be inserted into the slot. It is an advanced model, equipped with the 3MOS system, consisting of 3 sensors, which ensures a maximum effective resolution 7.59 megapixels for video and 7.89 megapixels for photos.
The camera can record Full HD movies and take pictures up to 4,864 x 2,736 pixels and is equipped with Leica Dicomar wide-angle lens 35 mm, Optical Image Stabilizer POWER OIS, 12x optical zoom with up to 18x intelligent zoom, iA Mode with Face Detection, miniHDMI input, 3-inch LCD display with a resolution of 230,400 pixels and electronic viewfinder.
Panasonic HDC-HS700K: Design
The Panasonic HDC-HS700K camcorder is a compact but feature-rich. It features a 3-inch widescreen LCD display with a resolution of 230,400 pixels and the EVF. As for size, measuring 65 mm high, 69 mm wide and 138 mm deep, while the weight is 450 grams without battery and card.
Panasonic HDC-HS700K: Features and Functionality
The Panasonic HDC-HS700K is a compact digital camera made by the manufacturer this year, just in february.    It is a technologically advanced model, as indeed, the Panasonic HDC-TM700, submitted together. Both are able to ensure a sound and video quality of high level.
But starting from the specifications, the most interesting and innovative to mention is certainly very special sensor system. This camcorder has a 3MOS system, consisting of three sensors, for an effective resolution of 7.59 pixels for moving pictures and 7.89 pixels for photos. This sensor ensures exceptional images with a large amount of colors, detail and gradation.
As for other specifications, the Panasonic HDC-HS700K uses a Leica Dicomar lens that has a maximum aperture of f1.5-f2.8 and a focal length of 3.45 to 41.4 mm and 35 mm format equivalent to 35-420 mm at 16:9 for movies and from 35.7 to 428 mm at 3:2, 35-420 in 16:9 and from 38.8 to 466 mm at 4:3, format for photos. As to the ability to take pictures in the distance, the camcorder has a 12x optical zoom with Intelligent 18x ​​zoom and 30x digital zoom, for a total capacity of up to 700 magnifications.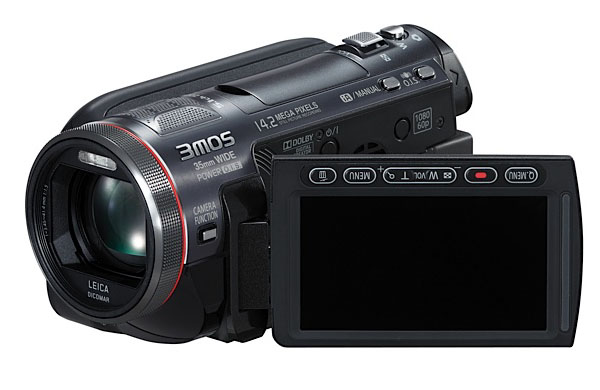 Once the specifications and passing to the operation and features offered by the camera, it should be mentioned, first of all, the double the recording media. The HS700 has both an internal hard drive that's 240 GB of external memory card slot with SD, SDHC and SDXC brand new. As to the quality of the movies and photos, the former can reach a maximum resolution of 1,920 x 1,080 pixels, the second up to 4,864 x 2,736 pixels.
With regard to functionality, the Panasonic HDC-HS700K is equipped with the optical image stabilizer, the Power OIS, which detects and compensates for hand-shake to ensure sharp photos every time, and the iA mode, which includes the Face-Recognition  function, which recognized the faces of previously registered subjects, and automatically optimizes the focus and exposure. It is continues to track the subject as it remains within the frame even if it is in motion.
Finally, this camera is equipped with HDMI input for connection to televisions and new computers, but the cable must be purchased separately with regard to the purchase package. It  includes the parasol, AV cable, AC cable, DC cable, AC adapter, a lithium battery, USB cable, infrared remote control and the HD Writer AE 2.1.
Conclusion
The Panasonic HDC-HS700K camcorder is a high quality whose most interesting features are the 3-sensor system and the dual recording medium, being equipped with a hard drive and a slot for memory cards. It should be emphasized, moreover, the optical stabilizer, viewfinder, HDMI input, Full HD movies, zoom abundant, the supplied remote control, a large display and a very rich package purchase.
PROS : Photo 14.2 MP; OPTICAL ZOOM, 250 GB internal memory; Package purchase; miniHDMI input, memory card slot, Remote control included.
CONS : N/A