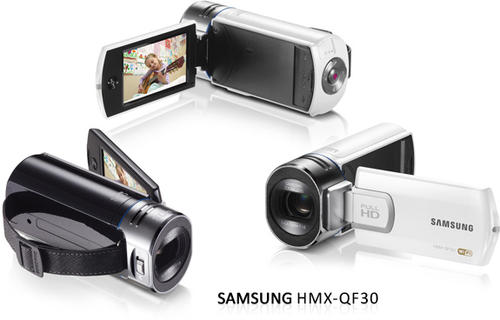 The Samsung HMX-QF30 SMART is a small and compact camera with some interesting features, such as Wi-Fi connectivity, which allows you to transfer photos and videos to a PC or a TV, and Live Broadcasting, with which it is possible to transmit live video to other devices.
Other specs include a 5.1-megapixel BSI CMOS sensor, a 2.7-inch touchscreen display, 20x optical zoom, USB and HDMI slot for SD memory cards, or SDXC SDHX. Movies are recorded in H.264 format in Full HD and you can shoot 5.3 megapixel JPEG.
Samsung HMX-QF30: Design
The Samsung HMX-QF30 is a small and compact camera, available in white and black, perfect to take with him. As for size, measuring 42.8 mm in height, 119 mm in width and 52.45 mm deep, while the weight is 178.4 grams. It has, then, an LCD display 2.7-inch touchscreen with a resolution of 230,000 pixels.
Samsung HMX-QF30: Features and Functionality
The Samsung HMX-QF30 is a digital camcorder is highly compact submitted by the producer during the month of January this year. It is a machine midrange but with countless features, as will be seen below. With regard to the technical specifications, the camera features a CMOS sensor BSI 1/4 inches in size and with an effective resolution of 5.1 megapixels and a lens that Samsung offers a focal equivalent on a 35mm 3.8 -114.6 mm. It also has a 20x optical zoom and a 40x digital zoom to shoot subjects in the distance.
As for functionality, the Samsung HMX-QF30 can record video in Full HD, so with a maximum resolution of 1920×1080 pixels in H.264 format, so they can be loaded immediately on the web and on YouTube without having to make any changes via computer. You can then take pictures in JPEG format with a maximum resolution of 3072 x 1728 pixels 1920 x 1080 in 16:9 and 4:3.
But the most interesting features of this camera are others. First of all, Wi-Fi connectivity AllShare Play, MobileLink and Social Sharing, which allow you to share photos and videos with other devices, such as HD TVs, cell phones and social networks. Moreover, thanks to Live Broadcasting can be transmitted directly to their shooting during recording by pressing a button.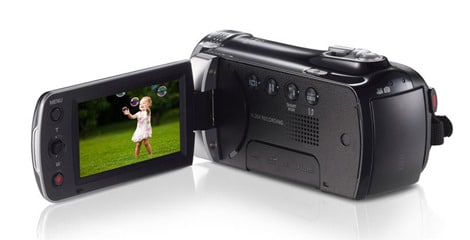 With AutoBackup function of the Samsung HMX-QF30, instead, photos and videos are transferred and stored securely on your computer, so you can safely delete those on the card inserted into the camera and then freeing space for more bailouts.
Another important feature of this camera is that it can be used easily even by left-handers because the display adjusts automatically depending on how the machine is turned. Furthermore, it is possible to hold the display in a vertical position, so as to shoot video even from angels complicated. Among other things, the display is a convenient touchscreen that allows you to manage all functions with a simple touch.
The Samsung HMX-QF30 is also equipped with an optical image stabilizer combined with a digital, thanks to which you can get sharp shots even if your hand shakes, because it compensates for bodily movement, which can occur when recording or moving, or the movement of the digital zoom. With the Smart BGM II, you can add a soundtrack to video clips, importing songs from any other device. Among other things, this function allows the piece to cover up what is said in the video because it lowers the audio automatically when someone speaks.
Finally, another interesting feature of the Samsung HMX-QF30 is the time-lapse recording, which allows you to shoot each wind that needed to be fulfilled for several hours and to present it as if it lasted a few seconds. In practice, this feature captures still images at preset time intervals and then creates a file consisting of all of these snapshots, obviously in chronological order.
Very useful for those who love to observe nature and animals. The camera comes with USB and HDMI ports then, to make connections with other devices with more traditional cables. The QF30 is powered by a rechargeable lithium battery that allows you to record up to 104 minutes of video footage with a refill. The package purchase, finally, includes the AC adapter, rechargeable battery, USB cable, AV cable, wrist strap, manual and quick start guide.
Conclusion
The Samsung HMX-QF30 is a compact and stylish camera that, at an affordable price, really offers multiple functions. Stand out, for example: the Wi-Fi connectivity, the touchscreen display, an HDMI port, the ability to use the machine in different directions and various innovative features such as Live Broadcasting or Time-Lapse.
Where to Buy Samsung HMX-QF30
---

---

---
PROS : Live Broadcasting, slot for memory cards, USB and HDMI, Wi-Fi connectivity; BSI sensor, Full HD movies.
CONS :
Photo resolution is not high, No manual modes.
Product prices and availability are subject to change. Any price and availablility information displayed on Amazon at the time of purchase will apply to the purchase of any products.