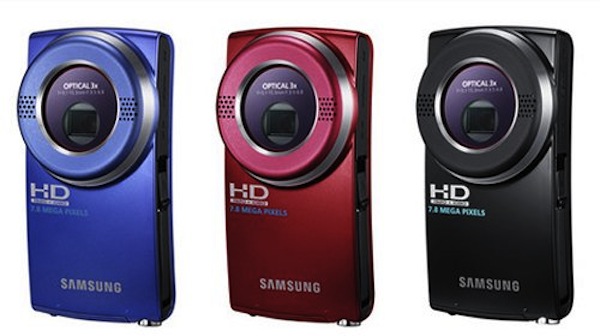 Fun and fashionable : a video camera designed for young people. Share your images and video footage. YouTube, Facebook and other social networks have revolutionized, and perhaps created a new way to communicate. If the first photographs and video were the exclusive preserve of enthusiasts, now is a means to tell others where you've been and what we have seen.
For this reason, there are many companies that have introduced a number of tools, practical, handy and easy to use, able to capture video and photos, even in high definition. It is the case of Samsung HMX-U20, which has evolved in the previous Samsung HMX-U10.
Samsung HMX-U20: Introduction
It is a device intended for a younger audience and, therefore, carried out in different fashionable colors: black, silver, blue and red, in vivid shades and turned on. The look is reminiscent of a cell phone, another tool that young people know how to use. To resume or photograph, the Samsung HMX-U20 should be grasped in one hand on the bottom, with the lens pointed to the scene.
The location is not the most comfortable if the should be maintained for a long time, but it seems more than adequate for the target and the need for which was conceived and designed the camera. The slightly curved profile, can arise in a natural way and approach the shot with immediacy. The lens is equipped with a 3x optical zoom respectable and hard to find in this type of cameras that integrate commonly, digital zooms that deteriorate image quality. To ensure locations always well defined, there is also a digital image stabilizer.
Samsung HMX-U20: Very Easy to Use
The images captured by the Samsung HMX-U20 are recorded by a 1/2.3 inch CMOS sensor. Although the model has small size, allows you to record movies in Full HD resolution 1,920 × 1,080 pixels and twenty five frames per second with H.264 compression. It can capture photographs at a resolution of 10 mega pixels. We are well above what is required for video sharing sites and, indeed, you can easily view the content in high-definition thanks for the presence of an HDMI port that lets you connect the Samsung HMX-U20 directly to a TV or an HD screen.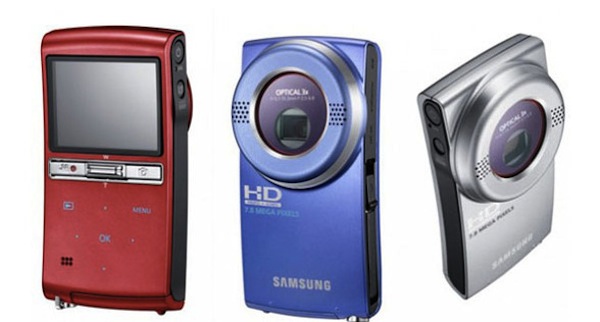 The remarkable ease of use, the only thing to do is point and select the record command. Obviously, there are many of the functions that an advanced amateur cameraman would like to have, but it is good to remember that we are dealing with a device designed for capturing snapshots and always ready in his pocket just in case. The technical aspect should not be underestimated: this compact camcorder provides integrated auto focus, while the Smart Auto analyzes the scene being shot by adjusting, consequently, their parameters in order to acquire the best movie possible.
Have six different pre-settings been ranging from landscape to portrait. The convenience and ease of use are confirmed by the presence of a built-in USB connector that allows you to connect the Samsung HMX-U20 to a computer without the need to lug around the suitable cable.
As mentioned, the Samsung HMX-U20 is designed to live in harmony with social networks. For this has been equipped with all the necessary tools for quick sharing of the material recovered. It allows direct uploading to YouTube, and using a supplied software on Facebook and Flickr. Furthermore, it integrates Intelli-Studio 2.0, a small production studio furniture that the user always carries with him, and that lets you edit and play your video without having to install specific programs.
There is a time-lapse, which allows you to take pictures at set intervals and then put them together like a single video capture. This allows you to resume spending time with interesting effects and amusing. The Samsung HMX-U20 can be recharged either via charger, either by connecting it to a USB port on your computer. Storing video and film takes place on an SD / SDHC card, inserted into a slot, can have a maximum size of 32 GB. Finally, we have to report the weight of only 111 grams.
Conclusion
The Samsung HMX-U20 is a practical and effective. Allows you to capture video footage and photographs of good quality and, especially, in high definition. As you can imagine, the video quality does not reach the levels that can be had with more expensive cameras and equipped with functions that customize the image, but we believe it is more than adequate to meet the need that is called upon to solve.
The definition is good and colors are acceptable, although not overly vivid. In addition, the sharing features are effective, and we also enjoyed the presence of the integrated USB connector which further simplifies each type of procedure. Designed for the young, the Samsung HMX-U20 hits the mark. The only question is whether the young people themselves prefer to use their ubiquitous cell phone, or even if they want to adopt another instrument.
Where to Buy Samsung HMX-U20
---

---
PROS : Practical and easy to use, Good image quality.
CONS :
It lacks the built-in flash, Fatigue in long shots.
Product prices and availability are subject to change. Any price and availablility information displayed on Amazon at the time of purchase will apply to the purchase of any products.