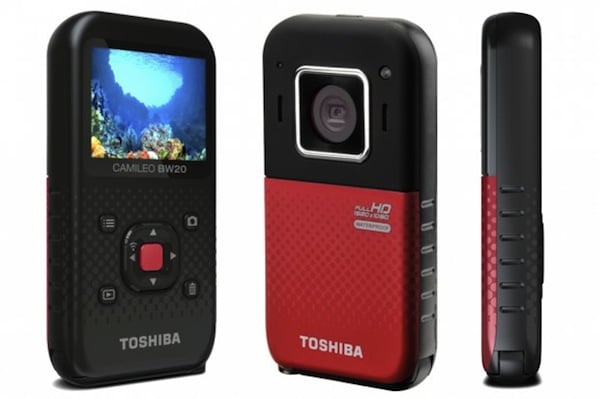 The Toshiba Camileo BW20 camcorder is a small and compact, perfect to take with him, even in the rain, at the beach or on the boat, because it has a body waterproof up to 5 meters deep and resistant to drops from 1.5 meters. As for the specifications, it features a 5 mega pixel CMOS sensor with BSI technology that allows you to record video Full HD video and still images with 16 mega pixels. It also has a fixed focus lens, 5x digital zoom, 2-inch LCD display, electronic stabilization, internal memory of 128 MB, microSD card slot, SDHC and SDXC memory cards, HDMI port.
Toshiba Camileo BW20: Design
The Toshiba Camileo BW20 camcorder is a compact and handy, ideal to take with him, even and especially if you want to start their own businesses during a session of extreme sports. This webcam appears to be resistant to water, dust, bumps and falls. It has a design similar to that of a basic cell, with the body in two colors, black and red. As for size, measuring 56 mm in width, 110 mm in height and 17.4 mm in depth, while the weight is 132 grams. It has, then, a 2-inch LCD display with a resolution of 480×234 pixels.
Toshiba Camileo BW20: Features and Functionality
The Toshiba Camileo BW20 is one of the latest additions to the park of compact digital cameras from this manufacturer. Presented in September and available for sale by the end of 2012, looks like a small and easy to handle, virtually pocket-sized, and perfect for sports enthusiasts as particularly resistant.
As for the technical specifications, this camera features a CMOS sensor 1/3, 2 inches in size and with an effective resolution of 5 mega pixels, and a fixed focus lens, F2.2 to and with a focal length equivalent to 28 mm in 35 mm format. Do not miss 5x digital zoom to shoot subjects in the distance.
Taking up the speech functionality, the Toshiba Camileo BW20 is particularly notable because of his sturdy body that makes it waterproof to a depth of 5 meters, shock and dust proof and shockproof up to a maximum height of 1.5 meters. In a nutshell, it is perfect for the outdoors and for those who want to take their businesses even extreme sports.
Speaking more specifically of photo features, this camera allows you to record video clips in H.264 format and Full HD, so with a maximum resolution of 1,920×1,080 pixels and shoot 16 mega pixel, so with a maximum resolution of 4,608×3,456 pixels. Do not miss the electronic stabilizer, which allows you to take sharp photos even in case of accidental movement of the camera.

The movies and photos made with the Toshiba Camileo BW20 are saved on the internal memory, which is not very large considering that stops at 128 MB, or they may be photos can be stored directly on a memory card such as Secure Digital, SDHC or SDXC card to be inserted into the slot.
Cards are supported up to 128 GB. Of course, the camera has some shooting modes and shutter suitable to his vocation, such as underwater filming, and other features like motion detection, face detection, just to name a few. Other specifications include sensitivity up to 1,600 ISO, white balance, auto exposure and LED flash.
To share photos and videos with other devices the Toshiba Camileo BW20 has HDMI and USB cables, which ensure the connection with all types of devices, including those of the new generation. With regard, then, the battery life, with that supplied you can record up to 100 minutes of Full HD movies, then at full resolution.
The storage capacity depends. On the type of memory card inserted. Finally, there remains to be mentioned the contents of the sales package, which sees the presence of an AC adapter, rechargeable battery, USB cable, HDMI cable, wrist strap, tripod, cleaning cloth and CD with the software.
Conclusion
The Toshiba Camileo BW20 is the perfect compact camera to take to the sea, the mountains, and anywhere you want, thanks to his body resistant to almost anything, even water. Apart from this feature, stand out even movies in Full HD, 16-mega pixel photos and HDMI port. The optics is not of particular quality, and in particular, the length is fixed.
Where to Buy Toshiba Camileo BW20
---

---
PROS : BSI CMOS Sensor, Waterproof up to 5 meters, resistant to drops from 1.5 meters and slot for memory cards; resolution photos.
CONS :
Electrical stabilize, Display size, Fixed focus lens.