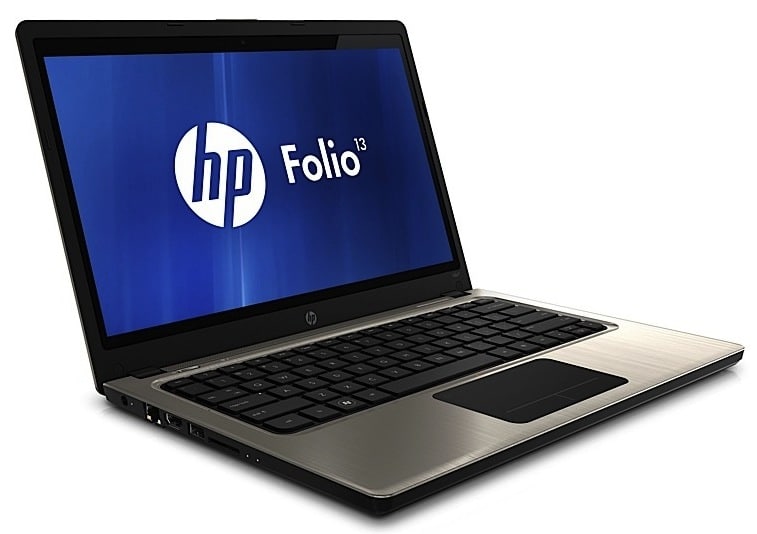 The HP Folio 13 ultrabook is a business dedicated to the world. That includes a long-life battery. It comes to about 9.5 hours of work, and advanced tools for data security. The design is sleek and slim, with a reduced thickness, a weight of only 1.5 kg and a high-definition display, 13.3 inches and a resolution of 1,366 x 768 pixels. As for the rest of the specs, features Intel Core i3 or i5, 4 GB RAM, 128 GB solid state drive, HDMI port, Ethernet connectivity, fast restart technology, technology for cooling the laptop, HD webcam and Dolby audio.
HP Folio 13: Design
The HP Folio 13 ultrabook is a more robust design and elegant, especially for its plastic trim. This even the brushed metal on the outer cover, which gives it even more strength. The most striking visual feature is the thickness seems small, just 17.7 mm, one of the smallest available. The weight, then, is just 1.49 Kg has, then, a 13.3-inch LED display with a resolution of 1,366 x 768 pixels.
HP Folio 13: Features and Functionality
The HP Folio 13 is a device dedicated to professionals belonging within the family of so-called "ultrabook" ,  a term which usually indicates laptops with excellent performance, designed to rival the invasive tablet. This is the first model made by HP and presented at CES this year. Starting from the description of the technical specifications, this ultrabook is based on the Intel Core i5-2467M 1.6 Ghz, on a 4 GB RAM memory, expandable to up to  8 GB on a solid state  disk up to  128 GB for storage and operating system Windows 7 Professional, considered to be the target.
Since it is not a product dedicated to multimedia, the HP Folio 13 does not mount a graphics card itself but a graphics accelerator, specifically the Intel HD 3000 HD. It makes use of the system. Dolby Advanced Audio and features a built-in HD webcam.
More interesting are definitely some very useful functions to take advantage of the device, such as Intel Rapid Start Technology, which saves energy because you are not using your computer and restart the Folio 13 in a few instants when it is in standby mode.  The TPM Embedded Security also ensures the protection of the information contained on your computer.
As for connectivity, the HP Folio 13 has an Ethernet port, several USB ports 2.0 and 3.0, Bluetooth and HDMI port, in a nutshell,   it can be connected with all the devices that you want and even surf the Internet. There is also a beautiful backlit keyboard, which is very handy in low light. Remarkable, finally, autonomy, which reaches the 9.5 hours of work.
Conclusion
The HP Folio 13 is a model belonging to the family of ultrabook, so it's thin and extremely portable. Dedicated to professionals is distinguished by its quick start, for the functions of data protection to the HDMI input and the considerable autonomy. The rest of the specs falls more or less average.
Where to Buy HP Folio 13
---

---
PROS : High data protection; Webcam HD.
CONS :
Internal capacity.
Product prices and availability are subject to change. Any price and availablility information displayed on Amazon at the time of purchase will apply to the purchase of any products.