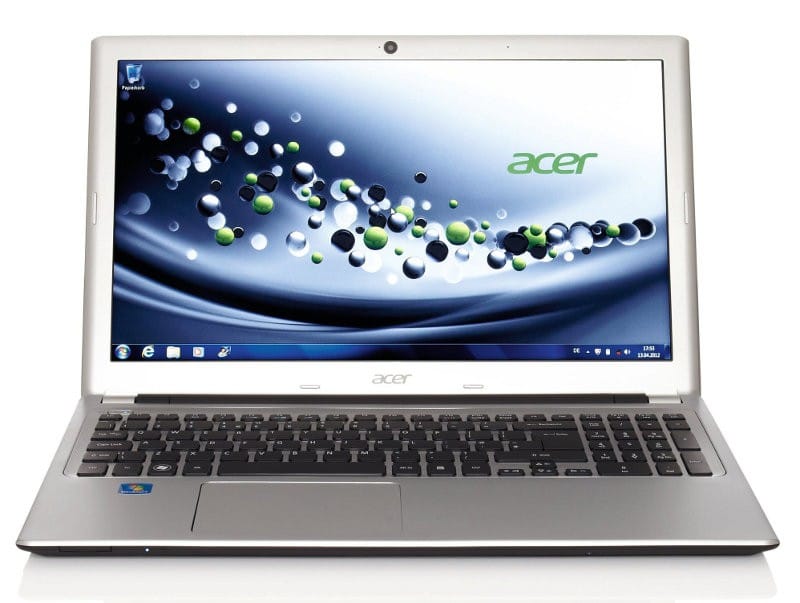 Acer Aspire V5-571 laptop is a stylish and refined, with cover available in different colors fascinating, characterized by extreme lightness and compactness. Speaking of specifications, features a Intel Core i5-3317U model up to 2.50 GHz, the operating system Windows 7 Home Premium, 4 GB of RAM and a hard disk up to 500 GB. The laptop includes, then, 15.6-inch LCD display, Bluetooth 4.0, Wi-Fi and LAN connectivity, built-in webcam, DVD burner, HDMI port and memory card reader.
Acer Aspire V5-571: Design
The Acer Aspire V5-571 is a laptop attractive design, even if the body is Entirely made of plastic. To underline especially the keyboard with keys island, Which Ensures them to more precise typing. As to the other dimensions, measuring 382 mm wide and 253 mm deep and 23 mm in height. The weight is 2.3 kg. It has, then, to display CineCrystal LED 16:9 15.6-inch with a resolution of 1,366 x 768 pixels.
Acer Aspire V5-571: Features and Functionality
The Acer Aspire V5-571 is one of the earliest models of laptops belonging to the new V5 series launched by the producer during the CeBIT 2012 Hannover, held in March of this year. It is a portable, like his brother Acer Aspire V5-531, the tip more about its technical specifications on design.
Setting out from the latter, the laptop is based on Intel Core i5-3317U model until, at 1.70 GHz and 3 MB of L2 cache on a RAM up to  4 GB, expandable up to  8 GB due to the presence of two memory slots, a SATA hard drive up to 500GB and operating system Windows 7 Home Premium.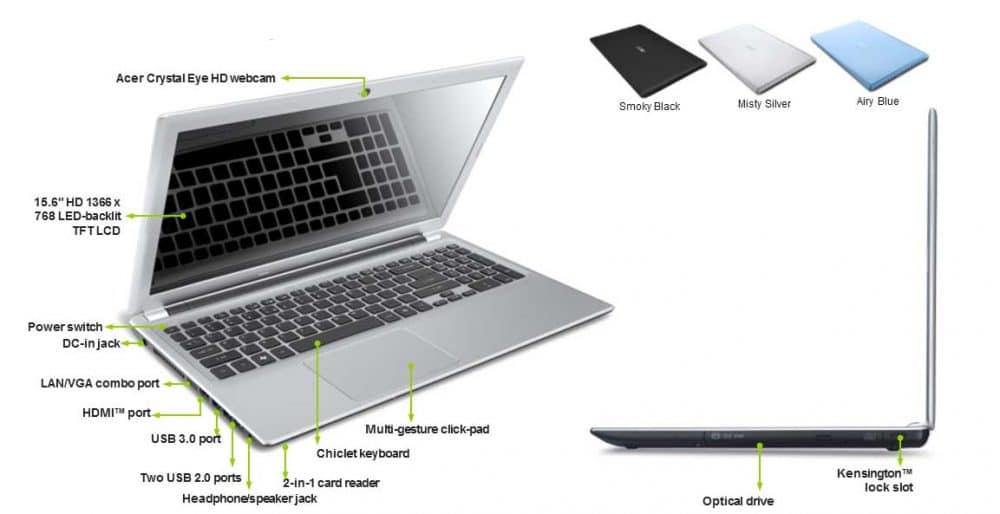 As for the video, and sound the Acer Aspire V5-571 is equipped with a NVIDIA graphics card and two built-in speakers with Dolby Advanced Audio V2, which together provide high-quality multimedia experience, so it is ideal for watching movies and play games.
There is also a built-in webcam, perfect for video conferencing, the DVD player and the memory card, can support cards such as Secure Digital or MultliMediaCard. As for connectivity, the most complete, there are Wi-Fi, Ethernet port and Bluetooth technology, version 4.0.
As regards, finally, the allocation of doors and exits, the Acer Aspire V5-571 is equipped with HDMI port, VGA port, 2 USB 2.0 ports, 1 USB 3.0, 1 headphone out, 1 LAN port, 1 mic-in and slot for memory cards already mentioned. The power supply, finally, is ensured by a rechargeable lithium-ion 4-cell, 2500 mAh battery, which provides a maximum of 5 hours.
Conclusion
The Acer Aspire V5-571 is a laptop of good-quality Relies Mainly to the technical specifications: such as the NVIDIA graphics card, the internal capacity, connectivity, and the allocation of ports, but from a purely aesthetic point of view, is not very different from many others available. The only aesthetic really interesting is the presence of the keys to island.
Where to Buy Acer Aspire V5-571
---

PROS : Processor, Bluetooth 4.0, Hard drive, HDMI port, Design, Memory Card Reader.
CONS :
No specific functions; No dedicated graphics card.
Product prices and availability are subject to change. Any price and availablility information displayed on Amazon at the time of purchase will apply to the purchase of any products.