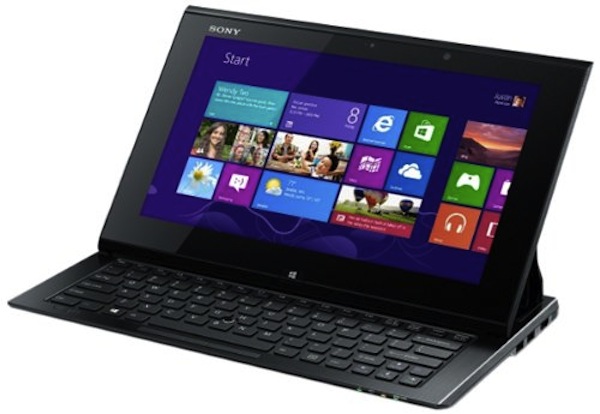 Sony Vaio Duo 11, based on Windows 8, is an innovative and attractive hybrid between Ultrabook and tablet, with many lights and as many shadows. 
The recent launch of Windows 8 has brought a welcome breath of fresh air and providential change in the world of tablets, especially in the niche of so-called " slate PC ". Now, the producers seem to have let loose with a remarkable range of tablet-notebook hybrid devices, designed to satisfy every need of use of those looking for really the greatest versatility and portability. The Sony Vaio Duo 11 under test falls within this definition, going beyond.
The first thing to hit is the design. As per tradition, Sony, appearance is well maintained, well rounded edges allow us to hold it comfortably in tablet mode, while remaining a device created to be used on the desk in notebook mode. The screen scrolls releasing the built-in keyboard, not very different from Asus Eee Pad Slider past year.
Sony's approach differs sharply from that adopted by most of the manufacturers, who have opted instead for a keyboard dock, as Ativ Smart PC from Samsung and Asus Vivo Tab. Both keyboards have been removable so you can choose if you want to travel light with only the tablet or increase productivity, and the weight together (you get to about 1.4 kg), bringing with it the keyboard.
The Sony Vaio Duo 11 is different, not only for the design: it is based on a class Atom processor but on a powerful Intel iCore. This means that we have in hand a real notebook convertible tablet, rather than the opposite. We can safely use all the traditional applications to Windows without hesitation or expect delays in the execution, as well as all the app's lightest baby Marketplace. It is not just the processor to be different as anticipated, the screen, standing up and slipping back, reveals a full keyboard, held in place by a solid hinge.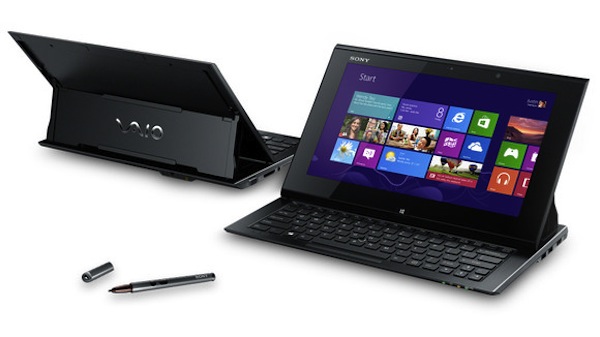 The inability to separate the two elements – screen and keyboard – means one thing: Sony points strongly to the professional market of notebooks, one that spends more time working than to surf the web or play games. Even the supplied stylus confirms the attitude of the Sony Vaio Duo 11 on doing rather than the "fun", expanding its intended use to the creative together business users.
Sony VAIO Duo 11: Performance
As anticipated, the difference between the Sony Vaio Duo 11 and the rest of the market, apart from Ativ Smart PC Pro Samsung and a few others, is the Intel iCore, starting from the Core i3 1.8 GHz, Core i7 to get to 1.9 GHz of the most powerful configuration, passing through the intermediate Core i5 1.7 GHz (up to 8 GB RAM and 256 GB SSD, and Windows 8 Pro).
For archiving, Sony Vaio Duo 11 uses a fast solid-state disk 128 GB (for the basic configuration, get to 256 GB for the top). Also has a useful slot for Sony Stick Duo or SD. They will be happy above all photographers and videographers.
In essence, we are faced with hardware configurations similar to those of the third-generation Ultrabook. Unlike the bigger brothers, the Core i3 does not integrate Intel's Turbo Boost technology, which leads to a real increase in performance appreciated by those who submit the portable workloads, particularly intense (we recommend the version with Core i5 especially for creative ).
But the 1.8 GHz Core i3, along with 4 GB of RAM DDR3 1600 MHz, allow you to get by in every area. This puts the Sony Vaio Duo 11 at a higher level than that of the iOS and Android tablet – or Windows 8 with Intel Atom – limited to their own app store, and in direct competition with the Ultrabook, against which looks good.
Even Windows 8, the heart of this new Sony Vaio Duo 11, shows no hesitation, and God forbid: no delay or uncertainty in the innovative moving interface " tiles animated ", as well as the transition to desktop traditional embedded applications. Unfortunately, all this power comes at a price we pay for size and weight.
This does not mean that the Sony Vaio Duo 11 is bulky and heavy, simply looks like if we compare it with other convertible tablets based on Windows 8, and reversing the point of view, we return average of similar Ultrabook latest generation of 18 mm maximum thickness and 1.3 kg in weight.
In any situation, we can take advantage of the excellent OptiContrast IPS touch screen 11.6″ Sony Vaio Duo 11, with amazing Full HD 1080p resolution: apps, games and videos come alive on a display from visual quality at the top in every way view (color fidelity, contrast, detail, viewing angle).
The sensitivity and precision to the touch are at the highest levels, making the tiny trackpoint drowned between the keys – so that makes remembering the IBM Thinkpad 90s laptops – practically useless. If we turn to the traditional desktop, this comes in handy considering the minimal size of icons and buttons to resize or opening / closing windows, which make the traditional feel uncomfortable. If we find a fault is the glossy finish, a real magnet for fingerprints. Basically, you have to always carry a cloth for cleaning.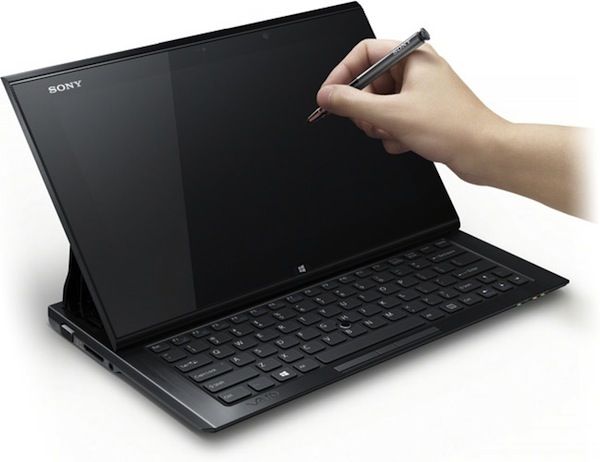 How many tablet based on Windows 8, the Sony Vaio Duo 11 has a stylus, which can be used to issue commands – useful in desktop traditional – is to insert text freehand or simply to vent their creativity with dedicated applications.
The stylus is well-balanced in the hand and the two integrated function keys allow you to cut items on a page and paste it into another, increasing its versatility. The precision of the touch is excellent, the height of the technology used by Samsung on their Wacom tablet, with a conversion of handwriting to text really neat.
We expect most applications that support interaction with the stylus, although Sony has done a great job of customization. With Active clips can be retouched picture, for example, follow the edges of an element with the stylus and then cut it by isolating it from the background, while Vaio Anytime Notes allows you to take notes by hand as a real notepad, and the add -in module implements an advanced control for PowerPoint presentations, with the stylus that highlight the main points of each slide.
The connectivity and expandability are at the top: full complement of sensors (GPS, accelerometer, gyroscope, compass, NFC), two USB 3.0 ports, plus connectors for Ethernet, VGA and HDMI. This aspect, if we consider the Sony Vaio Duo 11 as a convertible Ultrabook, puts him ahead of specimens to reference as Samsung Series 9 or Apple MacBook Air, for example, where lack the network port is only available with USB or Thunderbolt. Obviously, it lacks support wireless connectivity Bluetooth 4.0 and Wi-Fi A/B/G/N.
Particularly interesting is the One-Touch developed by Sony to take advantage of NFC capabilities: multimedia content can be transmitted to compatible Sony devices, such as smartphones Xperia S which we used to test it, simply by approaching to establish a two-way wireless connection. One-Touch also works with Bluetooth, easy to pair with external speakers or headphones.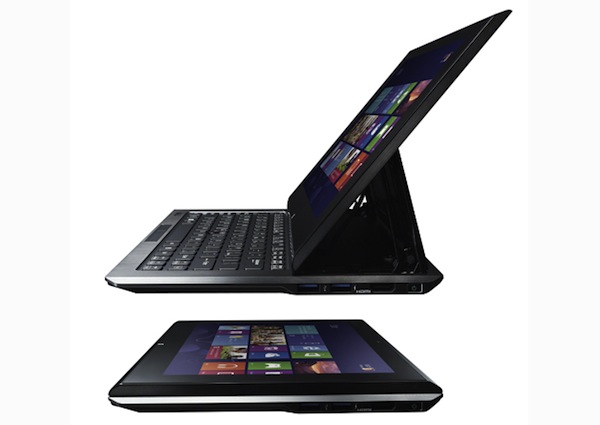 The first price you pay is that of weight and portability, the second is that of autonomy. A varied use – web browsing, video playback and photos, personal productivity – allows you to easily overcome the four hours of battery life: less than an equivalent Ultrabook, but above all less than a convertible tablet.
Sony makes it available as an optional accessory that duplicates a thin battery autonomy over to incorporate a compartment for storing the stylus, which is sadly lacking in the main body of the convertible notebook.
The autonomy decreases drastically when we play Full HD video in full screen, a feast for the eyes, but less for the battery: go down to a little over two hours, just enough for a movie. Who wants to enjoy a full multimedia experience must also invest in a good pair of stereo headphones because the built-in speakers, while playing an audio faithful and full power in sin, returning a low-noise level.
Sony VAIO Duo 11: Conclusions
Overall, it is not easy to judge this Sony Vaio Duo 11. From a certain point of view, it is a convertible tablet that looks expensive, heavy and bulky. On the other hand, is a convertible Ultrabook with exceptional Full HD 11.6 " and the high computing power and versatility.
Looking at it for what it is, a beautiful and handsome hybrid, offers unparalleled connectivity in the industry, the ability to safely handle both program's desktop to create content (for example, Adobe Photoshop and Premiere) is the quieter of the app marketplace for Windows 8 with which to enjoy, and a multitouch screen capable manageable with equal effectiveness both with the classic touch is made with the supplied stylus.
Unfortunately, the special design made it impossible to integrate a traditional touchpad, as well as non-separable make the tablet from the keyboard dock, is the battery life is very poor. Perhaps, the latter two aspects, along with the price, will represent the discriminating choice, this Vaio Duo 11 being gripped between the tablet with optional keyboard and traditional Ultrabook.
But even if it is a perfect hybrid between tablet and notebook, Sony has espoused the cause of Windows 8 with a device that does not go unnoticed, and that will attract the attention of creative and business users looking for a versatile and luxurious complete package. For most users the most common requirements for performance and portability will be met by cheaper devices.
Where to Buy Sony VAIO Duo 11
---

---
PROS : Quality construction and design, High power, Excellent screen, Full connectivity, With stylus input.
CONS :
Heavy and cumbersome, It lacks the touchpad keyboard is not separable, Audio underpowered.
Product prices and availability are subject to change. Any price and availablility information displayed on Amazon at the time of purchase will apply to the purchase of any products.