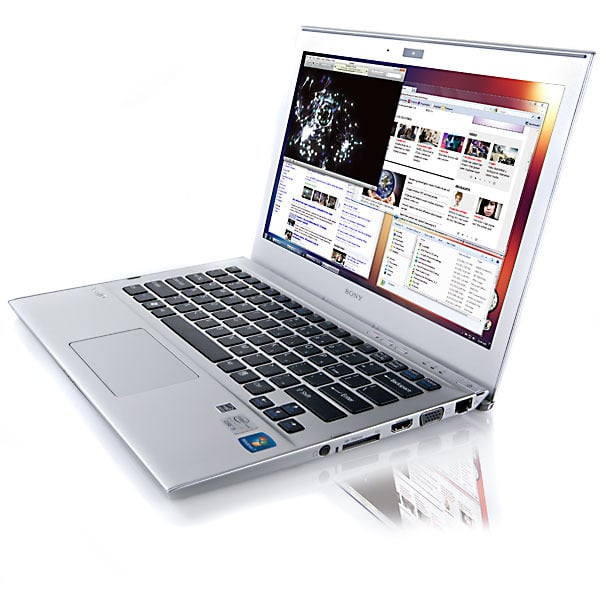 The Sony VAIO T13 is an ultrabook features a slim, lightweight design, with shell in aluminum alloy and magnesium, and a 13.3-inch touch screen display with HD resolution. As for the technical specifications, features the Intel Core i7 up to the model, operating system, Windows 8 Pro, a 4 GB RAM, a hybrid hard drive with 256 GB SSD module, a graphics card Intel HD4000, HD webcam, the Wi-Fi connectivity, Bluetooth, Ethernet port and slot for memory cards with Memory Stick Duo and SD.
Sony VAIO T13: Design
The Sony VAIO T13 is an ultrabook that makes design his strong point, thanks to a chassis made of aluminum alloy and magnesium making it, at the same time, light but strong. It also presents an interesting 13.3-inch touch screen display with a resolution of 1366×768 pixels. As for size, this laptop measures 323 mm wide, 19 mm high and 226 mm deep, while the weight is 1.7 kg with the supplied battery.
Sony VAIO T13: Features and Functionality
The Sony VAIO T13 is a stylish ultrabook presented by the manufacturer at the end of last year, just in the month of October. This is a laptop series, particularly attractive, especially with regard to the design, lightweight yet durable, while its technical specifications are average.
Setting out from the latter, the VAIO T13 features an Intel Core i3, i5 or i7 processor, up to 4 MB of L2 cache, a DDR II RAM up to 4 GB solid state disk and a 128GB or a solution hybrid consisting of a hard disk of 256 GB SSD and a cache memory of 32 GB. All of course depends on the various models and their configuration. Mounting all the Windows 8 operating system, some of the Windows 8 Pro.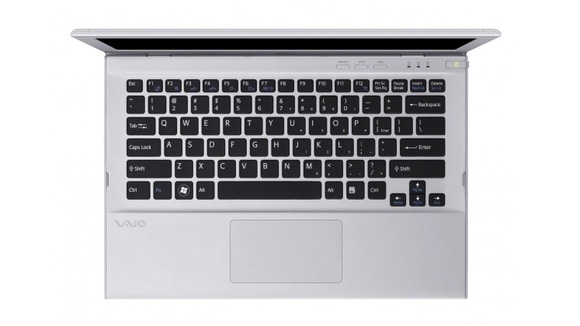 Sony VAIO T13 laptop also has a video card Intel HD 4000, an internal microphone and stereo speakers. Thanks to the built-in webcam with a resolution of 1280×1024 pixels and a CMOS image sensor with 1.31 megapixels, you can do video conferencing with no extra wires. The connectivity of these laptop is complete, with the Ethernet port for the classic wired connection, Wi-Fi 802.11b/g/n standard with Bluetooth's version 4.0 HS. You are preloaded a number of proprietary software and the Web browser Internet Explorer 10.
As you can see, the sheet is not very exciting, if it were not for the processor power in some model. The real strength of the Sony VAIO T13 is represented. By its design, consisting of a chassis made of aluminum alloy and magnesium really very sleek and slim, but that makes the laptop also durable. But the real gem is the capacitive touch screen display anti-glare 33.7-inch, combined with the keyboard, improves productivity and makes it much more practical to use the laptop itself, with the possibility to choose from time to time the input method more suitable in the circumstances.
As regards, finally, the allocation of ports, the Sony VAIO T13 has 1 USB 3.0 port, 1 USB 2.0 port, slot for memory cards Memory Stick and SD, HDMI output and VGA output. It is also equipped with a lithium battery that provides a maximum of 7 hours and is fully charged in 3.5 hours.
Conclusion
The Sony VAIO T13 is an ultrabook that is externally very attractive, mainly due to fine lines and read and practical touch screen display, the latter feature which also makes it distinctive compared to the other models available. The technical details is substantially mid-range, so the price at which it is sold can be considered very high compared to the overall quality.
Where to Buy Sony VAIO T13
---

---
PROS : HDMI output, HD Webcam, Wi-Fi and Bluetooth; shell aluminum alloy and magnesium card slot for memory, processor power, RAM.
CONS :
Display size.