Laptops
Asus VivoBook S200E: Review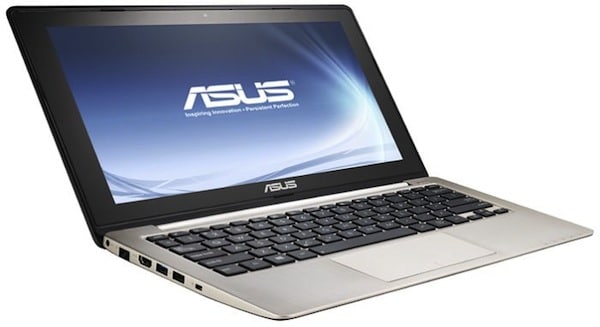 ASUS VivoBook S200E is a stylish and ultra-thin laptop belonging to the family VivoBook, designed for those who want a more intuitive. Its main feature is the presence of a touch screen LED-backlit 11.6-inch, combined with the classic QWERTY keyboard, ensures optimal use really.
The rest of the specs included Windows 8 operating system, Intel Core i3 processor, up to 4 GB RAM, 320 GB hard drive, memory card reader, Intel HD Graphics integrated HD webcam, HDMI port, USB 2.0 ports and 3.0, LAN connectivity and Wi-Fi and Bluetooth technology.
Asus VivoBook S200E: Design
The ASUS VivoBook S200E is a notebook in a compact and easily transportable. The design is attractive, with cover made of metal and with a brushed finish, which gives it a particular elegance but also a feeling of strength. It has a classic qwerty keyboard with isolated keys combined with a 11.6-inch capacitive touch screen display with a resolution of 1,366 x 768 pixels. The weight is 1.40 kg, and the dimensions are 303 mm in width, 200 mm depth and 21.2 mm in height.
Asus VivoBook S200E: Features and Functionality
The ASUS VivoBook S200E belongs to a new family of laptops introduced at the end of last year by the manufacturer, just in october. Presents a particularly attractive design, especially for the simultaneous presence of a classic keyboard and touch screen, which gives it that little bit more than the competition.
As regards the technical specifications, this handset is based on an Intel Core i3-3217U, a RAM of 2 GB or 4 GB and Windows 8 operating systems. It also presents a 2.5-inch SATA hard disk of 350 GB and a graphics card Intel HD Graphics integrated.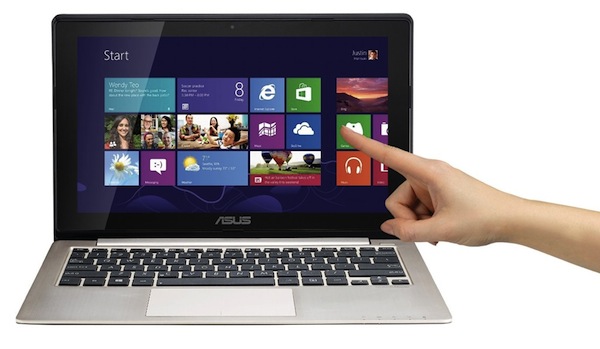 It should be said that the ASUS VivoBook S200E is a laptop by its compact size, with a 11.6-inch screen, and its main characteristic is precisely the mobility. The design is ergonomic and lightweight, and can easily be considered an alternative to tablet if you need to move from one place to another. Another interesting feature is certainly clear touch screen display, usually not present on the notebook, and that gives this device a little bit more than the competition.
Among other things, the Windows 8 has been specifically designed to take full advantage of the touch screen platforms, providing the user with a user experience very intuitive. Do not miss the Smart Gesture technology, which allows you to perform certain actions by moving your fingers in a precise position.
As regards the area connectivity, ASUS VivoBook S200E is equipped with Wi-Fi to surf the Internet free by connecting to a hot spot in the area, the Bluetooth version 4.0 and USB port, allowing you to exchange data with other devices. Do not miss the HD webcam to do video conferencing, and the memory card reader 2 in 1.
It should be emphasized, then, reactivation from sleep in just 2 seconds, the weblog SonicMaster audio, which offers a sound more powerful and richer bass, and space storage on ASUS WebStorage available to all those who purchase this laptop.
As for the interface, is provided with audio jack, VGA port, 1 USB 3.0 port, 2 USB 2.0 ports, LAN port, HDMI port and slot for SD memory cards already mentioned. The purchase package, made of recycled paper, which includes the adapter from the wall and documentation.
Conclusion
The ASUS VivoBook S200E is clearly born with the intent to combine economy and quality, and for users not especially demanding, it can be regarded as a discrete device, which does not stand out in any sector. The touch screen display is the main strength of this laptop and lets you take advantage of the new Windows operating system, but also the use by the smart gesture is quite intuitive. Overall, a good device if you do not require high graphics capabilities.
Where to Buy Asus VivoBook S200E
---

---

---
44%
PROS : Memory card reader, HDMI port, Design, Windows 8, Wi-Fi and Bluetooth, HD Webcam.
CONS :
Processor is not powerful; Graphics quality, No optical drive.
Product prices and availability are subject to change. Any price and availablility information displayed on Amazon at the time of purchase will apply to the purchase of any products.