Laptops
Toshiba Qosmio X870: Review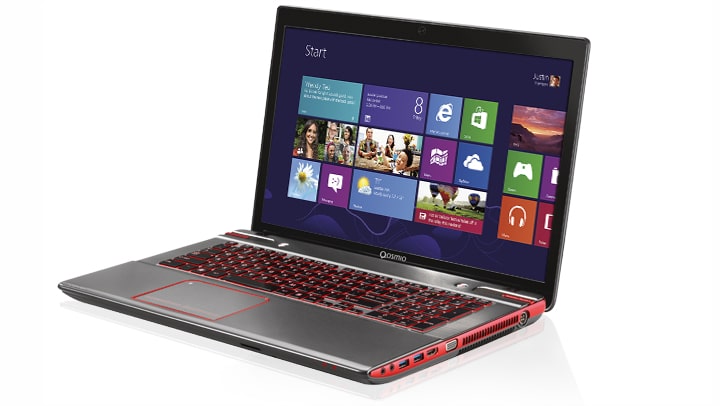 The Toshiba Qosmio X870 is an exceptional laptop dedicated to all lovers of video games in search of high performance both in terms of quality video and audio. Its main feature is the 17.3-inch Full HD display which, together with NVIDIA 3D vision glasses included, ensures the reproduction of images and 3D games for your enjoyment.
Also notable is the audio department, thanks to the quality speakers and SRS Premium Sound 3D. Thanks to the HDMI port, then the 3D content of the laptop can be easily shared with a 3D TV. Other specifications include a sporty design and eye-catching, generation processor, hard drives up to 2 TB, LAN connectivity, Wi-Fi and Bluetooth 4.0, 4 USB ports, memory card reader, Blu-Ray and 3D stereo webcam.
Toshiba Qosmio X870: Design
The Toshiba Qosmio X870 is a laptop of exceptional quality and is Characterized by an attractive design and hi-tech aluminum chassis with metallic red and dark silver and the Qosmio logo and the keyboard backlit in red, with alternating color of considerable charm. It has then displayed TrueBrite 3D FHD TFT LED-backlit 17.3-inch with a resolution of 1920×1080. As for  size, measuring 417.6 mm wide, 272.5 mm deep and 43.5 mm in height at the highest point. The weight starts at 3.6 kg.
Toshiba Qosmio X870: Features and Functionality
The Toshiba Qosmio X870 is a laptop presented by the manufacturer in March of this year and especially suited to all lovers of gaming, thanks to its extraordinary power, and those who want to experience three-dimensional. Heir of the Toshiba Qosmio X770, retains roughly the external appearance.
With a few touches, but going in order and starting from the specifications, remarkable, the Qosmio X870 features an Intel Core i7-3610QM 3.30 GHz with of turbo speed and 6 MB of level three cache, a DDR 3 RAM expandable up to  12 GB and 32 GB internal capacity up to  2 TB dual-drive SSD and HHD hybrid with 8 GB of NAND flash memory. The existing operating system is Windows 7 Home Premium.
Moving on the analysis of the features and functionality of the Toshiba Qosmio X870  not just from where to start. The graphics department is definitely one of its main strengths, thanks primarily to a Full HD display with high brightness and 3D Vision, along with a graphics card NVIDIA GeForce GTX 670M with CUDA technology and 3 GB of dedicated memory.
Video quality while also having the audio the Qosmio X870 is equipped with powerful Harman Kardon speakers with Slipstream technology that allows low to obtain optimal performance with minimum distortion, and sound with SRS Premium Sound 3D. All this makes it the perfect tool for the games in high definition and surround sound.
Among other things, the high video and audio quality of the Toshiba Qosmio X870 is also ideal for playback of film and video, and 3D technology delivers an unprecedented three-dimensional. Thanks to the HDMI port, you can also connect your laptop to a 3D TV, and then display HD images on the big screen.
Among other things, the 3D glasses are included within the package. Remarkable is also the design of this handset, with its aluminum finish in dark black, with red and Qosmio logo backlit in red, which definitely catch your attention. Even the keyboard is lit up in red to allow the use of computers in all lighting conditions.
Speaking now of connectivity, the Toshiba Qosmio X870 is equipped with just about anything, then Ethernet LAN for connecting to the Internet via cable or to connect multiple computers together, the Bluetooth 4.0 technology for synchronizing the data with those other high-speed devices, and Wi-Fi connectivity, to connect to the Internet without wires.
To save data to external media, there are both the Blu-Ray, which lets you record and play back CD, DVD and BD, which external memory card reader who supports cards such as Secure Digital, miniSD, microSD ,  SDHC, SDXC and MultiMediaCard. Not missing, then the integrated webcam HD 3D for video conferences.
As for the interface, the Toshiba Qosmio X870 includes, in addition to the HDMI port already mentioned, also 2 USB 3.0 ports, 2 USB 3.0 ports supporting Sleep-and-Charge, 1 RJ-45 input and 1 headphone jack. As regards, finally, the autonomy, the integrated battery is capable of providing up to 2 hours.
Conclusion
The Toshiba Qosmio X870 is a laptop designed for gaming, as can be seen from the park quality hardware and its futuristic design, of considerable charm. The processors are mounted among the most advanced, the display is large and very high resolution, in addition to supporting 3D, the graphics card is the most powerful, the high-quality audio and lacks the Blu -Ray. In a nutshell, a laptop of exceptional quality from all points of view.
PROS : Speaker harman / kardon, 3D Games, Blu-Ray, 3D Full HD display, Nvidia 3D glasses included; Sound System SRS Premium Sound 3D, HDMI port, hard disk capacity, memory card reader, Webcam stereo.
CONS :
Price.