Printers
Epson Expression Premium XP-720: Review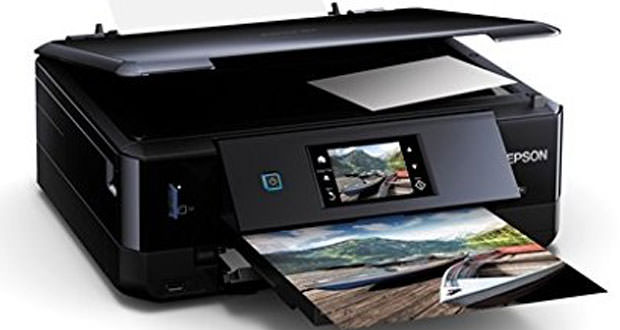 The Epson Expression Premium XP-720 is a inkjet printer of the medium / high, suitable for all uses which require good print quality. Obviously also this model is a multi-function, so it is equipped with a scanner and can make photocopies.
We continue our journey into the world of multifunction Epson, analyzing today a new model. Today we want to talk in detail the Epson Expression Premium XP-720, definitely one of the best All-in-One solutions that we reviewed so far.
After giving a look to the technical fact, we quickly realize that we are faced with a high-end model, although primarily intended for home use. While not a photo printer itself, also this MFP is able to ensure the good-quality prints. As we know the Epson is perhaps the best brand in terms of printing photographs, followed closely by the Canon printers.
Epson Expression Premium XP-720: A Reliable Product and Quality
Let's start by making a brief overview of the main functions: obviously being a multifunction Epson Expression Premium XP-720 is quite capable even to photocopy and scan documents, but obviously the features do not end there. The first thing you notice is certainly the large 10.9 cm display, which not only is able to show, for example, preview the document to be printed, but being equipped with touch screen acts as a real control panel from which, we can access all features and settings.
The present connections are standard. We find a classic USB (high speed, of course) and a convenient interface Wifi. We can use even if you do not own a router, using the Wi-Fi Direct, which allows us to print directly from mobile devices. This model of printer is equipped with Epson Connect, to print even from the mobile and the main cloud platforms (such as Google Cloud). Put simply, you can print documents anywhere in the world you are, sending the file to be printed in a separate email. Thanks to PictBridge compatibility can also print your favorite photos directly from the main cameras on the market, connecting them via USB or directly through the interface Wifi. Moreover, as a further possibility, it is also a convenient memory card slot.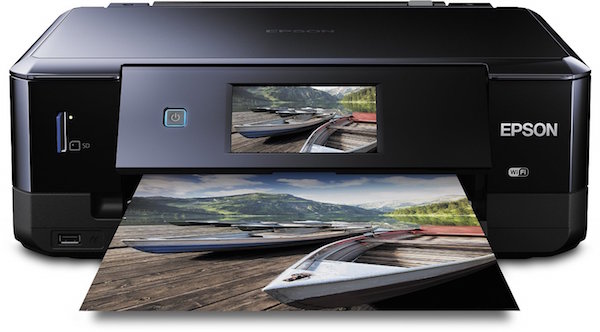 Epson Expression Premium XP-720: Performance of printer
The print resolution of the Epson Expression Premium XP-720 is 5,760 x 1,440 DPI, the resolution adopted by the standard Epson. This model is equipped with technology " Variable-Sized Droplet Technology ", which we have already talked about in other reviews. This technology allows the printer to vary the size of each drop of ink, so as to further improve the final yield.
The print speed is very good, always remembering that it is an inkjet printer: we speak of 13 pages per minute in monochrome is about 10 pages per minute in color. Being a high-end model could not miss the function of automatic duplex printing, which allows us to immediately halve paper costs. Also this multifunction can print borderless, as well as to support multiple media, including discs (CD, DVD and blue ray printable).
Cartridges and Convenience
Cartridges that mounts the Epson Expression Premium XP-720 are premium Claria Ink, excellent because it can produce sharp prints, but especially long-lasting. The ink cartridges are 5, 3 color (yellow, cyan and magenta) and two black inks, one for documents, and a special photo black, used to give our photographs look even more polished and professional. Just for completeness we should remember that even for this model are available cartridges increased (the now-famous format XL).
Performance as Scanner and Copier like. With pleasure, we realized that this printer has a scanner with high quality, the maximum resolution of 2,400 x 4,800 dpi, the ideal resolution for scanning photos (and also just to make simple copies) without loss of quality. Ultimately, we are fully satisfied from this point of view and recommend this multifunctional also for the quality of scan / copy.
PROS : Good Yield Print, Versatile, Print Front / Back, Wifi interface.
CONS :
It's not an economic model.