Printers
Epson WorkForce WF-2660DWF: Review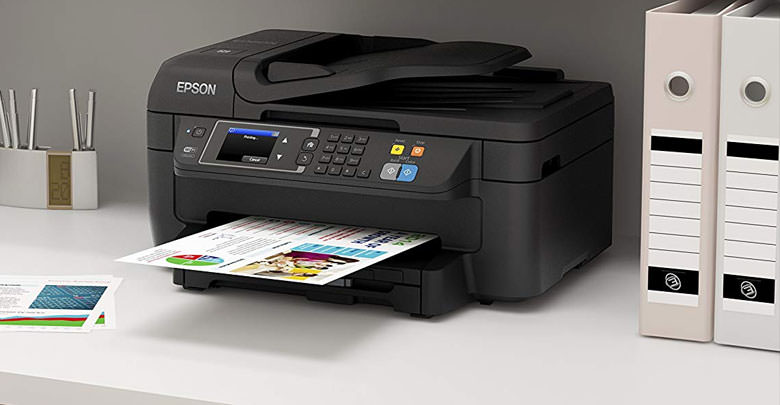 If you're looking for a multifunctional device for use at home or in your office, whether via Ethernet or Wi-Fi, which can connect with smartphones and tablets, the Epson WorkForce WF-2660DWF inkjet printer can definitely be a good one choice.
Small enough to print on plain and photographic paper, it can scan documents and store them directly in your cloud, make photocopies and send faxes automatically to one of the 60 storable contacts. All controlled by a color LCD touch-screen display.
A Small Office Multifunction Printer
The Epson WorkForce WF-2660DWF printer is 425 mm wide, 230 mm high and 360 mm deep with a weight of only 6.7 kg. The design focuses on functionality rather than aesthetics, which in any case remains pleasant, with a solid-looking body, with rounded edges of finger-proof opaque plastic. Care should be taken not to place excessive weights on the ADF (the document magazine) to prevent breakage.
The commands of the Epson WorkForce WF-2660DWF are grouped on the front and include, in addition to the physical keys for the most-used functions such as black and white or color copy and the numeric keypad for the quantity of copies or the typing of the possible fax number not included among those stored in the diary, a color touch-screen LCD display with a diagonal of 6.8 cm, equal to about 2.7 inches to navigate within the various menus.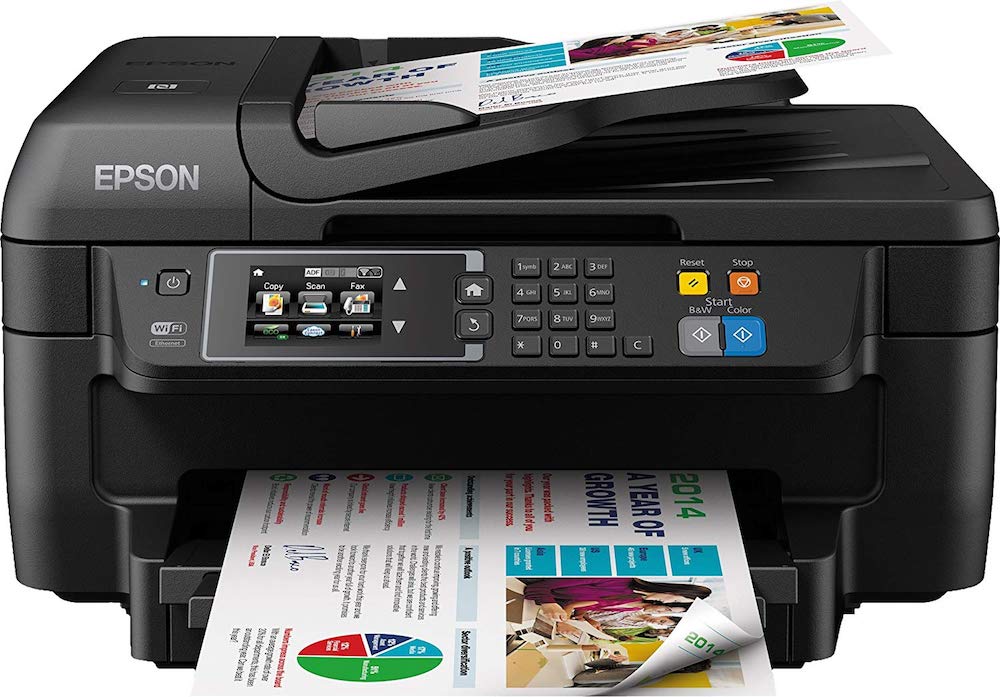 Moving between the different functions is quite simple and intuitive even if a display a bit 'more sensitive and slightly larger, it would certainly be much more comfortable.
The high-speed USB 2.0 port allows the connection via cable with a PC or an Ethernet network without any problems, but it lacks a slot for reading memory cards. On the other hand, the Epson WorkForce MFP WF-2660DWF is equipped with NFC(Near Field Communication), the feature present on many Android smartphones and tablets, which allows connection through the simple approach of the devices.
To connect the mobile device with the Epson WorkForce WF-2660DWF, you must first download the Epson iPrint application to the terminal and then activate NFC. It will be sufficient to approach the two devices to open the iPrint application automatically.
It is also possible to connect the Epson WorkForce WF-2660DWF wirelessly to a LAN and connect with Wi-Fi to print remotely from mobile devices and send the newly scanned documents to a cloud. Thanks to Wi-Fi Direct, connecting the multi-function using the menu from the display is anything but complicated. Once the smartphone is connected, and the Email Print app is downloaded, by assigning an email address to the printer it is possible to remotely print the received emails without having to switch from the PC.
Also from the terminal, thanks to the Scan to Cloud application, you can receive the scanned documents by email or ask to be sent to a cloud-like Dropbox. The Epson WorkForce WF-2660DWF is compatible with both Apple AirPrint and Google Cloud Print, to print from smartphones and tablets.
Finally, the Epson WorkForce WF-2660DWF supports all major Mac OS X 10.6.8 and higher operating systems and Windows Vista, Windows XP, Windows 7, Windows 8, Windows 8.1, Windows Server 2003, Windows Server 2008, without any particular problems. Windows Server 2008 R2, Windows Server 2012 (64bit), Windows Server 2012 R2, Windows Server 2003 R2, as well as the recent Microsoft Windows 10. Although not particularly silent, its noise during the press is within the average of the devices in this price range.
Epson WorkForce WF-2660DWF – Performance as Printer
The Epson WorkForce WF-2660DWF All-In-One printer features a PrecisionCore printhead with 400 black ink nozzles and 128 nozzles for each of the other 3 colors. The minimum drop size, thanks to the Epson Variable-sized Droplet technology, varies from 1.3 to 3.3 picolitre.
The print speed, although not a record, is still good for a printer of this category. It can print up to 13 pages of A4 format documents per minute (which become 6.5 with the duplex function), very close to the 14 pages of the most powerful printer.
Instead in color printing, the Epson WorkForce WF-2660DWF is capable of producing up to 7 pages per minute (4.5 pages duplex).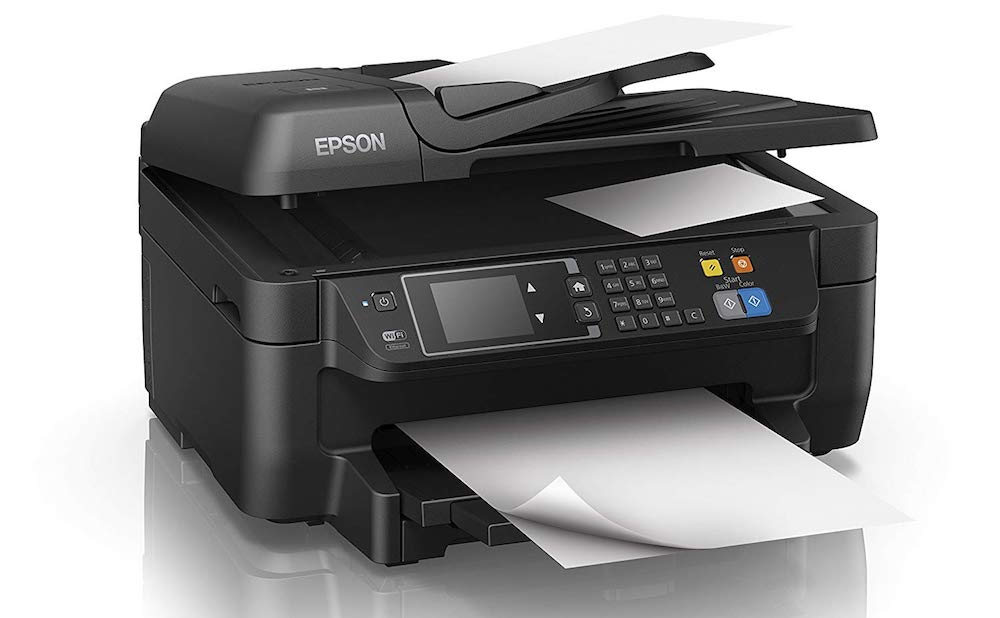 Using photo paper for printing photographs, you have to wait about 1.5 minutes for the 10 × 15 cm borderless format. Good the maximum resolution obtainable of 4,800 x 1,200 dpi.
The front tray for feeding paper can hold up to 150 sheets of plain paper and can still hold A4, A5 and A6 sheets as well as C6, DL, N. 10, Letter, Letter Legal. The Epson WorkForce WF-2660DWF also supports photo paper in 10 × 15 cm, 13 × 18 cm and 16:09 formats.
The supported weight ranges from 64 to 95 g/m². The ADF document feeder at the top of the printer accommodates up to 30 sheets that can only be printed on both sides of the paper. If you want to copy or scan the second side of the document, you need to manually rotate the page.
The output tray for output copies with a capacity of 30 sheets is positioned directly above the paper input tray. This often means that when you open the drawer to fill the sheets, the collection tray is also pulled out.
Cartridges and Convenience
The Epson WorkForce WF-2660DWF uses 4 separate color cartridges: black, cyan, magenta and yellow, all of the DURABrite Ultra types, very versatile inks for both plain and photographic paper printing.
In addition to the normal 5.4ml for black and 3.1ml for the remaining colors, you can use both XL cartridges, which contain almost double ink, and the 21.6ml black 16XXL cartridge, for those who print purely monochromatic documents, always with a print quality from a laser printer. With increased cartridges, Epson declares savings of up to 25% compared to traditional ones.
Performance as a Scanner
The scanner supplied with the Epson WorkForce WF-2660DWF multifunctional with contact LED image sensor (CSI), has a resolution of 1,200 dpi horizontally and 2,400 dpi vertically. Values ​​more than enough if you scan documents but also photos. The scanning speed of an A4 black and white façade is approximately 12 seconds with a definition of 200 dpi. For a color one, you get to 27 seconds.
Performance as photocopier
Thanks to the document feeder, you can photocopy up to 30 pages at a time both in black and white and in color. The maximum amount of copies is conditioned by the capacity of the drawer, maximum 150 copies. However, since the collection tray contains a maximum of 30, you are forced to remain near the printer, if you want a larger number of copies. The speed of the first copy is slightly higher than that required for scanning, while for the next copies, it is equal to that of a normal print.
Performance as Fax
When connected to the telephone line, you can take advantage of the Epson WorkForce WF-2660DWF fax function. Of the type walk-up, then usable independently from the computer can send and receive faxes in black and white and color, with a transmission rate of up to 33.6 kbps equal to about 3 seconds per page.
It can store up to 60 names and phone numbers, and is equipped with auto redial to automatically recall the busy number, has the function of sending scheduled and can print the receipt of successful transmission. It is also able to store up to 100 different pages.
Our Opinions
. The Epson WorkForce WF-2660DWF 4-in-1 MFP provides results comparable to those of a laser printer, particularly in the production of text documents that are well-defined and smudged.
Print speed and 30-page ADF document feeder for scanning, copying, and faxing multiple pages make it a truly practical printer for home or small-office needs. Ethernet, Wi-Fi, Wi-Fi Direct and NFC connectivity allow you to use it with a large number of terminals, even remotely. The XL cartridges and the duplex printing function allow to optimize the costs of use.
The XL cartridges and the duplex printing function allow to optimize the costs of use. Given the characteristics of this printer, the feasible photos are of acceptable quality for those without professional needs.
Excellent email printing capability and the ability to automatically archive scanned documents to the cloud, and everything can be controlled remotely via smartphone and tablet. The quality/price ratio is very favorable for this compact multifunction that satisfactorily carries out its work.
WHERE TO BUY EPSON WORKFORCE WF-2660DWF
---
---
---
Epson Workforce WF-2660 All-in-One Wireless Color Printer with Scanner, Copier and Fax
This printer is designed for use with Epson cartridges only, not third party...
Get laser-like performance - The workforce WF-2660, powered by Precision Core
Wireless, Wi-Fi Direct and NFC - easily print from iPad, iPhone, tablets and...
Fast printing - laser-quality prints at speeds of 13 ISO ppm (black) and 7.3 ISO...
Load paper less often - 150-sheet paper capacity & do more - auto 2-sided...
Epson Workforce WorkForce WF-2660DWF: Review
PROS : Good quality / price ratio, size, automatic two-sided printing.
CONS:
Display slightly small.
Product prices and availability are subject to change. Any price and availablility information displayed on Amazon at the time of purchase will apply to the purchase of any products.