Printers
Epson WorkForce WF-3620DWF: Review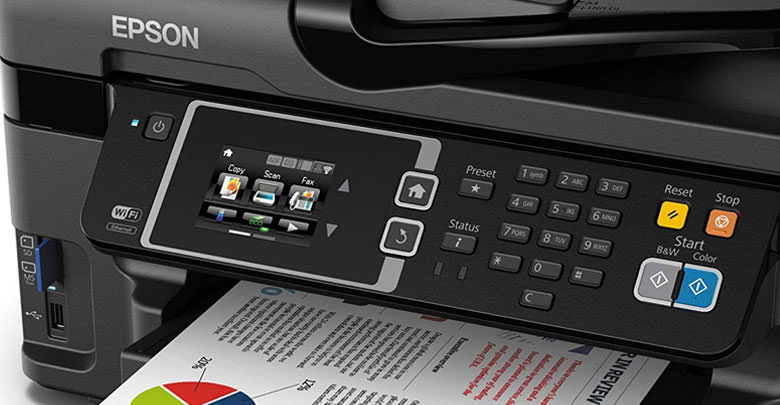 Today, we are talking about an office multifunctional from Epson, a brand renowned for the high quality of its inkjet products. The multifunctional that we will cover today is the Epson Workforce WF-3620DWF one of the multifunctional products with the best price/quality ratio currently on the market.
The price is not only very affordable for a company of any size, but in reality, is also accessible to the average user, who, while wanting to save money, does not want to compromise on quality.
A perfect mid-range Multifunction for Documents
Let's start by immediately listing the main functions of the Epson Workforce WF 3620DWF multifunctional:
First of all, a small color display with a touch screen stands out. This solution is going increasingly in vogue, because it allows you to navigate within the printer menu in a simple, intuitive and fast.
The display has a size of 6.8 cm (diagonal), so it is not among the largest, it is sufficient to guarantee the normal use of the printer. The connections we can rely on are, in addition to the high-speed USB port, an Ethernet connection (to wire the printer inside a network) and of course the inevitable wireless connection (IEEE 802.11b/g/n Wireless LAN).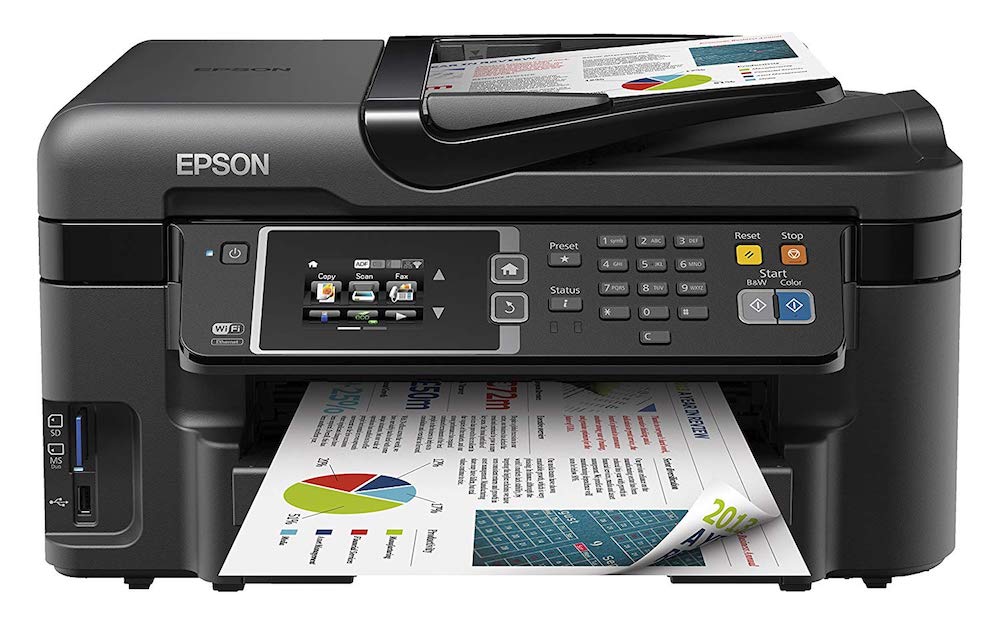 As for the other Epson, we have reviewed, this model is also equipped with the WiFi Direct function, which allows us to print directly from the main mobile devices, without the need for the printer to be connected to a network. This means that the printer can communicate directly with our mobile devices without the need for a router.
We can also count on the Epson Connect system, which will allow us to remotely print, even simply sending an email containing the text to be printed, directly to the Workforce 3620.
Obviously, this model is compatible with the main cloud printing systems (for example, example Iprint of Apple and Google Cloud Print).
Finally, there is a convenient SD card slot, and an ADF module to copy/scan/fax several pages at a time. In addition, like any good office MFP, this model is also equipped with a fax machine.
Epson WorkForce WF-3620DWF – Performance
Being an office printer, this model is mainly designed to print texts and documents, so the technical characteristics are calibrated mainly to perform these tasks. The maximum resolution reaches 4,800 x 2,400 DPI, more than enough quality to get crisp and legible prints.
The minimum size of a drop of ink is 2.8 pl (picolitres), but remember that this model is also equipped with Variable-Sized Droplet Technology, which allows the heads to vary the size of each single drop of ink, to optimize consumption and ensure the highest possible definition.
The strength of this printer is not print quality, which is at least in the standard, but rather other features such as print speed and the maximum cycle of monthly prints. First of all, the operating cycle is 20,000 pages, so ideal for anyone who needs to print several pages a day.
Speaking of print speed, we must admit that the Epson Workforce 3620 really knows its fact, both as regards the printing of texts in black and white (19 pages per minute on average), both as regards the speed of printing of the pages in color (10 pages per minute).
Being an inkjet printer you have to take note that these are very high speeds, so ideal for printing several pages at a time. The drawer for inserting the paper, given the many jobs for which this printer is designed, is very large, and can hold up to 250 A4 sheets at a time.
Finally, we remind you that this model also includes advanced printing features such as automatic two-sided printing (ideal to save paper consumption immediately) and the borderless printing function.
Cartridges and Convenience
The Epson Workforce WF-3620DWF printer features 4 separate ink cartridges, namely the 3 primary colors plus black. The original ink is DURABite Ultra, but of course cheaper compatible cartridges are also easily available.
You can still save something the same by staying on the original cartridges, simply by purchasing the XL cartridges, also available for this model.
Performance as a scanner and as a photocopier
Used as a scanner and copier, the Epson Workforce WF-3620DWF is certainly able to ensure good results, certainly more than enough for normal office tasks. The scanner resolution touches a maximum of 1,200 DPI x 2,400 DPI, excellent for documents, more than enough for photographs.
The main function of this printer (and all the multifunctional series Workforce) is certainly the ADF module, which will allow us to scan (but also photocopy and fax) several pages at a time, without having to manually insert each sheet in the scanner (up to a maximum of 35 sheets at a time).
Our Opinions
. The Epson Workforce WF-3620DWF is a great office multifunction printer, mainly because it has features that make it easy to print many pages a day. Print quality is good, perfect for printing documents and texts of any kind.
The strengths of this model are the printing speed and the high autonomy, without counting the reliability that distinguishes all Epson printers. Furthermore, we remind you that this model is equipped with numerous functions and technologies, including automatic two-sided printing and the ADF module, without counting the possibility to send faxes.
Ultimately, we recommend purchasing the Epson Workforce WF-3620DWF to anyone looking for a good office MFP without spending much, but also to anyone looking for a good document printer with good autonomy, speed and reliability.
WHERE TO BUY EPSON WORKFORCE WF-3620DF
---
---
---
Epson Workforce WF-3620DWF: Review
PROS : Suitable for printing many pages a day, Versatile, Print Front / Back, Wifi interface, Equipped with Fax.
CONS :
Not suitable for printing photographs.
Product prices and availability are subject to change. Any price and availablility information displayed on Amazon at the time of purchase will apply to the purchase of any products.