Printers
Epson Expression Photo XP-960: Review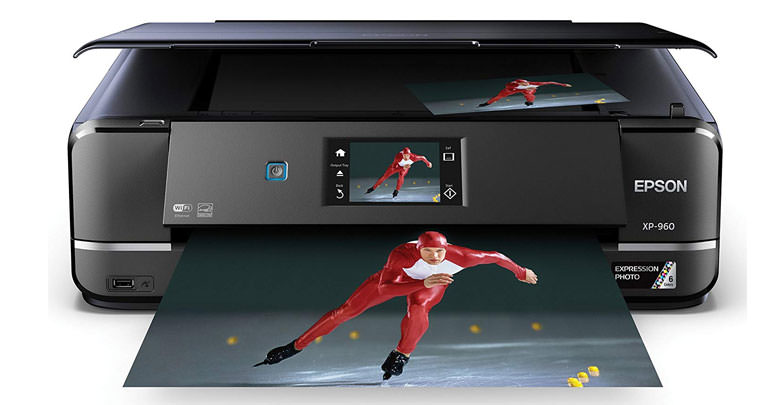 For those who, by profession or passion, want to print photos taken with a digital camera or images created in computer graphics, the Epson Expression Photo XP-960 can be the ideal solution. It is a multifunction inkjet printer, designed primarily for printing photographs, images and documents even in A3 format and in high resolution.
Very compact and equipped with a large color LCD display, with which to access the various functions, it is really easy to use and can be connected to different devices, even wireless and without a computer.
Epson Expression Photo XP-960 – Features and functionality
The Epson Expression Photo XP-960 has a rather small size for a machine capable of printing A3, it is 479 mm wide, 356 mm deep and 148 mm high with a weight of less than 9 kg. The Epson Expression Photo XP-960 is equipped with a color touch-screen display with a diagonal of 10.9 cm (about 4.3 inches), which gives access to all the functions of the printer.
Navigating through the menus is quite simple and intuitive, and you can preview the print you want to make, for example, when loading photos from an external memory card. The memory card slot directly supports the Memory Stick Duo in the different versions (including PRO), the SD, SDHC, SDXC, Compact Flash, and MicroDrive also, through an adapter not included but easily available, the Micro M2, MicroSD cards, MicroSDHC, MicroSDXC and MiniSD.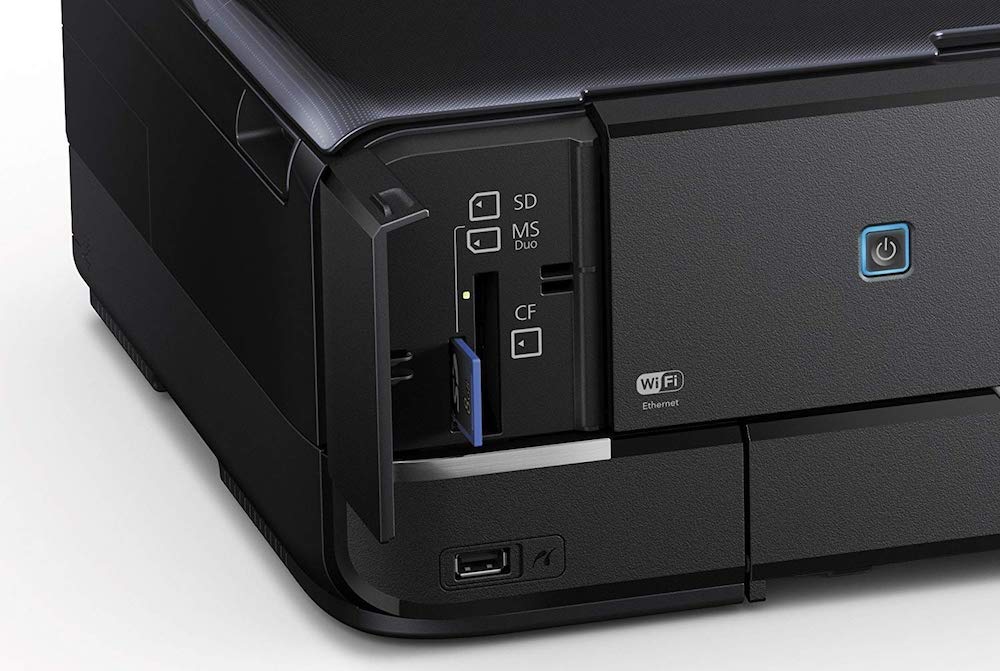 The USB port allows you to download and print images from a stick or, connected to a camera compatible with PictBridge technology, print directly the photos sent by the latter, without going from the PC.
In addition to the wired connection to an Ethernet network, the Epson Expression Photo XP-960 as the whole family to which it belongs, is equipped with WiFi compatible and configurable automatically, with Windows operating systems (except the ancient Windows XP for the which is necessary to manually configure the connection), and Apple Mac OS from version 10.6 onwards, through a quick scan launched by the appropriate menu on the display.
Supporting Apple's AirPrint technology that allows it to communicate with iDevice (iPhone, iPad, etc.) without the need for special configurations, as long as they are connected to the same WiFi network.
With the Epson Expression Photo XP-960 wirelessly connected, you can also print images and files from smartphones and tablets that support the Epson iPrint application downloadable from the Android store.
By installing the Epson Creative Print app on your terminal you can also print the photos on your Facebook profile and create writing paper, greeting cards and even personalize CD and DVD. With the Internet connection, you can take advantage of the Epson functionality Email Print and print your emails remotely.
Always using the direct connection to the Internet, thanks to the Scan to Cloud function, accessible directly from the display, you can scan a document, send the file via e-mail to one of the stored addresses and save it in an online storage space, such as Google Drive, Evernote, Dropbox and Cloudbox.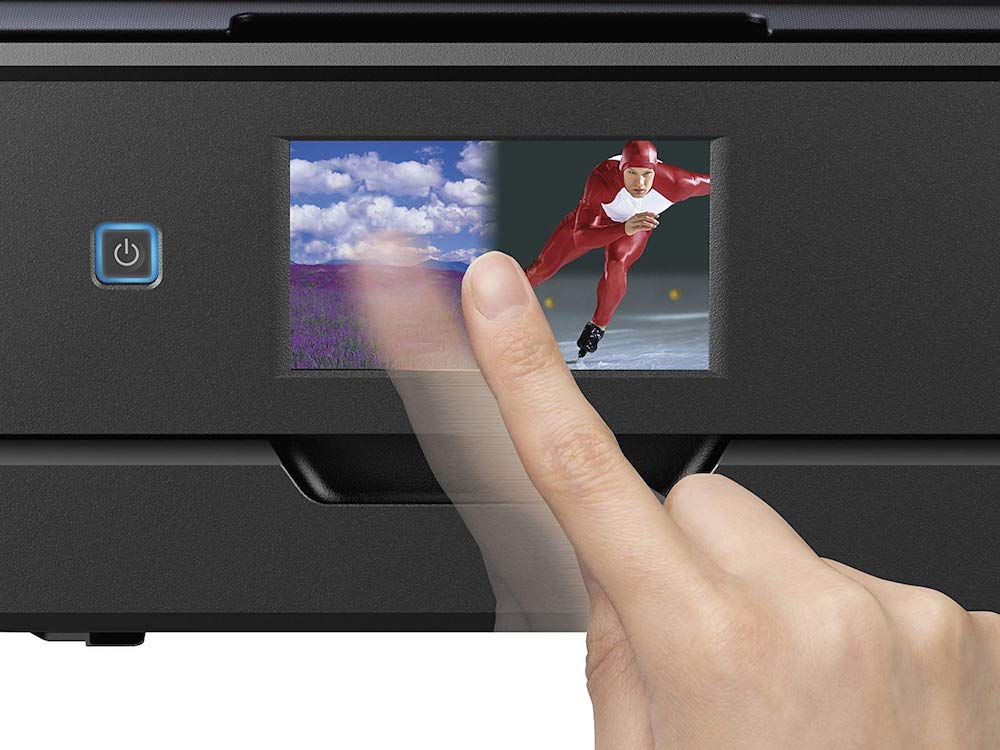 The default margins for photo printing are 3 mm per side, but you can print full-page with margins of 0 mm from the settings. Thanks to the automatic power-on function, which allows for quick commissioning of the device, the Epson Expression Photo XP-960 is ready in seconds.
The motorized control panel opens and positions itself so as to make the controls more accessible while the output tray that collects the prints comes out automatically, without the need for manual intervention on our part. Turning off the Epson Expression Photo XP-960, the control panel and the output tray are closed in the rest position, reducing the overall dimensions.
Performance as Printer
Having been designed primarily for photo and image printing, the Epson Expression Photo XP-960 multifunction printer has a maximum resolution of 5,760 x 1,440 dpi which enables high-quality output. The printing speed is good, it takes about 11 seconds to obtain a color photograph in 10×15 cm format on glossy photographic paper.
On plain A4 paper, it can print up to 28 pages per minute, both in black and white and in color. The excellent sharpness of the details is due to the size of 1.5 picolitre ink drops (one picoliter corresponds to one thousand billionths of a liter), supplied by the 360 ​​nozzles for black and 180 for the other 5 colors, of the Epson print head Micro Piezo.
The 2 separate front-loading drawers, one for plain paper in A4 format and the other for the photographic one, given the compactness of the printer, do not have a large capacity. We speak of 100 sheets for A4 sheets, while for photo paper in 10 × 15 cm 13 × 18 cm and 16: 9 formats, it varies greatly depending on the type used.
Thanks to the rear power supply, it is possible to use sheets of the B5 format, that is to say, a lot of books, up to A3 format. It can also print on envelopes in the C6, DL and N10 format. Too bad that for the A3 format, it is possible to load only one sheet at a time.
Thanks to the automatic two-sided printing function, the amount of paper generally used can be halved. In addition to the various types of paper and cardboard, this multi-function is able to print on CD and DVD, both texts and images making them unique.
Performance as Photocopier
Like all printers equipped with a scanner, the Epson Expression Photo XP-960 can also act as a photocopier, producing both monochrome and color copies up to A4, with a fair printing speed. Naturally, we are talking about a photo multifunction device for which it is unthinkable to use it as an office copier, but only for moderate use.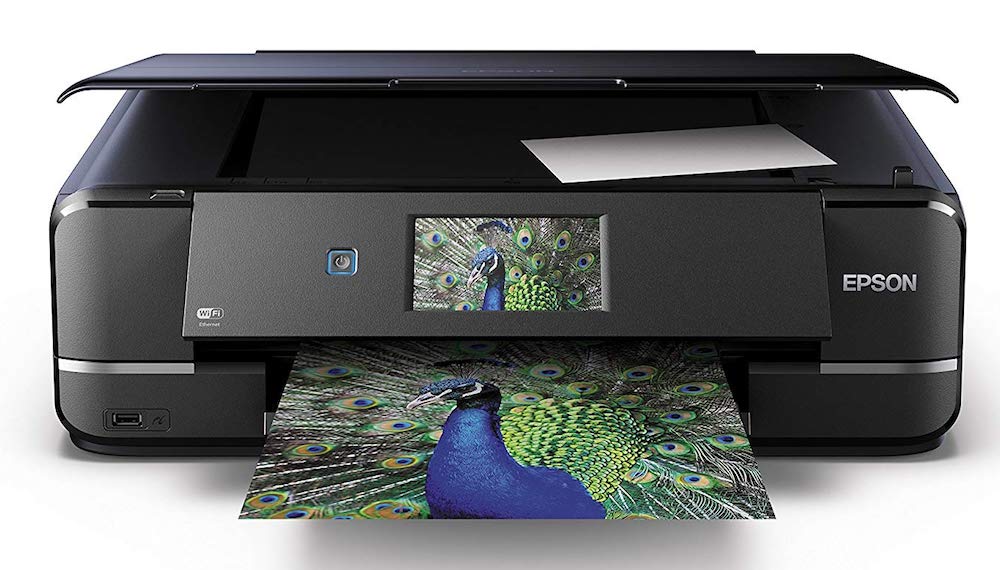 Our Opinions
. The
Epson Expression Photo Printer XP-960
is certainly a good-quality product for those who want to print their photos independently. Given its characteristics, it can also be used in a small studio that does not require highly professional services. Its ability to connect to the network both via Wifi and Ethernet, allows you to print both from a PC and from smartphones and tablets, even remotely.
The Epson Expression Photo XP-960 also supports various memory cards and USB sticks to print even without the aid of a PC. Good results in both black and white and color printing. The quality of the photographs obtainable with this printer does not disappoint even if, you could feel the lack of a loader for the sheets in A3 format (remember that they must be inserted one at a time).
Easy to use thanks to the large color display and intuitive menus, it has excellent standard equipment. The automatic two-sided printing feature and the ability to continue printing in black and white with an empty color cartridge are also particularly convenient. So if you need a good printer to take good photos, the Epson Expression Photo XP-960 is a recommended purchase.
WHERE TO BUY EPSON EXPRESSION PHOTO XP-960
---
---
---
Epson Expression Photo XP-960
PROS : Excellent Photo Quality, Versatile, Duplex Printing, Wifi Interface.
CONS :
Expensive
Product prices and availability are subject to change. Any price and availablility information displayed on Amazon at the time of purchase will apply to the purchase of any products.