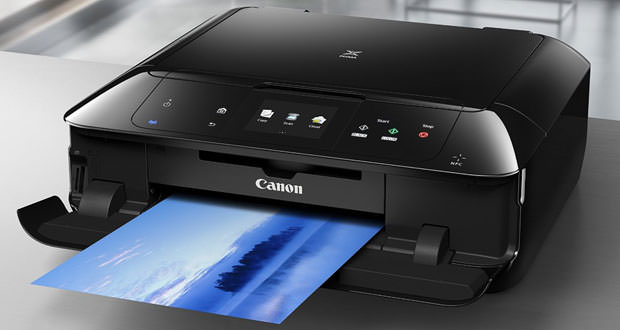 The Canon Pixma MG7550 is one of the best multifunction ever designed by Canon. This printer is capable of printing high number of copies per month, also the print quality is comparable to a photographic printer.
Welcome to a new review, today we are talking about one of the latest multi-function produced by Canon, the Canon Pixma MG7550 an all-in-one inkjet truly exceptional. The line is the classic adopted by Canon, we then a very compact, modern design and minimal. All controls and settings are easily accessible from the front panel. The buttons are touch-sensitive, all finished with a large color display with touch screen placed centrally. Come on now as always to deepen the main aspects of this multifunction Canon.
Canon Pixma MG7550: A Multifunction Photo Vanguard
Start by saying that the Canon Pixma MG7550 is no ordinary printer, but a product can offer quality prints, thanks to the 'high resolution and other technical characteristics. Being a top model of the range, they could not miss the main connections, because in addition to the USB port (strictly high-speed) we will have a convenient interface Wifi, or if you wish, we can wire this One directly to a network (home or office ), thanks to the Ethernet 10/100 Mbps.
As we have already mentioned the controls are all touch, and also through the proper display, we can access most of the features of this printer directly from the device, without going through the PC. Thanks to the SD card slot, we can print our photos directly from the printer, selecting only files that interest us, as we can see from the screen printer to preview and select only the photos that interest us. Among other functions, remember the press Cloud Link, which allows us to print directly from the company, such as Facebook and Twitter, and select even entire photo albums.
Also scans can be saved directly to the main software cloud, as Google Drive, DropBox and OneDrive. To top it all is also available a special app, the PIXMA Printing Solutions, both for access to cloud services that display the status of the printer as the ink level in real time. This model is also compatible with application's Apple AirPrint and Google Cloud Print.
Canon Pixma MG7550: Performance of printer
The Canon Pixma MG7550 is in effect a photo printer of high level, thanks to a print resolution of 9,600 x 2,400 DPI well, but also to the special heads Canon can generate ink droplets the size of just 1 picoliter (currently record reached only by Canon). The high print quality is not going to affect the speed, which is around 15 pages per minute of media for prints in black and white and 10 pages per minute for color prints, confirming Canon Pixma MG7550 as a jet printer ink Canon faster absolute.
Other features include printing we obviously duplex printing / sided printing, borderless printing (for photographs) and the ability to print on cd, dvd and blu-ray disk using the appropriate software included in the package. Ultimately, this model is one of the Canon Multifunctional most complete and powerful, the only thing missing to the Pixma MG7550 is only a support to send / receive faxes.
Cartridges and Convenience
The inkjet printer Canon Pixma MG7550 has available the 6 cartridges needed to get a photo print of a high standard. The ink cartridges include in addition to black and primary colors (remember are yellow cyan and magenta) is also a special cartridge that contains the photo black and a gray cartridge. Obviously, all these cartridges are also available sizes XL, practical and comfortable especially for those who make heavy use of the printer.
Performance of Scanners
The scanner also promises performance to scream, with a hardware resolution of 2,400 x 4,800 DPI with a maximum color depth of 48 bits. The speed is the standard one, then a scan of an A4 sheet of paper will require about 14 seconds to complete.
Performance of Photocopier
Even as the Canon Pixma MG7550 copier really knows his stuff. In addition to generating the classic copies, we can customize them at will from the printer by selecting between:
Copy of documents
Copy photos
borderless copy
copy of the front / back
2 in 1 and 4 in 1 copy with frame erase
Copy disk label
Furthermore, through the Zoom function, we climb our copies from 25% to 400% in 1% increments and easily switch from one format to another, specifically:
A5 to A4
B5 to A4
A4 to A5
A4 to B5
Where to Buy Canon Pixma MG7550
---

---
PROS : Good Value Price, Great Yield Print, Versatile, Print Front / Back, Wifi interface.
CONS :
n/a