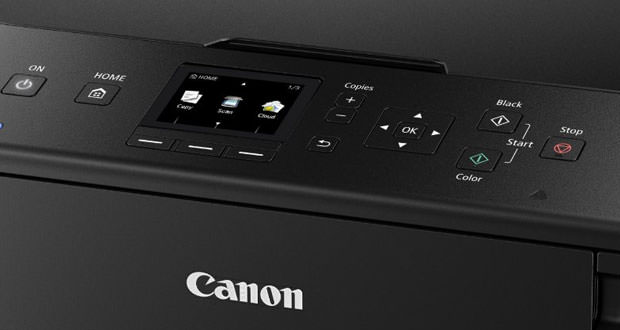 The Canon Pixma MG5550 is a multifunction very economical and elegant, suitable for carrying out print jobs of the household type, but if necessary also by type of work. Among the main features stand out 5 individual inks and the ability to print a sheet on both pages automatically.
Hi, today we review for you the Canon Pixma MG5550, a multifunction affordable and the specifications to help you make a decent quality all major functions. Aesthetically resumes the line of most multifunction Pixma is serious, elegant and refined with a plastic shell with a nice glossy black. Being a multi-function we recommend that you make sure you have enough space to put it, since these types of devices are still quite bulky.
Canon Pixma MG5550: An Economic Model
The features of this printer are average, but given the selling price and the technical one immediately realizes that this printer is quite cheap to be able to ensure a yield of printing and scanning more than good. For the same price in our opinion, it starts to become quite hard to find better.
The function that characterizes this model is definitely the ability to print documents in front / back automatically, without turning the sheet manually. Printing front / rear, as well as to be more elegant and professional, will allow long term a fair saving paper and money. As usual now is the time to deepen the main aspects and the most important to examine all aspects of this interesting AIO inkjet.
Performance as a printer
If you want to buy the Canon Pixma MG5550 mainly to print to know that the resolution is 4,800 x 1,200 DPI, a value high enough to get decent quality prints. Also photographic prints begin to be of good quality, especially if to print your photos, you'll use the appropriate photo paper (you know maximizes yield of photographs). Compared to inexpensive printers this model proved also quite fast and is able to produce approximately 12.2 pages per minute in monochrome and 8.7 pages per minute if you intend to print color documents.
We think this model has characteristics that are beginning to be able to serve even a small office that day has the need to print documents The Canon Pixma MG5500 is a model suitable for those looking for a versatile and complete, without any special requirements.
It follows that if your business requires a very intense use of the printer, or you need for excellent print quality, or at least if you have any special requirements, then you should look at a specific model for your needs. For everyone else, those simply seeking a normal multifunctional, probably this is the perfect model.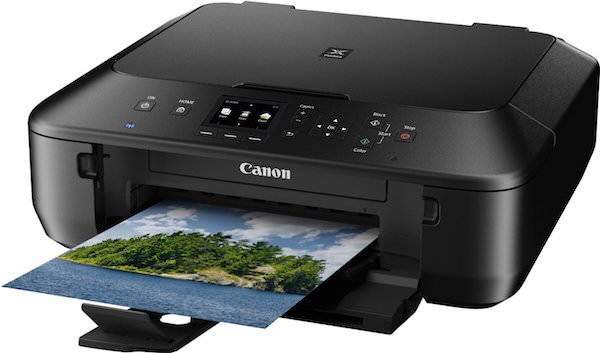 Even the Canon Pixma MG5550 is able to print on the most common sizes (starting from maximum to A4) and to accept paper heavier media and photographic type. The consumption remain in the medium, the energy required for the normal operation is minimal, and even in stand-by mode the estimated consumption is of little more than 1 Watt. Overall, the printer is discreet and definitely is very suitable for use in domestic type, although if necessary may even be able to handle the needs of a small business.
Cartridges and Convenience
The inkjet printer Canon Pixma MG5550 is equipped with 5 cartridges (one cartridge contains even the photo black, different from that used for normal documents in black and white), then the first question that arises concerns surely the maintenance and replacement cost's cartridges. But there is to be noted that usually, the color inkjet printers have only two cartridges because a blend of all three primary colors (remember that are yellow, cyan and magenta).
Consequently, even if only one color ends we will still be forced to replace the whole cartridge, wasting of fact the other colors remaining. This model from this point of view it may even save us something, because each cartridge contains only one color, allowing in practice to replace from time to time only the colors exhausted. We still pay close attention to the different prices, since it is easy to find on the market pack complete with all colors plus black, at a cost much cheaper than buying each cartridge taken individually.
Performance of Scanners
The scanner of this model has characteristics quite normal are in principle good and absolutely capable of scanning in a detailed and faithful all types of documents, including photographs, needing just a good resolution to be scanned at best. The scan resolution is about 1,200 x 2,400 dpi, and the time to perform successfully scan an A4 sheet stood at 14 seconds.
Canon Pixma MG5550: Performance as Photocopier
Also used to make copies, the Canon Pixma MG5550 can give great satisfaction, especially as scanner and printer have a resolution definitely capable of reproducing in a very faithful our documents. Print speed reaches about 20 seconds, and to make matters worse we will have some interesting features like:
Copy of documents
Copy photos
Borderless copy
Copy of the front / back
2 in 1 and 4 in 1 copy with cancellation of the frame
Some users will find these functions are essential, others superfluous, actually this depends very much on the needs of each of us, so we recommend always the first to make a list of your real needs.
PROS : Good Value Price, Good Yield Print, Versatile, Print Front / Back, Wifi interface.
CONS :
n/a