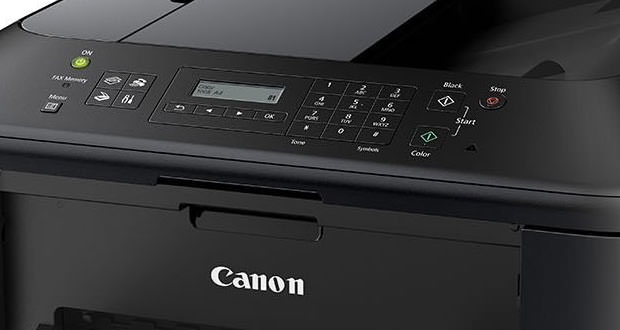 The Canon Pixma MX395 multifunction printer is a very economical and has a quality printing and scanning good enough. This model has proved very useful and versatile, because in addition to over the scanner is also equipped with a technology that allows you to send faxes.
The Canon Pixma MX 395 is a small printer inkjet very interesting, mainly because it is a multi-function, is in color, but also has a sale price really very interesting. Although in some respects (we'll see), this model can be considered a small multifunctional office, for other parameters is still a relatively cheap end product, only recommended for use quite limited, perhaps even better if we think of household type.
The design is very nice, aesthetically this model we like a lot, it is stylish, compact, and despite the price keeps looked very professional. Among the physical, characteristics stands a pretty important weight: about 8.5 kg net. Come on now, as usual at this point, to see the main features that characterize this model.
Canon Pixma MX395: A Multifunction that Print, Scan and send a Fax
That was the obvious proper publisher, that also scan, since it is still a multi-purpose, but the ability to send faxes is not a feature that is very often in these products. The fax are now used less and less, but in some areas still retain a certain relevance. Suffice it to say that many companies still prefer to communicate via fax even compared to more modern and efficient technologies, but also that many bureaucratic procedures still require this means of communication, such as when a user must interface, for example, with a large company. You've never had the need to fax a bill paid, a receipt, or a document? The ability to send faxes should never be underestimated, as in life will often have the need to send or receive one.
Performance as a Printer
Although an economic model, the print quality is more than satisfactory; The maximum resolution specifically stood at 4,800 x 1,200 DPI. In practice, this model is fine for normal prints (texts, documents, tables) and also to print some photos, from time to time. Print speed is a parameter to consider if you plan to print many pages at once: this particular model can print up to 8.7 pages per minute in black and white, or 5 ppm in the case of color prints.
Under this point of view, we are therefore slightly above the sufficiency, but nothing more. This printer accepts the most popular formats (from the A4 up to the envelopes), and wanting can also use photo paper and paperboards not too thick. Continuing to sifting through the features pop up some special functions in addition to the regular size printing, namely:
Borderless printing
Press fit the page
Scale printing
Printing multiple pages per sheet
Print brochures
Poster printing
Many times I have small offices in need of these functions, but sometimes it also happens the average user, so do not underestimate these features during the purchase.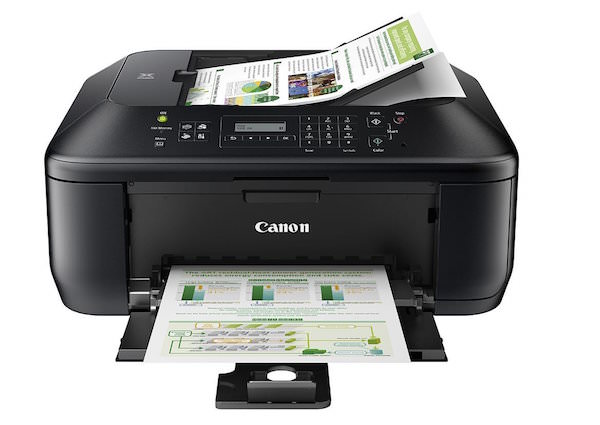 Cartridges and Convenience
The Canon Pixma MX395 uses 2 cartridges: one for black (code PG-540) and containing all the primary colors (code CL-541) As with other models in the Canon for the product are available XL cartridges, the new formats larger and far more cost-effective than traditional cartridges.
With normal cartridges, we can print approximately 180 pages in black and white and 180 color pages, while using the cartridges increased, we come up to a maximum of 600 pages in black and white and 400 color pages. As with all Canon printers, including the Canon Pixma MX395 ink cartridges, they are easily available, have a good yield / price, and are easy to assemble and disassemble.
Performance of Scanners
The scanner in this multifunction has enough resolution to get enough faithful reproductions of the original documents. This scanner obviously necessary can also be used to digitize photographs, thanks to good resolution (maximum resolution 1,200 x 2,400) will be digitized in great detail. The scan speed for an A4-size plain is approximately 15 seconds, then under this point of view we are definitely in the standard. Finally, remember that this model of the MX series features the module ADF.
Canon Pixma MX395: Performance as Photocopier
Even as a copier this model proved to be better than we could have expected given the price. The quality and speed with which we can make a photocopy of it are all quite good. In the market there are certainly better products to make photocopies, but of course these models are more expensive, and many times may not be worth it, especially if you have to make some photocopies from time to time.
The speed to make a photocopy is about 21 seconds, and wanting this model allows you to further customize your copy with additional optimizations such as:
Copy of documents
Copy of photos
Copy fit to page
Copy borderless
Where to Buy Canon Pixma MX395
---

---

---
PROS : Good Value Price, Equipped with Fax, Good resolution.
CONS :
n/a
Product prices and availability are subject to change. Any price and availablility information displayed on Amazon at the time of purchase will apply to the purchase of any products.