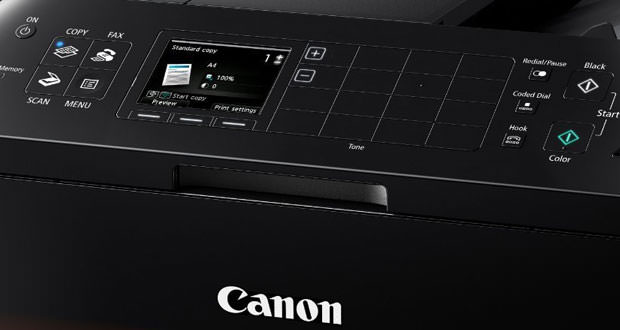 The Canon Pixma MX725 is a great performance model truly incredible. Print, scan, copy and send faxes is as easy, fast and reliable. So this is a high-end printer also great for home use, although born basically as office printer.
Today, we want to talk to a printer that has distinguished itself in the world of All-in-One for reliability and performance and quality: the Canon Pixma MX725. This model is able to run so fast and agile all the functions of which may need a user such as printing, copying, scanning and faxing. Furthermore, this model is equipped with ADF module, for the treatment of multipage documents.
The design is the classic Canon, serious and elegant, with clear lines and rounded corners, this model we like, although we must admit that the size and weight of this model are quite: the Canon Pixma MX725. it is almost half a meter long, and weighs 11.7 pounds. It is in practice of one of the printers heavier that we have never reviewed until now. Now, let's explore the key aspects of this model, to make us an opinion of performance, at least in principle.
Canon Pixma MX725: A Multifunction Professional at a price accessible
The Canon Pixma MX725 is definitely a very popular product in the offices, but surely this is a printer that appeals to almost all consumers, especially because of the high maximum resolution and excellent print quality (and scanning, of course). If we wanted to buy an office printer surely there will affect several factors, mainly including the reliability (in our opinion crucial, even before the print quality), cost per copy and speed.
The detail that instead affect the average consumer (in addition to product quality and maximum resolution) is definitely the price, particularly in view of the current economic crisis. Well, you'll be pleased to know that even though it's basically a high-end product (and not cheap), is available at an affordable price, especially if you decide to buy your printer online, and the characteristics of this model are ideal for a medium-sized office. It's finally time to take a look at the technical specifications, so that we can properly assess this product.
Canon Pixma MX725: Performance of printer
The Canon Pixma MX725 performances of this multifunctional from the point of view of the press are very high quality. You just think that the resolution is even 9,600 x 2,400 dpi, a resolution that will ensure clarity and fidelity of a print that close to perfection, because the human eye probably not perceive differences in quality of higher resolutions.
Print speed is worthy of an inkjet office worthy of respect and with 15 pages per minute in monochrome and 10 pages per minute in color is one of the fastest printers in its class. Obviously when it comes to speeding, we are not yet at the levels of laser printers, begin to be remarkable performance and more than sufficient for most common office functions.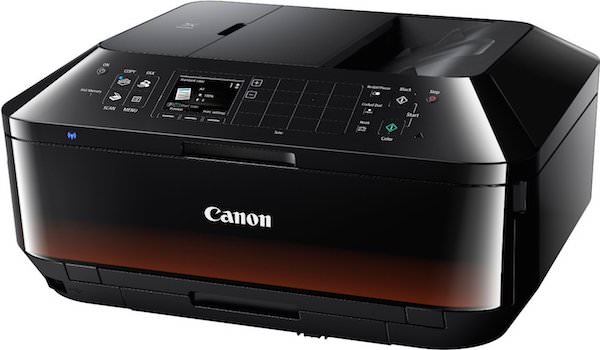 Also hardly find laser printers can match the Canon Pixma MX725 as print quality. Highlight of this printer is definitely the ability to spray ink droplets of 1 picoliter, truly infinitesimal amounts and able to position with extreme accuracy on the paper. The print quality of this model is very similar, if not identical to the Canon Pixma IP7250, other excellent printers for which we have already talked a few reviews ago.
Among other features, it stands out the high interfacing, because in addition to the standard USB connection and the innovative wireless technology, wireless, this model is also equipped with Bluetooth and a handy Ethernet interface. For completeness, we report the presence of the print function front / rear automatic.
Cartridges and Convenience
The Canon Pixma MX725 uses the same cartridges of Canon Pixma MX925, the Canon Pixma IP7250 and other Canon of the same caliber. We speak then of 4 cartridges for color photos (the three primary colors plus black) and a special pigment black for monochrome printing.
As you may know all the cartridges are also sold in practical and convenient size XL, but not many know that the cartridge for monochrome printing (so that to print the texts or documents in black and white) is a new format XXL, even bigger and with more autonomy.
In practice, a common pigment black cartridge can print " only " 375 pages, if we decided to use the format XL come to exceed 600 copies (620 to be exact, at least from the tests carried out by Canon), but if we decide to switch to the new format XXL, we print quietly over 1000 pages before fully using the ink. As usual, we always recommend using original cartridges (where possible), since the inks contained in the tank are designed and chemically correct for maximizing the performance and print quality.
Performance of Scanner
Performance is also excellent as a scanner, thanks to a maximum resolution of 2,400 x 4,800 dpi and a scan depth of 48-bit color and 16-bit black and white. The average time for a scan of an A4 sheet is about 14 seconds, then this characteristic this model falls decidedly in the standard. Finally, we report the presence of convenient OCR function for automatic character recognition (through software).
Performance of Photocopier
Obviously, the Canon Pixma MX725 can also be used as a copier, and also with excellent results, we dare to add. With much reduced speed with which it is made a copy (12 seconds), we will have a zoom from 25% to 400% (as copiers Professional) and other useful settings.
We may still further optimize the function copier choosing from three settings of print quality that is:
Standard : the most versatile, a good compromise between quality and speed.
Fast : less quality, but more speed in making photocopies.
High : You can obtain copies of very high quality and very faithful to the original document. Obviously, it is the slower mode.
Where to Buy Canon Pixma MX725
---

---
PROS : Wifi interface, Bluetooth interface, Print Front / Back, Good Speed ​​Print, With Fax, excellent resolution.
CONS :
n/a