Guide
Xbox One Gaming Keyboard: The Best to Buy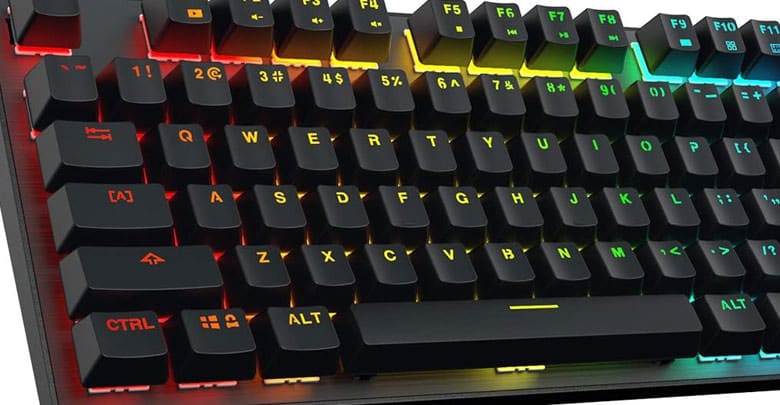 In this constantly updated guide, we'll help you find the best Xbox One gaming keyboard that's perfect for you. We will offer you our selection of the best models currently available on the market.
Many gamers prefer to play with their console but who at the same time do not want to give up the advantages and comforts of a mouse and keyboard.
How to choose an Xbox One gaming keyboard
Using a console, either Xbox or PS4 is the perfect solution for those who want to play without spending too much to create a PC gaming setup. Some video game genres favor the use of keyboard and mouse. Fortunately, Microsoft has decided to guarantee support for these devices on its console as well.
Before proceeding with purchasing an Xbox One gaming keyboard, it is necessary to analyze some aspects. First of all, it is essential to evaluate the type of keys.
There are mainly three types of keyboards on the market: membrane, mechanical and hybrid. Mechanical keyboards are more responsive than membrane keyboards, but they come at a high price.
Membrane models are much cheaper but have a much shorter response time. Finally, hybrid keyboards offer the right compromise at a decidedly advantageous price.
If you decide to opt for a mechanical keyboard, you must also evaluate the type of switch. The most renowned switches are certainly the CherryMX, present above all in high-end keyboards.
Lower quality switches are installed in cheap keyboards, such as the Outemu. Companies like Razer and Logitech decide to adopt proprietary switches for their gaming-oriented products.
We remind you that keyboard support is not guaranteed in all video game titles. The manufacturer itself decides whether to allow the use of keyboard and mouse also on consoles.
To learn more about all the aspects to consider, we recommend that you consult our buying guide to choose the gaming keyboard that suits your needs.
The best-selling Xbox One gaming keyboards of the moment
Before moving on to our selection, we recommend that you look at the following list of the 10 best-selling Xbox One gaming keyboards of the moment on Amazon. The list is kept constantly updated by the store itself.
---
Our selection
After analyzing all the aspects to consider when buying an Xbox One gaming keyboard, we offer you our selection of the best models currently available on the market.
Drevo Tyrfing V2
DREVO Tyrfing V2 Customizable RGB Compact 87 Keys Mechanical Gaming Keyboard USB Wired Tenkeyless Programming Macro Media Control Software Support Outemu Brown Switch Black
Customizable RGB backlit: 16.8 millions colors and 14 different lighting modes...
Compact 87 keys Design: The ergonomic 10 keyless keyboard saves space and...
Real Mechanical keyboard: N-key Rollover allows you to control each key...
Excellent Workmanship: Aluminium alloy panel, Gold-plated USB connector,...
Multi-function & Software Support: 5 programmable macro keys can record your...
The Drevo Tyrfing V2 can be considered as the best buy of mechanical keyboards. It is a mechanical keyboard with an excellent quality/price ratio and not bad features. This keyboard is equipped with Outemu switches, much cheaper switches than the more common Cherry MX. The build quality of this peripheral is really excellent.
Of course, it's also a great mechanical keyboard to use with your computer. To manage RGB lighting and custom keys, installing the dedicated software for Windows PC and Mac.
Logitech G910 Orion Spectrum
Logitech G910 Orion Spectrum RGB Wired Mechanical Gaming Keyboard , Black
Exclusive Romer-G Mechanical Switches Exclusive Romer-G mechanical switches make...
Intelligent RGB Illumination Customize Orion Spectrum's RGB illumination from...
Arx Control Integration Smartphones and tablets can be connected to Orion...
9 Customizable G-keys Orion Spectrum's 9 fully-customizable G-keys can be...
Dedicated Media Controls Orion Spectrum's dedicated media controls can be used...
This is an Xbox One gaming keyboard made by Logitech. The classic Cherry MX does not characterize it. Like all Logitech mechanical keyboards, it mounts Romer G mechanical keys produced directly by the company itself. The 1.5mm drive allows you to receive inputs 25% faster than rival models.
It lends itself to being one of the best mechanical keyboards for gaming PC. In addition, there is also a conveniently integrated palm rest which, unfortunately, cannot be removed.
Corsair Strafe RGB
CORSAIR Strafe RGB MK.2 Mechanical Gaming Keyboard - USB Passthrough - Linear and Quiet - Cherry MX Red Switch - RGB LED Backlit
CHERRY MX RGB mechanical key switches with gold contacts deliver the ultimate...
8MB Onboard profile storage with lighting and hardware macro playback to take...
Per-key RGB backlighting deliver dynamic and vibrant lighting effects with...
Dedicated multimedia and volume controls to adjust your audio without...
USB pass-through port provides convenient access to an additional USB port for...
This Corsair keyboard is undoubtedly one of the best mechanical keyboards made by the company. The Corsair Strafe RGB is equipped with the renowned Cherry MX switches in Brown, Red, or Silent versions. The switches on board guarantee maximum performance and durability. Plus, it offers 100% anti-ghosting.
The FPS and MOBA kits of textured and shaped keys and comfortable, removable palm rest in the sales package, which certainly helps comfort in use.
Razer BlackWidow TE Chroma v2
21%
Razer BlackWidow TE Chroma v2 TKL Tenkeyless Mechanical Gaming Keyboard: Orange Key Switches, Tactile & Silent, Chroma RGB Lighting, Magnetic Wrist Rest, Programmable Macros, Classic Black
The #1 Best-Selling Gaming Peripherals Manufacturer in the US: Source - The NPD...
Zero-Compromise Mechanical Switch for Speed & Accuracy: Razer Orange switch...
Tournament-Ready Design: A tenkeyless design with a detachable USB cable...
Ultimate Personalization & Gaming Immersion with Razer Chroma: Fully syncs with...
Fully Programmable Macro Support: Razer Hypershift allows for all keys and...
Made entirely of metal, Razer's BlackWidow Chroma V2 is dedicated to all the most demanding gamers who want a compact mechanical gaming keyboard for Xbox One that offers maximum performance in all circumstances. It is equipped with Razer's proprietary mechanical switches, a great alternative to the well-known Cherry MX.
The anti-ghosting of this RGB gaming keyboard allows you to press up to 10 keys simultaneously. Razer's famous RGB Chroma 16.8 million color backlight is a must.
Product prices and availability are subject to change. Any price and availablility information displayed on Amazon at the time of purchase will apply to the purchase of any products.