Guide
The best technology books to read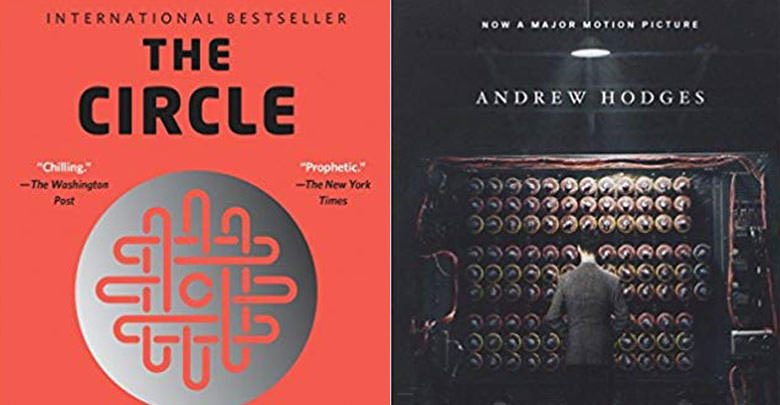 Technology is increasingly present in our lives. In recent years, it has undergone such an incredible evolution that perhaps we do not even realize it. Everything we use is composed of computer components and a more or less advanced operating system. Cars, PC, Smartphones, objects that we use daily in our homes.
How many of you have wanted at least once to deepen your knowledge of the world of technology? This does not necessarily mean learning a programming language or becoming an expert. Sometimes, to have a focus on a given topic, it is sufficient to listen to the experience of those who made history.
Today we will be a little out of our usual themes and will tell you about the best technology books to read. Whether you're a geek or just curious people, it does not matter. In these texts the cross-section of our society often hides, from a point of view that you have never examined. Curious to find out which ones we have selected?
The best technology books to read
The Circle
45%
The Circle
The Circle
Dave Eggers
Eggers, Dave (Author)
English (Publication Language)
497 Pages - 04/22/2014 (Publication Date) - Vintage (Publisher)
Given the times that run, no technology book has ever been more current. The Circle tells the story of a girl, a graduate in psychology, who is hired by a highly technological company that bases its business on the Internet. The highly positive aspect of this company is slowly crumbling as the protagonist spends more time inside.
It will not be long before you are asked to give up all your privacy to adopt absolute transparency towards the outside world, so as to share all aspects of your private life on the web. The apex is touched when asked to wear a video camera that will record all of its actions 24 hours a day. After recent developments on the Cambridge Analityca case it is a novel to be taken seriously, much closer to reality than to fantasy.
Alan Turing : The Enigma
21%
Which of you has never heard of Alan Turing? Surely one of the greatest geniuses of the twentieth century, misunderstood but fundamental to the fate of the United Kingdom. Considered among the fathers of computer science he succeeded in explaining the theory and the critical limits of the logical machines, even before the invention of the computer.
In the Second World War, he joined a top-secret unit of the British army, in a cryptanalysis team that intercepted the encrypted communications of the Germans. If you want to know all the details of his incredible life, you cannot help but buy this biographical book written by Andrew Hodges.
Zero to One: Notes on Startups
47%
Perhaps the author's name, Perter Thiel, will say little or nothing to most people. In reality, it is one of the key figures of this modern era. Donald Trump's technological adviser, he played a key role in his victory at the recent American election.
The theme of this book are the startups, too little topic in depth from the media and newspapers. The theory behind this text is actually quite innovative. To achieve something revolutionary, it is not enough to transform what we already know. On the contrary, an act of creation is necessary. That is, going from zero to one. To read absolutely if you are fascinated by the world of digital businesses.
The Blue Nowhere
9%
The Blue Nowhere: A Novel
Used Book in Good Condition
Deaver, Jeffery (Author)
English (Publication Language)
608 Pages - 09/28/2001 (Publication Date) - Simon & Schuster (Publisher)
Jeffery Deaver is one of the most esteemed writers of novels on the international scene and when thrillers and technology merge in his mind cannot but derive a masterpiece. The book begins with a mysterious assassination that a hacker perpetrated against a woman.
This character has created a program that allows him to enter the lives of people known on the net. The Los Angeles Police Chief, Frank Bishop, also calls for help from a hacker who is jailed for computer networks. A struggle between good and evil to read in one breath.
Superintelligence: Paths, Dangers, Strategies
23%
Artificial intelligence has always been at the center of controversy among those who praise its praises and who warns of its danger. One of humanity's greatest promises could indeed turn into a global disaster.
Nick Bostrom, author of this essay, was in 2015 the co-signer of an open letter that warns of these possible risks. On the other hand, the names of famous people who point the finger at a possible misuse of artificial intelligence are really many. Among the most famous we certainly remember Stephen Hawking and Elon Musk.
Elon Musk: Tesla, SpaceX, and the Quest for a Fantastic Future
27%
Elon Musk is undoubtedly one of the most revolutionary figures of this historical period. Founder of PayPal, Tesla, Space X and Hyperloop, is perhaps the most brilliant entrepreneur in the modern world.
" Elon Musk is a man of my mold: one who risks without fear of failure, driven by the desire to ensure a bright future for humanity. The wonderful biography of Ashlee Vance returns the extraordinary adventure of Musk and his indomitable spirit. "
If to say these words is another " crazy " and revolutionary entrepreneur like Richard Branson, we can only trust his judgment. The pages of this text give a precise idea of the mentality behind the successes of Elon Musk. For many people, as a visionary, he will surely be one of the figures to watch over the next few years.
Conclusions
If you are a lover of reading like us, you will surely be enthusiastic about the technology books we have recommended. Ranging between various genres, there are for all tastes, from biographies to novels. We will not fail to constantly update this guide to keep you updated on the best titles to read.
Product prices and availability are subject to change. Any price and availablility information displayed on Amazon at the time of purchase will apply to the purchase of any products.