Guide
Best All-in-One Computer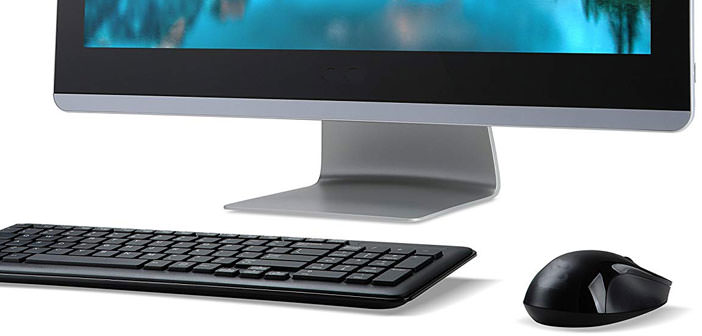 Among the most fashionable trends on modern desks certainly stands the tendency to place at their workstation an All-in-One Computer, a computer in which the screen integrates all the typical components of a normal personal computer with the advantage of not have additional homes and accessories on the desk, for a touch of fashion and order difficult to get in other scenarios.
These models are among the most appreciated in the studios of doctors, lawyers, designers and directors, not only for their comfort but also for the glance they give to customers. On the other hand, they undoubtedly cost more than a classic PC.
If you're a lot less " aesthetic " but more practical and want a complete PC, you're in the wrong place: these PCs are great for studying, for office tasks, for graphic work, software development, and for surfing the Web, but they rarely can meet additional requirements.
In this guide, we will show you the features that an All-in-One Computer needs plus some buying tips.
How to choose an All-in-One Computer
What to check before buying an All-in-One PC? Here is a list of features to always have on hand to make the best choice.
Screen : Being, first of all, a screen, choose one with an adequate diagonal. The ideal would be from 22 inches upwards.
CPU : Aim on an All-in-One computer that has a powerful processor, since this component cannot be replaced.
RAM : Considering that not all components can be removed, we focus on a high amount of RAM.
Hard Disk or SSD : Even the storage space-should not be overlooked. We focus on models with 1 TB of space or with a good SSD to speed up the execution of programs.
Video Card : By choosing recent Intel CPUs we can have a good integrated graphic component useful for the 3D acceleration of the programs. For the most demanding, a model with a dedicated video card for advanced graphics and 3D modeling can be considered.
Connections : As connections, you cannot miss WiFi (even dual band), Bluetooth and Ethernet.
Ports : A good number of ports will allow us to avoid the purchase of additional components. Therefore, USB ports (at least a 3.0), some video outputs (HDMI) to take advantage of the dual monitor and headphone or microphone jacks are a must.
Webcam : For videoconferencing and communications (on Skype for example) it is essential that a quality webcam is present.
The best-selling all-in-one computer of the moment
Before leaving you to our selection, we are presenting below the top 10 best-selling All-in-One computer on Amazon at the moment. The ranking is constantly updated automatically every day.
All-in-one Computer recommended by us
HP Envy 27
The HP Envy 27-inch touch display is among the most accurate there are, with a touch-sensitive control. For most people, we recommend the model with i5 processor, 8 GB of RAM, 128 GB SSD, 1 TB hard drive. This is all that most people need in an all-in-one right now.
Asus ZN241ICUT-14 Zen AiO
If you prefer a smaller screen at a usually lower price, there is the Asus Zen AiO. The biggest compromise is the 24-inch 1080p screen, and you'll also have to do without the HDMI and USB-C or Thunderbolt 3 ports and live with worse audio and a less stimulating design. The ASUS Zen AiO has an Intel Core i5 processor, 8 GB of RAM, 1 TB HDD. It is an All-in-One computer ideal for Web browsing, chatting and video chat, working in office documents and even a light photo editing.
Lenovo IdeaCentre AIO
If you are a gamer and are willing to sacrifice some money, the right choice is Lenovo IdeaCentre AIO. Lenovo also offers a more powerful configuration if you want a better graphics card or more memory than the base model. A point in favor of this computer is to be easy to update: just open the back panels and disconnect the components. Even the graphics card is easily replaceable. For most upgrades, you do not even need a screwdriver.
Apple iMac 27″ Ratina 5K
We conclude with the top that Apple can offer. If you prefer MacOS to Windows, a vibrant 5K screen ideal for professional photo and video editing is for you. There are various configurations, it is expensive but has a useful selection of ports. The included keyboard and mouse are better than those provided with most Windows all-in-one devices, and you can easily add RAM later if necessary. The iMac is expensive and does not support any type of HDMI or DisplayPort but is the best option if you want a Mac.
Product prices and availability are subject to change. Any price and availablility information displayed on Amazon at the time of purchase will apply to the purchase of any products.