Guide
Wireless Keyboard: Buying Guide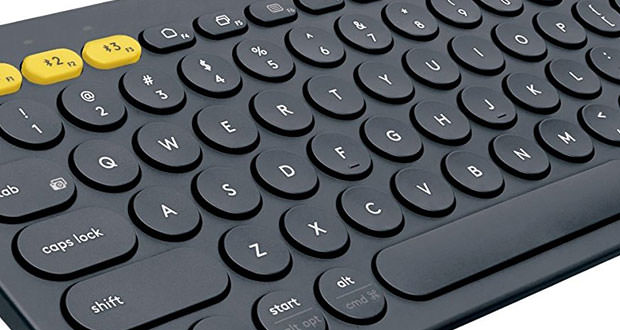 Are you looking for a wireless keyboard? They are also compatible with consoles, Smart TVs, TV Boxes, Smartphones, Tablets and PCs. Here are the best.
There are many types of Wireless keyboards and with the advent of tablets, smartphones, Smart TV and TV Box are also born models of Bluetooth keyboards also compatible with these devices. Wireless and Bluetooth keyboards can also help you make room on your desk, more easily type emails or messages on smartphones and tablets or use a computer or TV Box sitting comfortably on the couch, without having to pass a cable through the room.
Traditional wireless keyboards or RF (radiofrequency) keyboards typically include a small USB dongle that you need to connect to your computer to make them work. Or if you are Bluetooth and you already have Bluetooth, you can also take advantage of the basic one on your PC, laptop or device.
Most wireless keyboards nowadays have a clunky and outdated design that offers a lower typing experience. For this reason, all our choices have fallen on Bluetooth keyboards, or keyboards both Bluetooth and traditional RF wireless, if that's what you need.
For most people, the Bluetooth standard is a better option. Computers, laptops, tablets, phones, smart TVs and TV Box use Bluetooth and some Bluetooth keyboards can easily switch between devices without having to reconnect them. If you want to use a Bluetooth keyboard but your computer does not support Bluetooth.
If you're looking for wireless ergonomic keyboards, see our guide to ergonomic keyboards.
How to choose a wireless keyboard
A final premise, before going into the selection of a wireless keyboard, concerns the parameters to be taken into consideration.
Connection type : one of the most important parameters. The keypads can connect wirelessly via Bluetooth (the easiest and most immediate method) or via radio frequency (with dedicated dongle). The choice of one or the other type of connection is linked to the user's needs, but with the radio frequency waves, the coverage is slightly higher even if subject to greater interference (operating on 2.4 GHz, the same frequency of WiFi).
Power supply : many wireless keyboards use a rechargeable lithium battery, others require the addition of batteries (AAA ministyle). The best models offer both the lithium battery and the possibility of using batteries.
Layout : with this entry, we indicate the arrangement of the keys on the keyboard. There may be various types of layouts for the keys, we can choose those in QWERTY format if possible. However, some keys may not be in the same position as a classic keyboard due to the small size of the wireless keyboard.
Trackpads and programmable keys : in order to take full advantage of the functionality of a wireless keyboard, it is necessary to have special keys to control playback, a trackpad to simulate the presence of a mouse and one or more special programmable keys. Only in this way will we be able to cover all possible scenarios of use.
These are the parameters to consider before buying any wireless keyboard. Other parameters such as size and comfort are highly subjective and linked to the chosen model.
Wireless keyboards best sold at the moment on Amazon
Before leaving you to our selection, here are the most sold wireless keyboards currently on Amazon. These are a top 10 constantly updated.
The best Wireless keyboards
After seeing what parameters to keep an eye on before choosing a wireless keyboard, let's see together the best models available and those with an excellent quality / price ratio.
Logitech K380
A great choice: this keyboard can connect up to 3 devices simultaneously and switch from one to another in an instant. Very light, it is ideal for PCs but also tablets and smartphones. It supports Windows, Mac, Chrome OS, Android and iOS.
Logitech K780
Also on this keyboard is the Easy-Switch button that allows you to quickly change devices between the 3 maximums that you can connect at the same time. The writing is pleasant. The typing is very convenient, and you can choose to connect the keyboard via the Logitech Unifying USB receiver or Bluetooth technology.
Microsoft All-in-One Media
Microsoft is synonymous with quality on the hardware. This wireless keyboard is great for accompanying a mini PC or notebook and has a precise and snappy trackpad. Too bad for the weight not indifferent, has the integrated USB dongle.
Rii Mini Wireless Bluetooth Keyboard
A very light mini keyboard, able to take advantage of Bluetooth connectivity. Integrates the backlight to be used even in the dark. It is powered by AAA batteries and offers the Italian layout. It weighs just 100 grams.
Logitech MK270
One of the most chosen keyboards by users, also because it presents a mouse in the purchase kit. The battery charge is 24 months for the keyboard and 12 months for the mouse. It is compatible with Windows systems.
Rii Mini i8+
This is one of the best keyboards for smartphones, tablets, consoles, Smart TVs or TV Boxes. If you are looking for a wireless keyboard for one of these devices, then this model is the right choice for you.
Product prices and availability are subject to change. Any price and availablility information displayed on Amazon at the time of purchase will apply to the purchase of any products.