Guide
Sports Bluetooth Headphones: The Best to Buy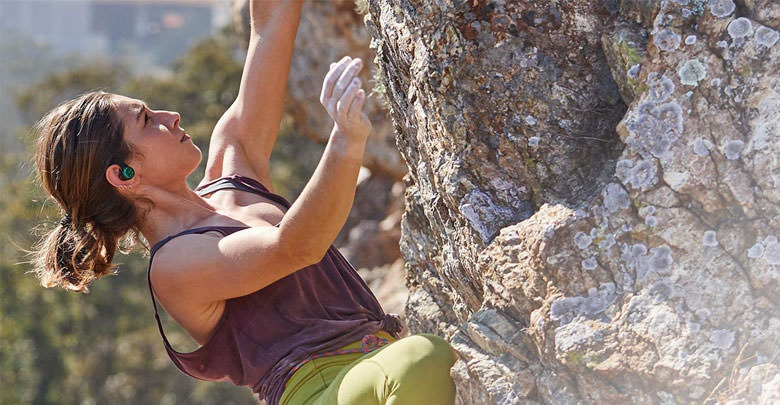 Training headphones are dedicated to all people who want to listen to music or podcasts in the gym, running, or working out. They need headphones that prioritize durability and comfort, with perhaps resistance to sweat and water.
In general, those looking for these sports headphones want to isolate themselves from the outside world with their favorite tunes, especially in the gym. On the other hand, racers and motorcyclists need to listen to their surroundings to stay safe, and we have dedicated a few paragraphs to them.
Before showing you the best sports headphones we selected, we want to premise that most of this guide's choices are wireless headphones.
Nowadays, most people prefer the convenience of Bluetooth headphones. Bluetooth models are the best headphones for training because they allow you to keep your phone hidden and hands-free and eliminate the possibility of getting caught with your equipment.
While we are always inclined to recommend sweat-resistant headphones, they are still electronic, so I remind you to treat your earbuds well if you want them to last beyond the warranty period.
How to choose the right headphones for your workout
Sweat and water resistance are a must for sports headphones. Standard headphones aren't built to withstand the knocks that gym headphones can take, so their warranties likely won't cover the damage caused by moisture.
Comfort is always important, but especially with training headphones. If they hit your head, fall out, or irritate you, you won't want to use them. The best workout headphones are the ones you forget you even have in your ear.
Ease of use matters more than usual in this category. For example, you don't want to pause your workout to jump from track to track or adjust the volume.
The price should reflect the headphones' features, not just the look or status of the brand.
Noise isolation is a valuable feature in a gym pick, not only to be able to ignore the guy on duty who drops his weights unnecessarily but also not to have to turn up the volume of your music to dangerous levels to have to drown out the din. General. Avoiding hearing damage is just as important as avoiding any other injury.
The sound quality should be able to ensure clean sound and not distracting. Gym headphones are sports equipment, so we're a little more forgiving of sonic glitches in this category. That said, if the bass on the headphones is so fuzzy that you can't hear the voice, or if the top cymbal is so piercing that you can't turn up the volume, you won't enjoy your music. Ideally, you would have a great fit and great sound, but when in doubt, comfort comes first.
Call quality is only a minor concern. You should be able to take a quick call and get back to your workout. We don't recommend paying too much attention to microphones in this category.
Jabra Elite 75t Earbuds
The fully wireless Jabra Elite 75t earphones excel in the gym with great sound and durable construction, secure fit, and easy-to-use controls. Compared to the Elite 65t model, the new version has a smaller and more comfortable design, longer battery life, and better resistance to sweat and dust.
Jabra has also simplified the 75t's controls into a single multifunction button on each earbud to adjust volume, skip tracks, activate the digital assistant, and more. In addition, the situational awareness mode allows you to have a conversation or keep an eye on traffic without removing the earphones.
The 75t's four microphones help reduce wind noise, allowing for clear phone or video calls. With seven and a half hours of listening time per charge, the pocket charging case will take over if you have any problems, offering an additional 20 hours of power, plus the fast charging feature gives you 60 minutes of use with just 15 minutes in the charging case. With an IP57 certification, these earbuds should easily withstand sweat, water, and moisture when used correctly.
AUKEY Wireless Earbuds
Not only expensive headphones, but we have also thought about those who want to save. The Aukey Latitude EP-B56 sports headphones are the only pair of Bluetooth sports earphones under $50 that deserve attention because they feel pretty good and fit comfortably.
They're not as water- or dust-resistant as the Jabra Elite Active 75t, but its IPX5-certified rating means it shouldn't turn off when they come in some sweat. The silicone fins and tips keep the earbuds securely attached, and the magnets in the earbuds allow you to attach them to your neck when not in use.
The battery life of over eight hours will allow you to get through more than a week of one-hour workouts before needing to recharge.
Plantronics BackBeat 505
For those who do not love earphones and prefer headphones, the Plantronics BackBeat 505 model is highly recommended because it is not too expensive. In addition, earphones can be annoying to put on and take off, so many weightlifters prefer the convenience of a traditional wireless headphone design.
These sports headphones are sweat-resistant and easy to clean. Easy-to-use controls let you switch tracks, adjust volume, answer calls and access your phone's digital assistant without taking out the device.
These sports headphones also have a good sound, good bass, and 18 hours of battery life. So if earbuds aren't your thing, these might be the best workout headphones you've been looking for.
Koss KSC32i
If you love to run and want to spend little, be satisfied, then here are the Koss KSC32i. We recommend them especially for the arched design that guarantees a perfect fit: it is practically impossible to lose them. The elements rest comfortably in the ear using a new in-ear design to create the ideal seal for an optimal listening experience. Although the audio quality is sufficient, don't expect miracles.
Plantronics BackBeat FIT 3200
No existing running headphones will most likely perform better than the Plantronics BackBeat Fit 3200. Although the most similar earbuds are completely lacking in bass, these funnel-shaped earbuds manage to produce a good amount of bass, so they sound better than most. Part of the same category's headphones while allowing you to listen to your surroundings to stay safe.
Plus, they have an IP57 certified sweat/water/dust resistance rating, and the flexible, textured hooks fit snugly to your ears without rubbing and play well with both sunglasses and hats.
The customizable controls are simple to use, and the eight-hour battery life (per charge) will allow you to tackle several long runs. In addition, the case used to charge the earbuds adds 16 hours of battery life.
Powerbeats Pro
Designed and engineered for high-performance training, the PowerBeats Pro has a headband design that easily fits the ear and creates no problems or irritation. Very light, resistant to water and sweat, they guarantee up to 9 hours of autonomy with a single charge up to more than 24 hours if you consider the charging case.
Thanks to the Fast Fuel function, up to 1.5 hours of listening are guaranteed with 5 minutes of charging. Controls are on both sides, and each earphone also allows you to adjust the volume.
Product prices and availability are subject to change. Any price and availablility information displayed on Amazon at the time of purchase will apply to the purchase of any products.