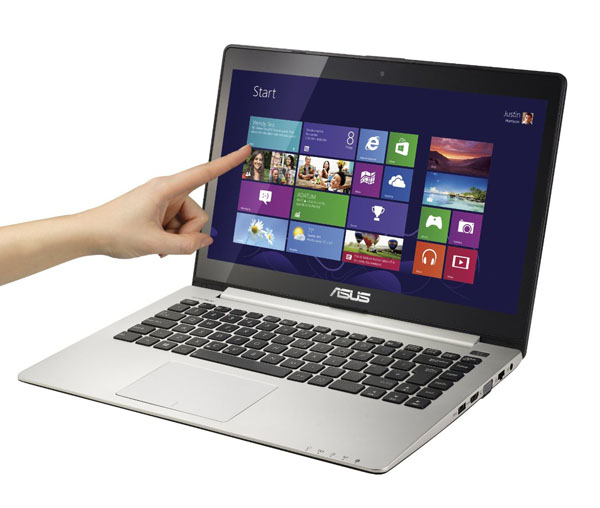 ASUS VivoBook S550 laptop is a sleek and slim design, with brushed aluminum cover, and equipped with a 15.6-inch touch screen display with high precision from the edge to edge. As for specifications, the laptop features Intel Core i5 up to model, operating system, Windows 8 Pro, Intel HD Graphics 4000, hard drives up to 500MB SSD, HD webcam, Ethernet and Wi-Fi, Bluetooth 4.0, HDMI port, Super Multi burner, card reader SD memory and ASUS Super Hybrid Engine II, which allow a session on standby in just 2 seconds.
ASUS VivoBook S550: Design
The ASUS VivoBook S550 laptop is a stylish and refined with a durable and lightweight brushed aluminum cover. It has a classic and comfortable qwerty keyboard combined with a 15.6-inch capacitive touch screen display with a resolution of 1,366 x 768 pixels. The weight is 2.6 kg, and the dimensions are 380 mm wide, 266 mm deep and 22 mm in height.
Features and Functionality
The ASUS VivoBook S550 is one of the laptops presented by the manufacturer at the end of last year and commercially available recently. It is a model belonging to the innovative family VivoBook, launched its own during the occasion, and features an attractive design, slim and stylish, but also from a sheet of high quality.
As regards the technical specifications, this handset is based on an Intel Core i5-3317U up to model on a RAM up to 8GB DDR3 SDRAM with 1600 MHz and the operating system Windows 8 or Windows 8 Pro , SSD hard drive with a maximum capacity of 500 MB and  Intel HD Graphics 4000.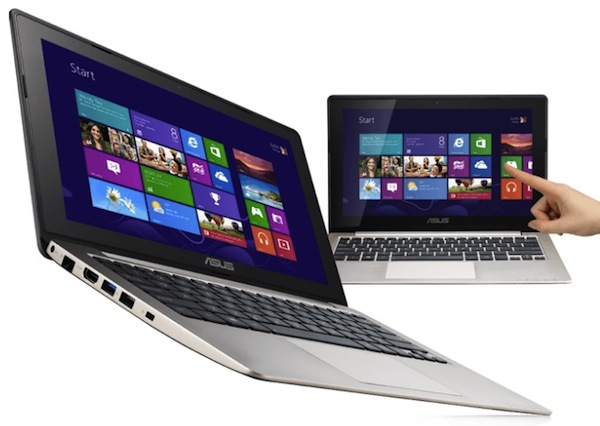 Surely, the main characteristic of ASUS VivoBook S550, and also its strength, is the fact of being equipped at the same time a classic keyboard and a touch screen display. This double possibility of use is a significant advantage over competitive models, as it ensures maximum freedom of action and lets you choose the input method and interface with the display the most appropriate according to the needs.
Among other things, the panel touch screen is extremely responsive and the touchpad is equipped with Smart Gesture technology, which allows you to perform certain actions by moving your fingers in a precise position. Even the design of the laptop, generally, is of high quality, thanks to a brushed aluminum cover that provides maximum elegance but also an excellent robustness.
As regards the area connectivity, ASUS VivoBook S550 is equipped with Wi-Fi to surf the Internet free by connecting to a hot spot in the area, the Bluetooth version 4.0 and USB port, allowing you to exchange data with other devices. Do not miss the HD webcam to make video conferencing and the Super Multi DVD burner.
The laptop is equipped, in addition, the Super Hybrid Engine II technologies, which allows a previous work session in just 2 seconds and guarantees long service life of the stand-by  time of up to two weeks. Among other things, this technology also has the interesting feature of automatic data backup when the battery goes below the 5% charge. As for the interface, is provided with audio jack, VGA port, 1 USB 3.0 port, 2 USB 2.0 ports, LAN port, HDMI port and slot for SD memory cards.
Conclusion
Comprehensive and powerful notebook, the ASUS VivoBook S550 offers the particularity to have both the classic desktop computer keyboard that touch screen displays, ensuring maximum freedom in terms of input mode. The sector is powerful hardware and the same applies to the video department. The touchpad with Smart Gesture allows you to use your fingers in certain positions, to carry out various activities. Finally, the interesting Instant On only 2 seconds.
Where to Buy ASUS VivoBook S550
---

---

---
ASUS S500CA 15-Inch Laptop (OLD VERSION)
Intel Core i5-3317U Processor (1.7 GHz)
6 GB DDR3 RAM
500 GB 5400 rpm Hard Drive, 24 GB Solid-State Drive, 32 GB Cloud Storage
15.6-Inch Screen, Intel HD Graphics 4000
Windows 8
PROS : Design, Wi-Fi and Bluetooth, touchscreen display; Technology Smart Gesture, Super Hybrid Engine II, Memory Card Reader, NVIDIA.
CONS :
Not high resolution.
Product prices and availability are subject to change. Any price and availablility information displayed on Amazon at the time of purchase will apply to the purchase of any products.