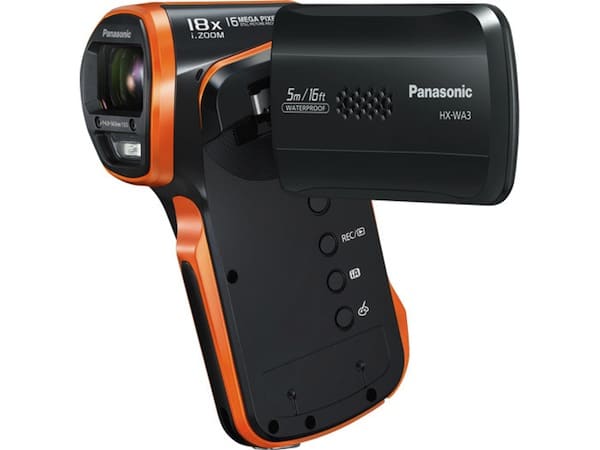 The Panasonic HX-WA3 is a compact digital camera ideal for use in any environment and in any weather conditions, thanks to its water-resistant body, up to 5 meters deep, cold, down to -10°, dust and to the sand. With regard to functionality, WA3 allows you to record video Full HD video and shoot subjects, in the distance, thanks to the 5x optical zoom with 18x Intelligent Zoom, the zoom and 120x digital. It also has various filters, image stabilizer, 2.6-inch LCD displays, function to reduce wind noise, 12 shooting modes and photo opportunities with 16 magpies.
Panasonic HX-WA3: Design
The Panasonic HX-WA3 is a compact camcorder and easy to handle, pistol grip, perfect to take with him, even to resume their businesses during a session of extreme sports. This model is resistant to water, dust, bumps and falls. There are different colors, like black, orange, blue or white. As for size, measuring 96.6 mm wide, 127.2 mm in height and 46.3 mm in depth, while the weight is 257 grams and 278 grams with empty memory card and battery. It has, then, a 2.6-inch LCD display with a resolution of 230,400 points.
Panasonic HX-WA3: Features and Functionality
The Panasonic HX-WA3 is one of the digital cameras made this year by the producer, along with other models like the Panasonic HX-A100. It differs from all new machines Panasonic for its ultra-resistant body, which makes it suitable to be used anywhere and in any weather.
As for the technical specifications, the HX-WA3 features a CMOS sensor 1/2, 33 inches in size and with a total resolution of 14.4 effective mega pixels and 11.9 mega pixels for photos and videos at 16:9 and 14.3 mega pixel camera for photos and videos at 4:3 format. It also has a 5x digital zoom with Intelligent 18x ​​zoom and a 120x digital zoom to shoot subjects in the distance.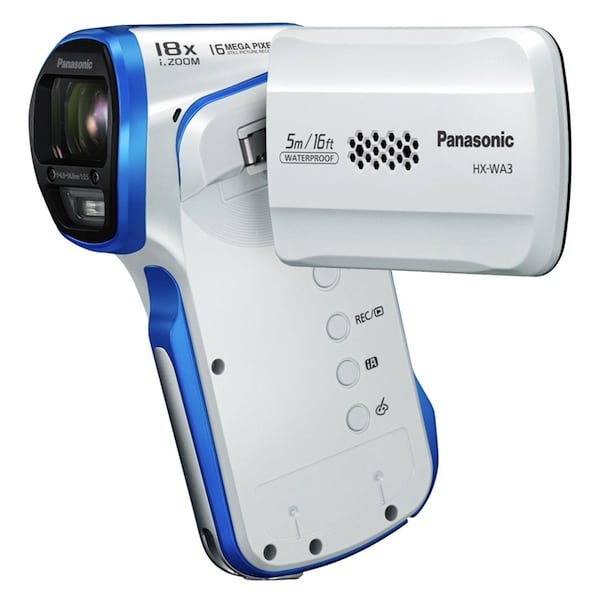 Taking up the speech features, the Panasonic HX-WA3 is primarily characterized by its modern design and compact pistol and its robustness. The camera is water resistant, up to a depth of 5 meters, to dust, sand, shock, and falls at low temperatures, down to -10 degrees. It can be used, therefore, everywhere, in the snow, on the beach, and anywhere else outdoors.
Definitely perfect for the summer holidays. Entering the discourse of the features themselves, with this camcorder you can record videos in H.264 format and Full HD, so with a maximum resolution of 1,920×1,080 pixels and shoot 16 mega pixel, so with a maximum resolution of 4,608 x 3,456 pixels. Do not miss the image stabilizer, which allows you to take sharp photos even in case of accidental movement with the camera.
Very interesting during the movie recording is definitely the Wind Noise Cut function, which reduces wind noise by allowing a clearer audio recording. There are also, on the Panasonic HX-WA3, 12 filters to photos and videos, the manual focus, built-in flash, USB port and HDMI interface, the latter for easy sharing with other devices.
Movies and photos are saved in the camera's internal memory, which is not very large considering that stops just 65 MB, or they may be photos can be stored directly on a memory card such as Secure Digital, SDHC or SDXC, to be inserted through the slot. Finally, there remains to be mentioned that the sales package includes an AC adapter, USB cable, AV cable and software.
Conclusion
The Panasonic HX-WA3 is a compact camcorder that is particularly notable for his body resistant to practically everything, that make it perfect to carry with you during the holidays or to resume their sporting achievements. Even the data sheet and the functions do not sleep badly, thanks to a high-resolution sensor, HDMI interface and the stabilizer function to reduce wind noise, which help to have a more clean and clear audio.
PROS : Filter; Wind Noise Cut Function, Flash, Various shooting modes; microHDMI port; Full HD movies; Resistant to water, dust, shock and low temperatures; 16 mega pixel photos.
CONS :
Optical zoom is not very high; Focal Length goal.