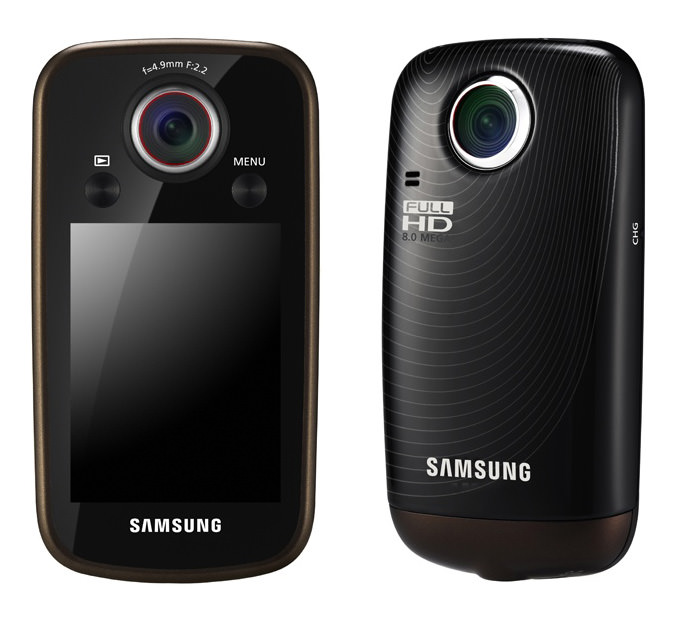 The Samsung HMX-E10 is a pocket-sized digital video camera very particular, whose main characteristic is to be equipped with 270-degree swivel lens, through which you can shoot from various angles or shoot yourself.
The other specifications of the camera include a 2.7-inch touch screen LCD display with a resolution of 230,000 pixels CMOS sensor with which you can make movies Full HD video and still images at 8 MP, panorama function, smart filter, the HDMI output, USB output and built-in microSD card slot.
Samsung HMX-E10: Design
The Samsung HMX-E10 is a small and compact camcorder available in black, white and orange and fitted with swivel lens. It has a 2.7-inch touch screen LCD display and 230 million colors. The dimensions are 57.5 mm wide, 108.5 mm in height and 16.8 mm in depth. The weight is about 88 grams with battery.
Samsung HMX-E10: Features and Functionality
The manufacturer Samsung has unveiled two new compact cameras, one of which is Samsung HMX-E10 and the other is the Samsung HMX-T10. The E-10 in particular is characterized by a very special design and ergonomic, but also for features worthy of note.
Speaking about the latter, this camera has a CMOS sensor 1/3, 2 inches in size and an effective resolution of 8 megapixels. As for the optics, a lens branded Samsung, which has a fixed focal length and equal to 4.9 mm. There are, then, 1x optical zoom and a 2x digital zoom.
One of the most interesting features of Samsung HMX-E10 is precisely the objective that, while not particularly high-quality in terms of focal length, can be rotated 270 degrees, and to manage the most of every detail or even make self-portraits. The touch screen display, the other strong point of the camera allows you to quickly set up the options and see the result immediately, with ease.
Speaking of features, this camera can record video and taking photos. As for the quality of photos and videos, just say that they can achieve an effective resolution of 1920×1080 pixels, so we talk about Full HD video, while for the photos, the maximum resolution is 3,264 x 2,448, setting the chip to the maximum, then on the 8 megapixel camera.
Continuing with the features, the Samsung HMX-E10, although it lacks a real stabilizer, ensures photo and video sharp and clear, allowing gas to pass in a blink of an eye from image mode to that video. There are interesting creative filters, which allow you to apply special effects to photos and videos, such as Vignette, which washes out the contours, Defog, which corrects blurring, or Sketch, which turns your photos into a work of art drawn by hand.
The Panorama function, present on the Samsung HMX-E10, allows you to combine multiple photos together to form a panorama, while the push-out USB connector allows you to quickly connect the camera to a computer to transfer photos and videos or even upload the camcorder without the need of any additional cables.
As for saving videos and photos, the camera has no built-in memory but has a slot for memory cards microSD. The equipped, in addition, an HDMI port, thanks to which you can connect it to a TV and play back HD video and photos without losing quality. The purchase package finally, comprises the wrist strap and the manual.
Conclusion
The Samsung HMX-E10 is a compact camcorder with good quality which, while having an optical department is not particularly high, allows you to record Full HD video and shoot 8 MP photos. It should be emphasized, then, the touch screen display and swivel lens, which are its main features. For the rest, we can highlight the integrated USB connector and HDMI input.
PROS : Full Movies Video VHD; Integrated USB connector, 8 MP photos; Rotating lens, Smart Filter, HDMI output, Panorama Mode.
CONS :
No image stabilizer, No internal memory; Zoom.