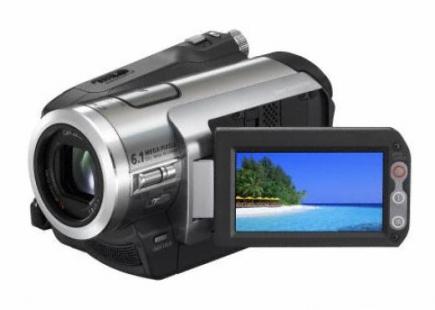 The model Sony HDR-HC7 is a device that allows an excellent level of recording. This camera has an extremely compact body and a built-de 3 megapixel ClearVid CMOS sensor, optical image stabilizer Super StreadyShot and a Carl Zeiss Vario-Sonnar T These technical features allow you to create images of extreme precision and depth. The recording medium is mini DV. Sony HDR-HC7 has integrated flash and incorporates a 2.7 inch display, which allows an excellent visibility of the shots. This model allows an easy HDMI connectivity.
Sony HDR-HC7: Design
Finally the High Definition at hand, what better way to capture your valuable memories and important events except with a high-definition camera handy and compact, practical and stylish? Every detail will jump to the eyes, every color, every contour, every sound will not be any less with a standard of this type, HDV 1080i. a product designed for intuitive, easy to handle, there is in one hand (from the name of the line Sony camcorder "Handycam" of which this model belongs to.) It has a weight of 650 g (including battery and cassette), it measures 84 x 84 x 134 mm.
The filter has a diameter of 37 mm. Handle on the right and color monitors Clear Photo LCD Plus on the left, opening and adjustable, excellent visibility of the shots thanks to the 2.7" and 211,200 pixels and easy adjustment of settings even when shooting through the practice and innovative function Touch Panel / Touch Screen.
Sony HDR-HC7: Features and Functionality
The new HDR-HC7 is part of a new range of high-definition Handycam camcorders , Sony's available when running on tape, DVD and hard disk drive (HDD). This model, according to information provided directly by the manufacturer is able to shoot both HD (High Definition) and SD (Standard Definition), choice and record these on MiniDV and HDV support functionality convenient and economical, storage media: Memory Stick DUO to capture images of 2,848 x 2,136 resolution.
High definition is a very advanced technology, it will copy the human eye: this camcorder has a coverage of 100% natural colors thanks to the technology xvColour, to relive the same nuances and the same emotions as when you videotaped. Also in terms of image quality, the ClearVid CMOS sensor supports high definition allowing for greater clarity in the details, especially in high-contrast scenes, for a definition without shadows and smudges.
6-megapixel resolution and a further guarantee of the objective Calr Zeiss Vario-Sonnar T in addition to the optical image stabilizer "Super SteadyShot" to improve the accuracy of images shot with the camera in hand in 16:9 mode (40-400) and 4:3 (49-490). The focus is for manual as well as automated as well as the color viewfinder LCD 123,200 pixels.
In low-light conditions, the flash pop-up automatically with the Auto Slow Shutter that a minimum illumination of 2 lux, while the previous models they gave 5, the Super Night Shot feature allows you to shoot crisp, clear also when the light is coming very limited at 0 lux. The camera has a built-in microphone records sound in 5.1 surround for superior sound quality.
The Sony HDR-HC7 also allows you to take pictures, the field of view has been increased and the optical and digital zoom goes up to 2000x magnification (40x increased compared to previous models). In conditions of low light, the Auto Slow Shutter, ultra-sensitive device, and ensures a good quality image at dawn and at night. The camera is equipped with a USB interface to download movies directly to your PC and HDMI output to view the replays a TV and enjoy the quality of high definition.
The battery is a lithium battery, rechargeable NP-FH60 that under optimal conditions can record up to 100 minutes only with the viewfinder. The included accessories are, in addition to the battery, battery charger, AV cable, USB cable, wireless remote control. Sony offers a 24 month warranty.
Conclusion
The new Sony HDR-HC7 is designed for a demanding consumer, attentive to the latest technology, dynamic and passionate about adventure, travel, or that intend to capture their memories in the best way possible. The camera is practical, elegant and absolutely innovative and usable even by a novice user. Directly and easily interfaces with a PC and a TV in high definition, has a number of automatic controls that increase the quality of image and sound, the touch screen feature which easily leads to the use similiraità to your handheld for functionality to a computer.
Where to Buy Sony HDR-HC7
---

---

---
PROS : The resolution of the display.
CONS :
The size and the recording quality.
Product prices and availability are subject to change. Any price and availablility information displayed on Amazon at the time of purchase will apply to the purchase of any products.