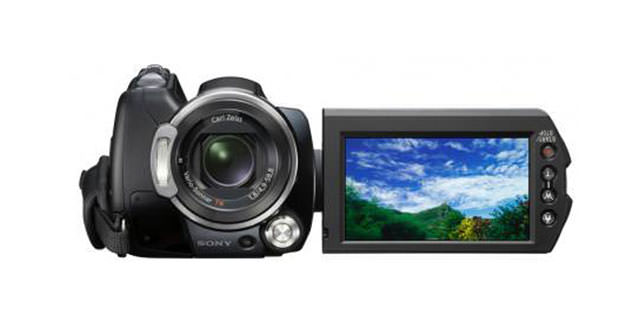 Sony HDR-SR11 is a handycam with Full HD 1920×1080 video in a position to take pictures with a resolution of 10 megapixels. Record up to 22 hours of video to the hard disk with a capacity of mmoria extraordinary: 60 GB. E 'equipped with BIONZ image processor and ClearVid CMOS Sensor. Optical Zoom Sony HDR-SR11 is 12x while the digital 150x. The image stabilizer is Super SteadyShot and the LCD is a 3.2-inch touchscreen.
Sony HDR-SR11: Design
From the compact design and handy, the new Sony HDR-SR11 presents itself in an elegant black color. Le dimensions are 83 mm of a width, 76 mm of height and 138 mm of depth while the weight, not own content, is 560 grams. It has, then, of a large display LCD touchscreen Xtra Fine from 3.2 inches and with a resolution of 921,600 pixels and of a color viewfinder with resolution 123,200 pixels.
Sony HDR-SR11: Features and Capabilities
The Sony HDR-SR11 is definitely one of the cameras in vogue at the moment, thanks to its maneuverability but also to the quality of audio and video. This new product was introduced earlier this year and has been designed to meet a consumer demanding, requiring a device value enclosed in a compact body, this new product was introduced earlier this year.
Speaking specifically of technical features, the camera is equipped with a ClearVid CMOS Sensor 1/3, 1 inches in size and with a maximum resolution of 5.66 megapixels. The mounted lens is also a Carl Zeiss Vario-Sonnar T which has a focal length equivalent to 40-480 mm on a 35-in 16:9 format and 49 to 588 mm in 4:3 ratio, and a maximum aperture equal to F1.8-F3.1. The camera also features a 12x optical zoom and 150x digital zoom, allowing you to take pictures even at great distances, without losing detail.
Moving on the functions available, the Sony HDR-SR11 first presents the system of Super SteadyShot optical image stabilization, that also mounted on the Cyber-shot camera, which provide still images, sharp pictures even in low light conditions. The processor BIONZ, instead, ensures high speed.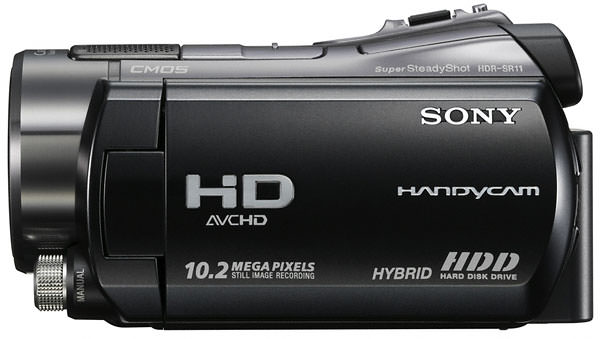 As for the quality of the videos, they reach a maximum resolution of 1920×1080 pixels, so it's movies in HD that once connected the camcorder to a TV Full HD BRAVIA always, will be displayed in all their glory. In addition to video, you can also take digital photos with a maximum resolution of 3680×2070 pixels in 16:9 aspect ratio and 3680×2760 pixels in 4:3 format.
How, then, to the storage capacity, the Sony HDR-SR11 is equipped with a 60 GB internal hard drive, on which I can record up to 22 hours of movies, of course depending on the battery used. In addition to the hard disk, it is also a slot for memory cards Memory Stick, if you want to save movies or photos on this kind of support.
Other features of note are the detection of faces, faces that allows you to get clearer and more natural-looking, the D-Range Optimizer, which adjusts the exposure and contrast of the picture against the light, the Dual Rec function, which allows you to take a photo while recording video, and the Quick On button for fast start when turned off.
As for autonomy of the Sony HDR-SR11, the supplied lithium battery allows continuous recording of 100 minutes, which can reach up to 370 minutes with an optional battery pack. Regarding the outputs, to highlight the presence of the HDMI interface, for connecting to peripheral devices of new generation.
Photo TV HD output, among other things, allows the display of the photos on compatible BRAVIA televisions. Finally, the camera is supplied with the AC adapter, AV cable, Handycam station, USB cable, USB driver, editing software and wireless remote control.
Conclusion
Of high quality and stylish design, the new Sony HDR-SR11 is designed for professionals who want a high quality product but nonetheless limited in size. One of the most interesting is undoubtedly the high-resolution touchscreen display, it also added many advanced features, as well as an external hard drive from 60 GB, plus the ability to record on Memory Stick cards. Interesting yet the HDMI port and movies in HD.
Where to Buy Sony HDR-SR12
---

---

---
PROS : Image Stabilizer, 3.2-inch touchscreen, HD movies, Memory Stick slot, 60 GB Hard Drive.
CONS :
Price.
Product prices and availability are subject to change. Any price and availablility information displayed on Amazon at the time of purchase will apply to the purchase of any products.