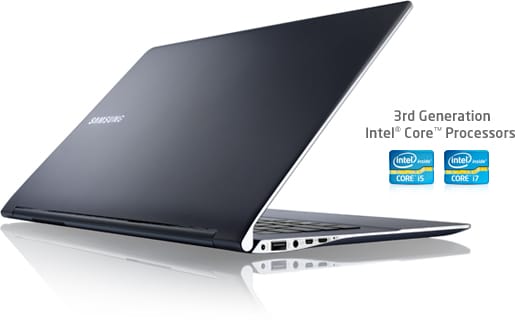 The Samsung NP900X4C laptop is a very nice and elegant design, with an all-aluminum chassis and with a surface, especially resistant to fingerprints. As for the technical specifications, is based on the Intel Core i7-3517U and has HD SuperBright LED screen 15-inch with 1600×900 pixels resolution, 8 GB RAM, solid state disk of 256 GB, LAN connectivity and Wi-Fi, Bluetooth, 1.3 megapixel webcam, HD audio, microHDMI port and memory card reader.
Samsung NP900X4C: Design
The Samsung NP900X4C is a laptop that stands out for its excellent design, made of aluminum Unibody and equipped with backlit keypad and display. As for size, measuring 356.9 mm in width, 14.9 mm in height and 237 mm in depth, while the weight is only 1.65 kg. It has, then, a screen HD LED SuperBright Plus anti-glare 15-inch with a resolution of 1,600 x 900 pixels.
Samsung NP900X4C: Features and Functionality
The manufacturer Samsung has launched in the month of June, the second generation Series 9 laptops, which the Samsung NP900X4C is one of the prominent models. Compared to the previous generation, there are several improvements, from thin even thinner but still very elegant, to go inside, definitely enhanced.
Speaking about the technical specifications, this handset is based on the Intel Core i7-3517U up to model, with a top speed of 1.90 GHz and 4 MB L3 cache, an RAM memory of 8 GB DDR III, on an Intel GMA HD 4000, on a solid state disk of 256 GB and operating system Windows 7 Home Premium.
Once the technical data, it is still worthwhile to dwell on the design of this beautiful laptop, to achieve which Samsung's engineers have devoted thousands of hours of work. The Samsung NP900X4C is made entirely of aluminum, with each body and elegant contrast between the black and the sides of the chassis lighter.
The surface is sandblasted and prevents fingerprints visible. Also inside, all the components have been tailored to create a product compact and lightweight, but also to minimize the size for the frame, in this way it was possible to insert a 15-inch screen in a frame that generally it contains 14-inch.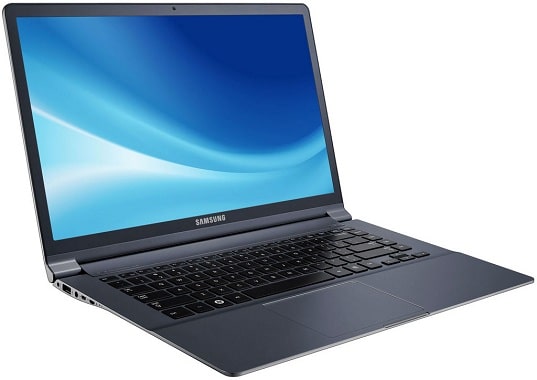 Among other things, remaining on the screen of the Samsung NP900X4C, it is a Superbright Plus with anti-reflective coating, which ensures a perfect brightness for both indoor and outdoor use. Very interesting are also the backlit keyboard that automatically adjusts its brightness according to ambient light, and the same goes for the display, and mouse pad that allow up to 21 types of movements.
Speaking of the features and functionality of this laptop, apart from the latest generation of processors already mentioned, boasts full connectivity that includes Bluetooth's version 4.0, Wi-Fi 802.11b/g/n standards in, for browsing the Internet access via hotspot, and Ethernet, to connect to the Internet via classical external modem.
The multimedia of Samsung NP900X4C sees, the presence of a built-in webcam with HD resolution of 1.3 megapixels, which allows you to make video quality and crisp, as well as to record video, and high-definition audio technologies with Sound Effect and Sound Alive and 2 stereo speakers 1.5W each. Finally, the laptop is equipped with VGA port, microHDMI port, 2 USB 2.0, 1 USB 3.0 port, memory card reader 4 in 1, microphone input, headphone output. Finally, this a lithium battery and 40 W 8-cell high autonomy.
Conclusion
The Samsung NP900X4C laptop is a high quality, characterized by excellent design, with reduced thickness from a minimum and a large display and high resolution, and a children's hardware remarkable. The connectivity is maximized and there is an HDMI port.
Where to Buy Samsung NP900X4C
---

---
PROS : Processor, display resolution, memory card reader, RAM, Design, Door microHDMI.
CONS :
Storage capacity not excellent.
Product prices and availability are subject to change. Any price and availablility information displayed on Amazon at the time of purchase will apply to the purchase of any products.