Laptops
Dell Alienware M18x: Review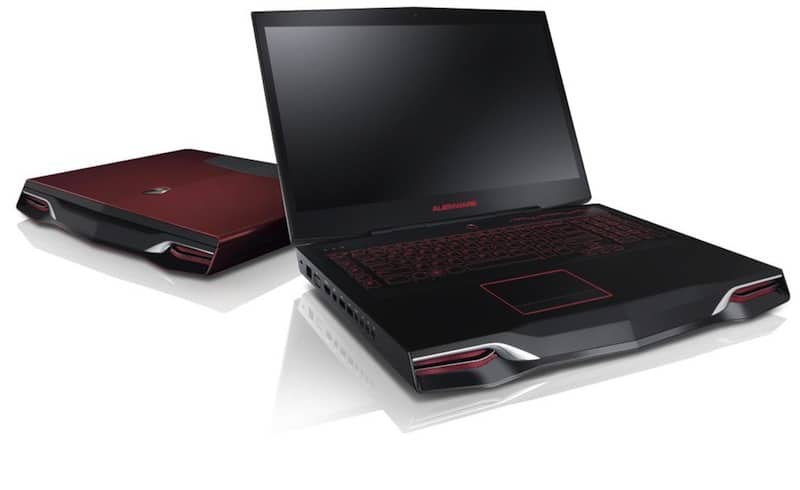 The Dell Alienware M18x is a powerful laptop designed primarily to fans of gaming and video, which are characterized by an aggressive and futuristic design, with multi-colored buttons that light up during the games, and for its performance.
It has display 18.4-inch Full HD WLED, Intel Core i7X 2920XM with up to 8 MB cache, memory up to 32 GB RAM, NVIDIA GeForce GTX460M, with the possibility of dual graphics card, hard drive up to 1.5 TB or solid state drive up to 512GB, Blu-Ray player with CD burner, sound card, high-performance 3-megapixel webcam, Wi-Fi, Bluetooth, memory card reader 9 in 1, the HDMI port.
Dell Alienware M18x: Design
The Dell Alienware M18x laptop is a spectacular design with an aggressive look and more importantly, futuristic. It has an LCD display Full HD 18.4-inch and with a maximum resolution of 1,920 x 1,080 pixels. The dimensions are clearly bloated, given the type of laptop. , Measuring 436 mm in width, 322 mm depth and 54.2 mm in height at the highest point and 53 mm in the lower one. The weight is 5.41 kg
Dell Alienware M18x: Features and Functionality
The Dell Alienware M18x laptop is a high quality designed especially for lovers of games, thanks to a large display and high-resolution graphics department in a very powerful and support for 3D games. Compared to other models of the series, such as Dell Alienware M17x, does not change much from the aesthetic point of view but proposes specific best.
Starting from the specifications, the Alienware M18x is based on the Intel Core i7 2920XM up to the model, the absolute best, with a frequency of 2.5 GHz and 8 MB of L2 cache and the Windows 7 operating systems, in the Home Premium, Ultimate or Professional. As for the rest of the specs, there are many options available, such as DDR memory rises to an impressive 32 GB and SATA hard drives up to 1.5 TB. You can also opt for an SSD up to 512 GB.
Since this is a laptop designed for gaming, the Dell Alienware M18x has, of course, a children's graphic remarkable, you can choose models with less than 2 graphics cards, to choose between NVIDIA GeForce GTX 460M or AMD Radeon HD 6970M, as already mentioned the possibility customization are so many. The audio is no exception, thanks to a sound card with high-resolution surround sound.
Like all other models in this series, the M18x also has special characteristics, such as AlienFX lighting controls, allowing you to choose between different special effects for the keyboard and the touchpad, the ability to customize the sensitivity of the touchpad, for can always be precise during the game actions, and the five macro keys, positioned on the left side of the keyboard and programmable for up to 15 different functions for each application.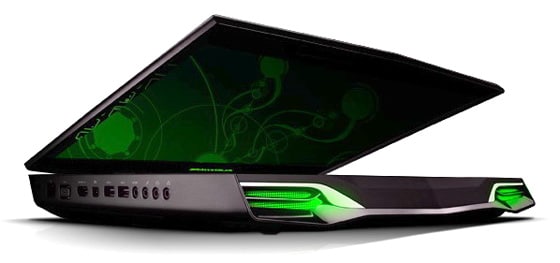 Among other things, the Dell Alienware M18x has 3D support so you can connect it to a 3D TV set, cable or wireless, to play on your TV with three-dimensional mode. Or, you can watch TV programs directly on your laptop, since it is equipped with digital TV tuner. As if that were not enough, it also supports connectivity Dual Band up to 5.2 Ghz, of course as an option, and wireless connectivity, to connect your computer to other devices without using cables. Staying connectivity are also available 10/100bps the LAN and Bluetooth version 3.0.
The Dell Alienware M18x still has a built-in HD camera 3 megapixel with dual digital microphone to make video conferencing, and a DVD burner or Blu-Ray dual layer, depending upon the configuration. Do not miss Finally, the memory card reader 9 in 1, which supports almost all types of memory cards.
As regards, finally, the interface that it has, they include 2 USB 2.0 ports, 2 USB 3.0 ports, HDMI, microphone input, 2 audio outputs, input RJ-45 LAN, VGA input for connection to an external monitor, Mini DisplayPort, eSATA combo port with USB 2.0 technology PowerShare combo port optical S / PDIF output / headphone output analog port for security lock and card reader already mentioned.
Conclusion
The Dell Alienware M18x laptop is a high quality dedicated to gamers and has a large display with full HD resolution, an excellent graphics department, with the possibility of double card, a high RAM, a hard disk very large, a powerful processor , 3D games and HDMI port. Also of note is the Blu-Ray drive, memory card reader and the quality of the webcam.
Where to Buy Dell Alienware M18x
---

---
ASUS S500CA 15-Inch Laptop (OLD VERSION)
Intel Core i5-3317U Processor (1.7 GHz)
6 GB DDR3 RAM
500 GB 5400 rpm Hard Drive, 24 GB Solid-State Drive, 32 GB Cloud Storage
15.6-Inch Screen, Intel HD Graphics 4000
Windows 8
PROS : Hard disk, RAM up to 32 GB, processor power; Quality webcam; FullHD display, futuristic design, Blu-Ray; Ability to dual graphics card, memory reader 9 in 1.
CONS :
Dimensions, Weight and Price.
Product prices and availability are subject to change. Any price and availablility information displayed on Amazon at the time of purchase will apply to the purchase of any products.