Guide
Rechargeable wireless keyboard: The best to buy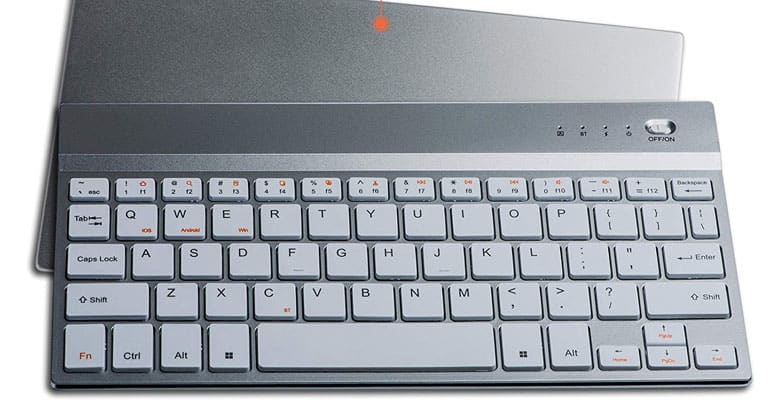 Depending on usage and preferences, there are different types of wireless keyboard or keyboards that can connect wirelessly to a device. Usually, this type of keyboard needs to periodically replace the batteries and so many of you may prefer a rechargeable wireless keyboard.
This type of keyboards have a rechargeable lithium battery (just like that of the smartphone). As soon as we have finished using it, it will be sufficient to put it back under charge with a common wall charger or via the USB port of your PC. Let's see the best ones to buy!
Rechargeable wireless keyboard: Features
A respectable rechargeable wireless keyboard – as mentioned – has a small lithium battery inside it that can be recharged via a very common USB cable. This kind of keyboards are usually also Bluetooth keyboards because they cannot be powered by any external device, they always need an integrated battery.
However, each rechargeable wireless keyboard has different peculiarities depending on the use to be made of it. Having a USB adapter or a Bluetooth connection then, these keyboards are often compatible with different operating systems – like Android, iOS, Windows or Mac – and with different devices like TV Box or Smart TV.
The best-selling rechargeable keyboards
We will shortly list the ones that we believe are the best rechargeable keyboards to buy. But first in the list below you can take a look at the 10 best-selling rechargeable wireless keyboards.
This is a continuously updated list but as you can imagine, the fact that they are the most sold does not automatically mean that they are also the best to buy.
If, you haven't found the one that's right for you, or more simply you're not sure, which is the right choice, then follow us in the next paragraph where we'll see the best Bluetooth keyboards to buy. Let's start immediately:
Best rechargeable wireless keyboards
Below we will show you the best rechargeable wireless keyboards in increasing order of price. Furthermore, for each of them, we will list their most interesting peculiarities: if you believe you have found the one that's right for you, all you have to do is click on the product image to go immediately to Amazon and discover other details!
Aluminum Bluetooth Keyboard
It is produced by Lindon-Tech and is practically the most complete and economical rechargeable wireless keyboard you can buy. Its strength, in addition to the price, is the metal body and the very compact dimensions that make it perfect for many devices such as TV Box and Smart TV or smartphone and tablet, also thanks to multimedia function keys.
Jelly Comb Rechargeable Wireless Keyboard Mouse
If you are looking for a complete set of wireless mouse and rechargeable wireless keyboard, then to spend as little as possible and still get a decent product you could rely on JellyComb! On the mouse you will have the DPI adjustable up to 1600 (but needs two batteries) and the keyboard instead has a built-in 280 mAh battery with a duration of about 90 days. Both work thanks to a USB adapter.
MoKo Wireless Keyboard and Mouse
If we were to say, which is the best rechargeable wireless keyboard in this list, we would definitely choose this MoKo branded set! Why? Simple: the set, made with good materials and an ergonomic design, also includes a mouse with adjustable DPI. The style is clean, minimal and elegant, and with the built-in 280 mAh battery, you can work on the PC every day without problems.
Product prices and availability are subject to change. Any price and availablility information displayed on Amazon at the time of purchase will apply to the purchase of any products.